About
Hi there!
I'm Judy, "Bebe Mama". Welcome to my humble blog, Bebe Love Okazu!
I'm Japanese – American, born and raised in culturally diverse Los Angeles by my first generation Japanese mother and fourth generation Japanese – American father. I was raised primarily on Japanese food and a handful of my Dad's favorite American dishes.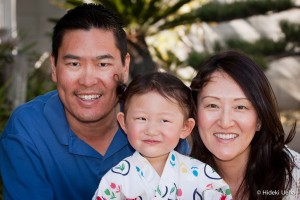 I'm a mom, step-mom, and wife, that mostly cooks simple and kid-friendly American and Japanese dishes (comfort food). However, I married Bebe Dada who is Chinese – American, so I'm slowly learning how to cook some of his family's Chinese dishes. I didn't learn to cook until much later in life, but I'm happy to be where I am, enjoying cooking and my time spent in the kitchen.
I hold a BA in Economics and an MBA. I spent the majority of my career in the corporate world, and spent the last few years in non-profit until I became a "stay-at-home-mom". Fortunately, my career allowed me to travel both professionally and personally to many countries over the years. I had the privilege to experience the culture and food of France, Spain, Italy, Germany, Japan, China, Russia, Belgium, Mexico, and England, to name a few.
Through my travels, I learned to appreciate new foods, seek out new restaurants, and enjoy a variety of ethnic cuisines. I'll try anything once, and I love to eat! This drives me to cook and try new recipes.
BEBE LOVE
Bebe E's arrival truly changed my life. During the first eight weeks of her life, I watched how quickly she grew and changed, never ceasing to amaze me from one day to the next. I have to admit that I'm sometimes guilty of not appreciating each day as if it were my last, but I'm learning to embrace and cherish each moment, even on those challenging days.
While I was pregnant with Bebe E, I spent some time with my Mom to learn how to make some of my favorite childhood Japanese dishes. This was something I always wanted to do but didn't take the time to do in the past given the pressures of work, travel, graduate school, moving and getting married. You'll discover that the Japanese recipes I share on my blog are down to earth home-cooking using simple ingredients that can be sourced in the United States.
As I began to spend more time cooking, I decided to create a family cookbook with all of my childhood favorites, as well as dishes that I tried and loved, so that I could pass these along someday. In 2010, after settling into a routine with Bebe E, I discovered food blogs. My enormous 2″ 3-ring binder stuffed with recipes and clippings, along with the folder on my laptop labeled "Recipes", suddenly seemed out-dated. That's when I decided to catalog my recipes online, not only sharing our recipes with family, but also with friends and anyone else who might be interested. My blog has turned into a labor of love, our family journal, and one of my favorite past-times. So here I am! Stay-at-home-mom | blogger of food | writer of life's random musings.
OKAZU
Growing up, one of the Japanese phrases I heard my Mom often repeat was,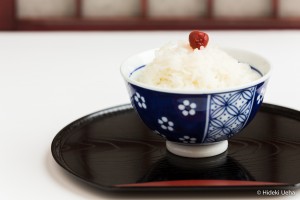 "konban okazu nani shiyoue?" Which literally translates to, "what should I make for dinner tonight?"
"Okazu", in Japanese culture, traditionally refers to a side dish which accompanies rice, where rice is the main meal. In American culture, okazu refers to the main dish, with rice as the side dish. I prefer the American interpretation of okazu, given I really didn't like rice as a child, and to this day, I still don't care for it much. I realize this is not the image of your typical Japanese girl!
Regardless of cultural differences, I face the same challenge as my Mom, wondering what I should make for dinner every night.
In my blog, Bebe Love Okazu, I hope to share some of my favorite okazu that I learned from my Mom, family favorites, and recipes I've tried and loved. Surprisingly, you'll also find recipes for plain ol' rice "dressed-up"!
My okazu is your okazu. Enjoy!
Photo Credit: Hideki Ueha
* * * * * * * *
© 2010 – 2014 All Rights Reserved. All images and content on this site are the property of Bebe Love Okazu and may not be reproduced in any format. Images by © Hideki Ueha are protected and may not be reproduced.