Jello Cheesecake with Walnut Crust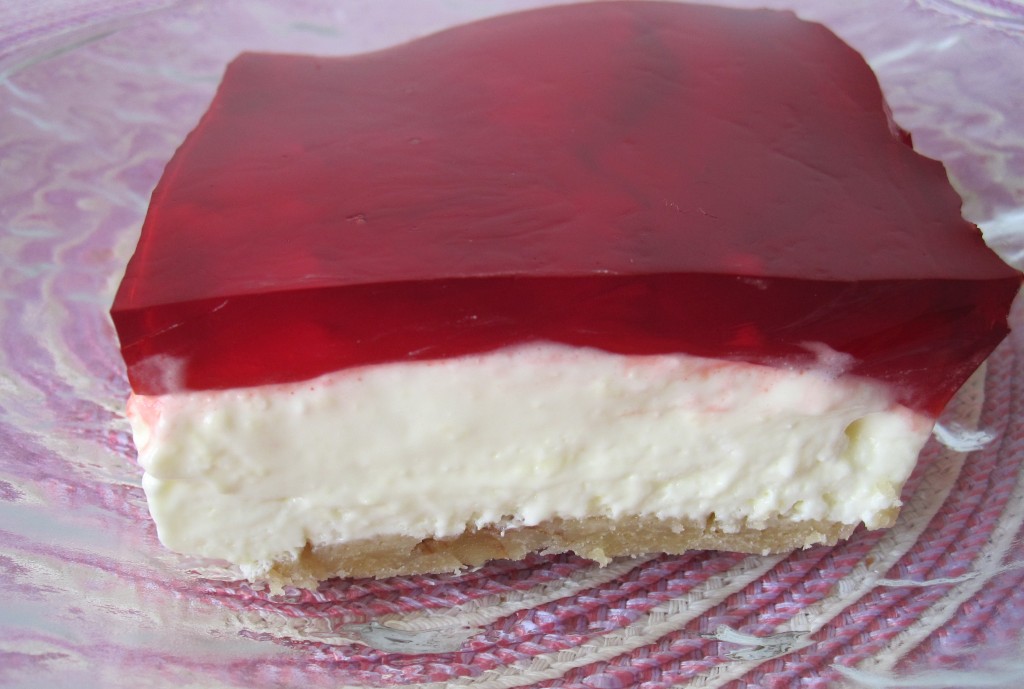 Mmmmm.
I love cheesecake.
Cheesecake loves me.
I love ANYTHING cheesecake, let me count the ways…
There is my favorite childhood blueberry cheesecake cups, Cheesecake Factory's pumpkin cheesecake and vanilla bean cheesecake, Japanese rare cheesecake from any type of Asian bakery, anything cheesecake (including cream cheese filled pastries) from Amandine Patisserie in Santa Monica, 85 Degree Bakery's mango cheesecake, Marie Callender's Kalua cream cheese pie, lemon cream cheese pie, and their caramel apple New York cheesecake is yummy too, and all types of New York style cheesecake. I'm especially lovin' Junior's cheesecake. I've even tried Yogurtland's cheesecake flavored frozen yogurt and I didn't love it, but I had to try it just because.
Then there is my mom's Jello cheesecake. :) Mmmmmm, mmmmm yummy! This is definitely one of my all time favorite childhood desserts. However, before we get to the recipe I thought I would share a little bit of what's been going on outside of our kitchen!
The zoo animals below have absolutely nothing to do with jello cheesecake, but I wanted to share a bit of our 4th of July weekend. Over  the holiday we spent a day at the San Diego Zoo. It was Bebe E's first trip to the zoo. She knows many of the animals either by name or by the animal sound they make (lion = "roar", snake = "sss" etc.), thanks to Dada, Mama and our animal magnets on the fridge and a few favorite books, but she'd never seen real live zoo animals. Bebe Dada and I felt she's the perfect age to enjoy the animals she's learned and we were very excited to take her to the zoo for her very first time. As you might have imagined, she had a fantastic time! As parents, it was such a joy to watch her amazement, smiles and pure happiness as she "met" each animal.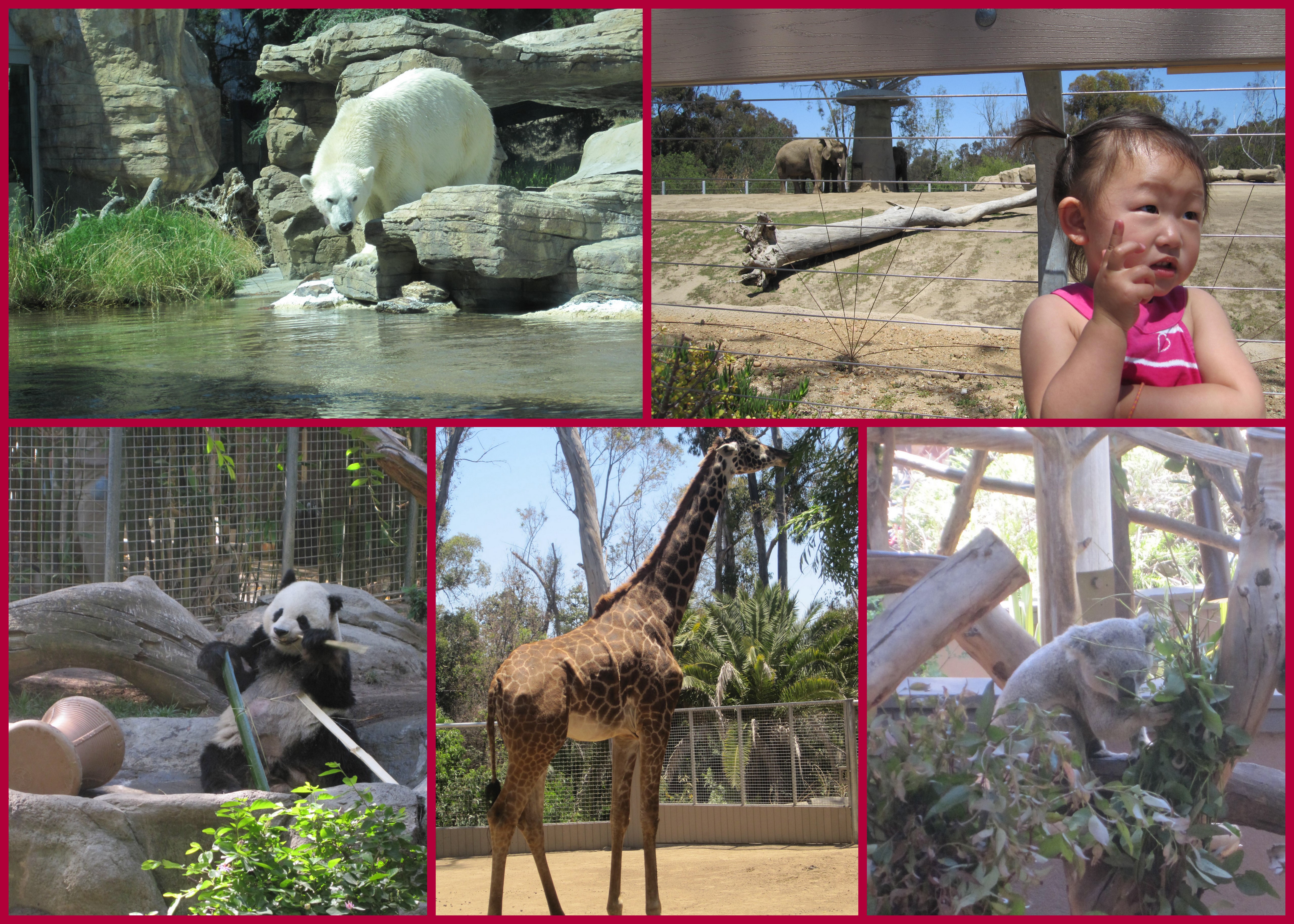 Some of Bebe E's favorite zoo animals are featured above: panda, koala, polar bear, giraffe and elephant. She also really liked the monkeys, big snapping turtle and snakes (of all things) but I didn't take photos of the latter two. We'll be back for a visit again very soon. I'm not sure whose more excited about our next trip to the zoo – Bebe or mama.  :) By the way, I'm not sure what Bebe E is "contemplating" in the photo but I have a feeling it has something to do with trying to figure out how she could get closer to the elephant because afterwards she kept playing with the fencing and trying to stick her foot through the slats. 
Ok, on to the recipe!
Quite a while ago I asked my Mom for her Jello cheesecake recipe and she told me that she would let me look at it the next time I was over. When I arrived at my parent's house my Mom handed me a faded college-ruled sheet of notebook paper with faded blue ink that's turned grey. The funny thing about this recipe is that it doesn't make sense to either of us. It's written in Japanese and for some reason we can't decipher the order of the recipe and we don't understand the need for two packages of gelatin.
Rather than Google the recipe, I email my girlfriend, M. She's been known to make the same Jello cheesecake for our friends at our potlucks and I was certain she or her mom had the same recipe as my Mom. Sure enough, she had it. Yay!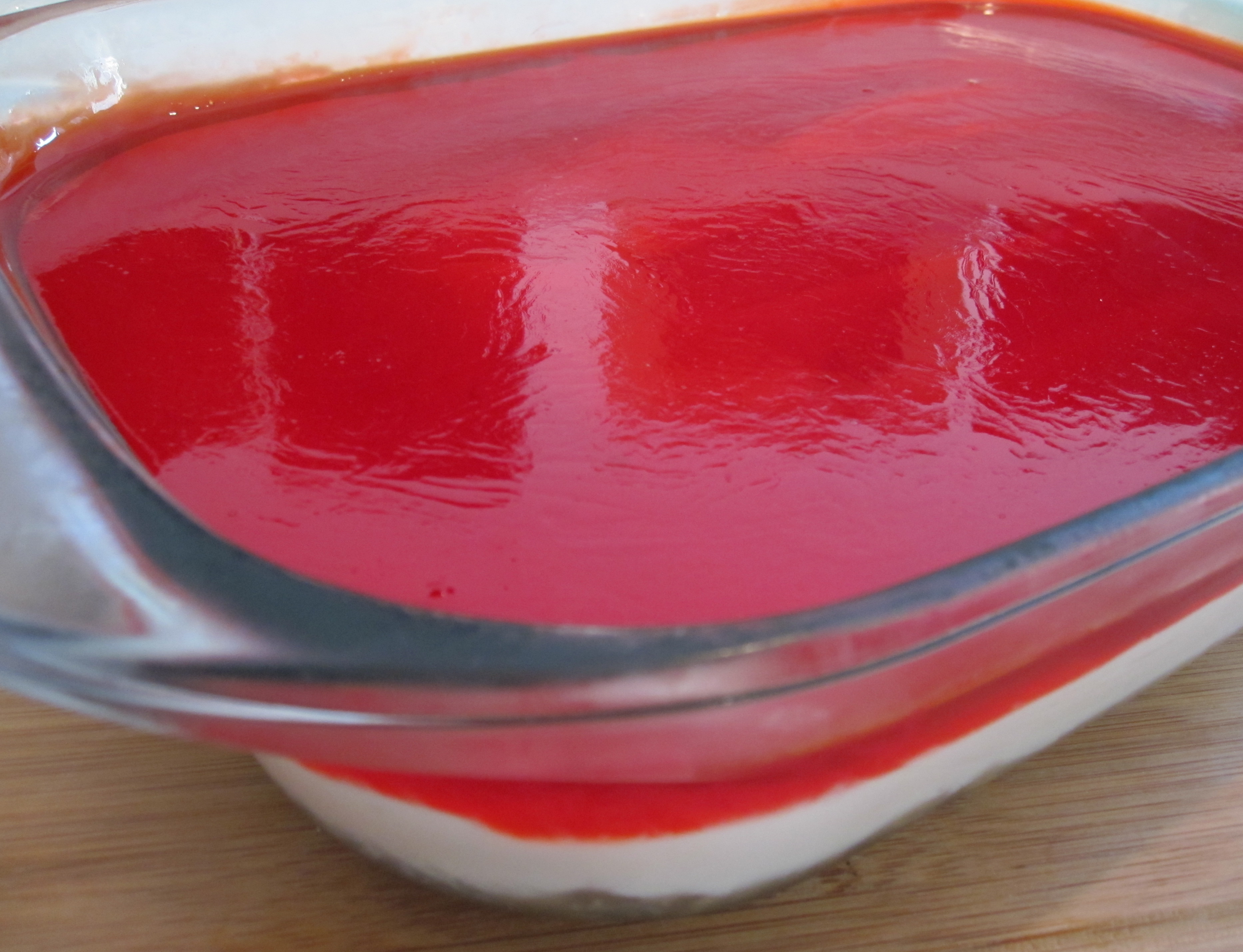 Here's a weird question for you: Does anyone know if jello cheesecake is Hawaiian in origin?  I ask because every time I'm in Hawaii I find jello cheesecake at odd places – Zippy's restaurant for one. Why is this? I never find jello cheesecake at any restaurant establishments here in Southern California. I've only seen it at my childhood family potlucks, and in my adulthood, again, at potlucks.
No matter where it came from, I just love it. It's also a favorite dessert of Big Onechan and Bebe Dada and we are quickly discovering that Bebe E has a similar love for desserts – just like her mama. It's definitely a favorite among kids, but I admit I make this occasionally at home to satisfy my jello cheesecake craving – – – and my inner kid.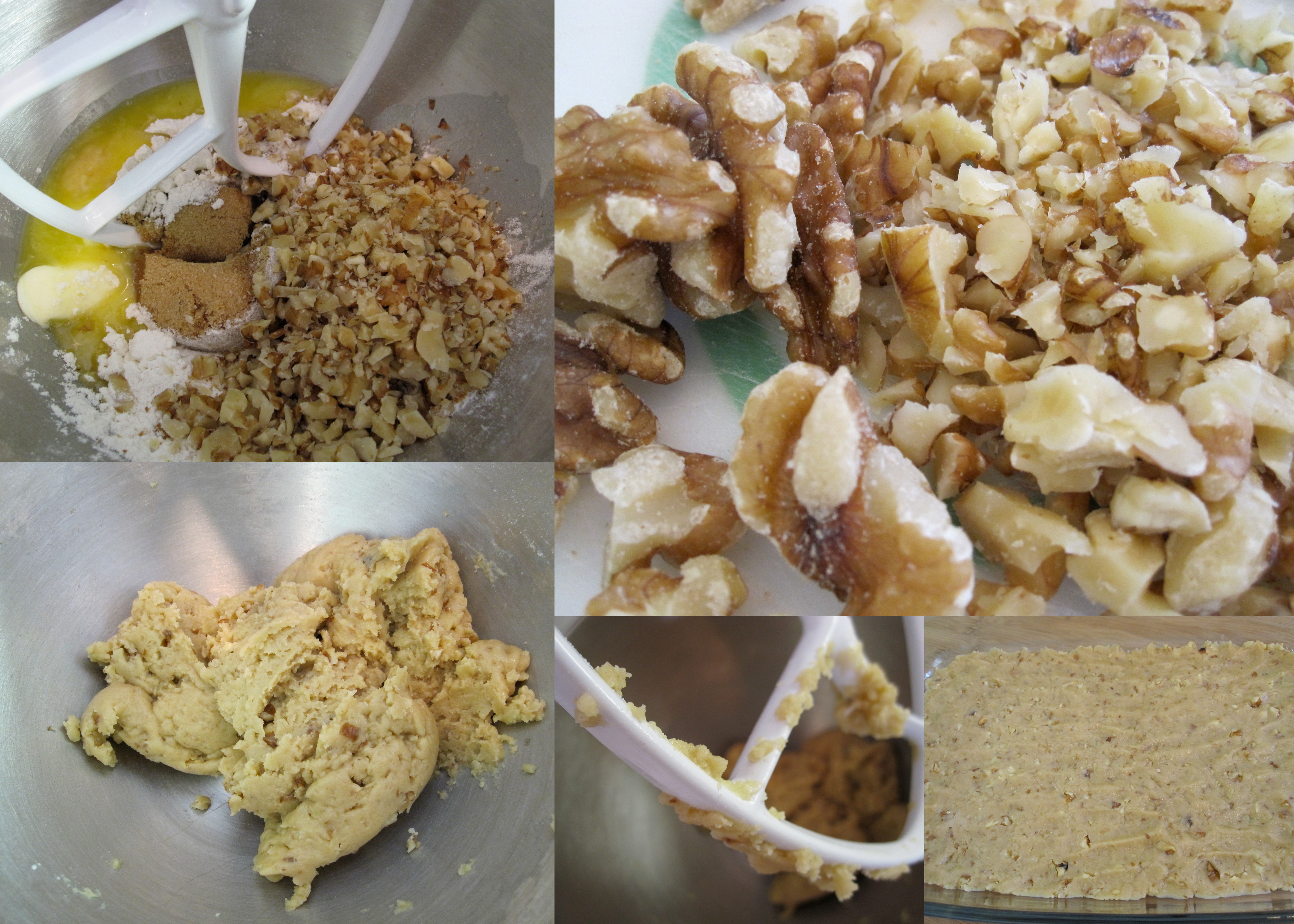 This nutty, slightly salty and sweet crust is absolutely my favorite! It compliments the sweetness of the cheesecake filling and jello perfectly!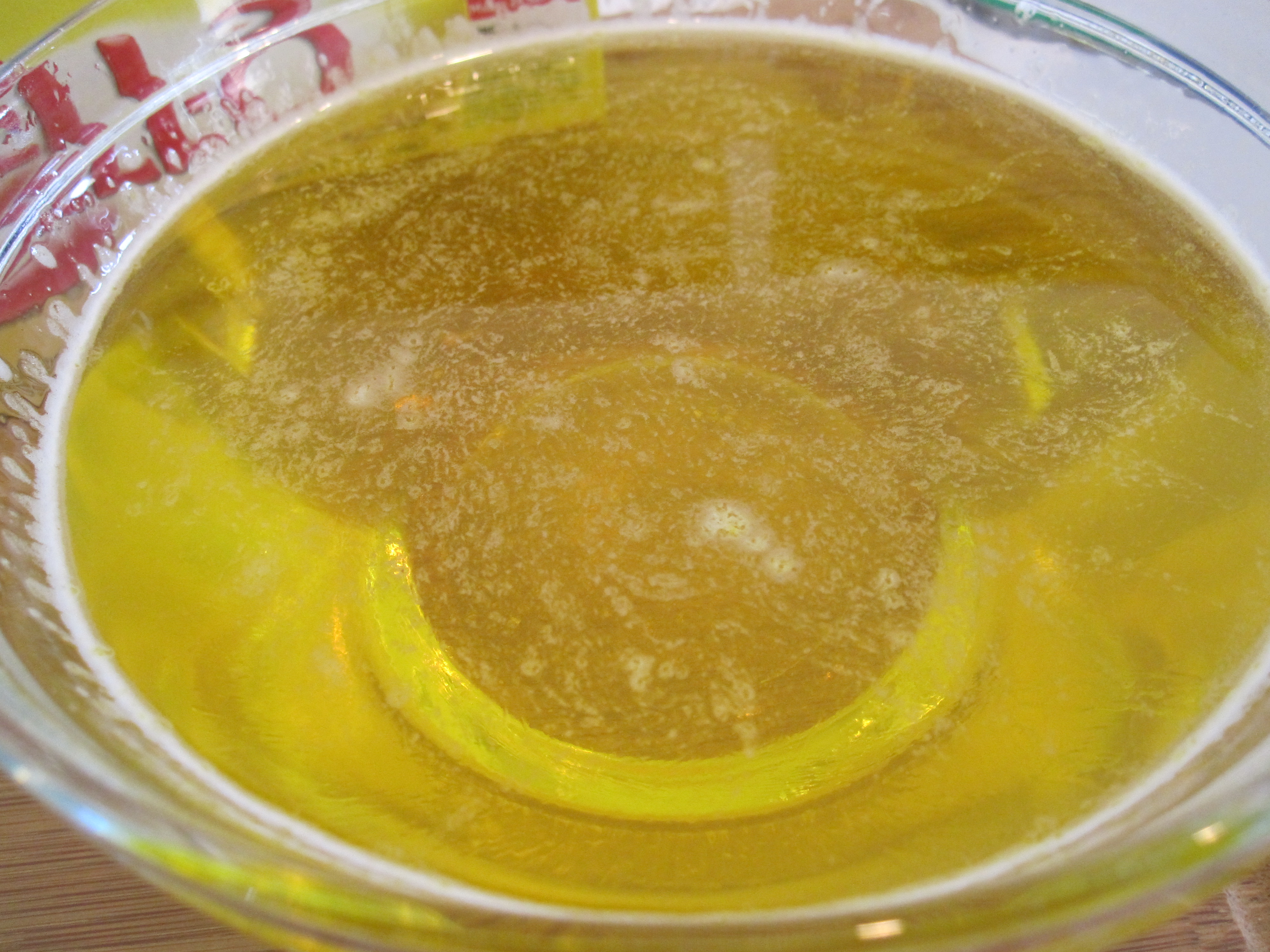 The lemon flavored gelatin is incorporated into the cream cheese mixture.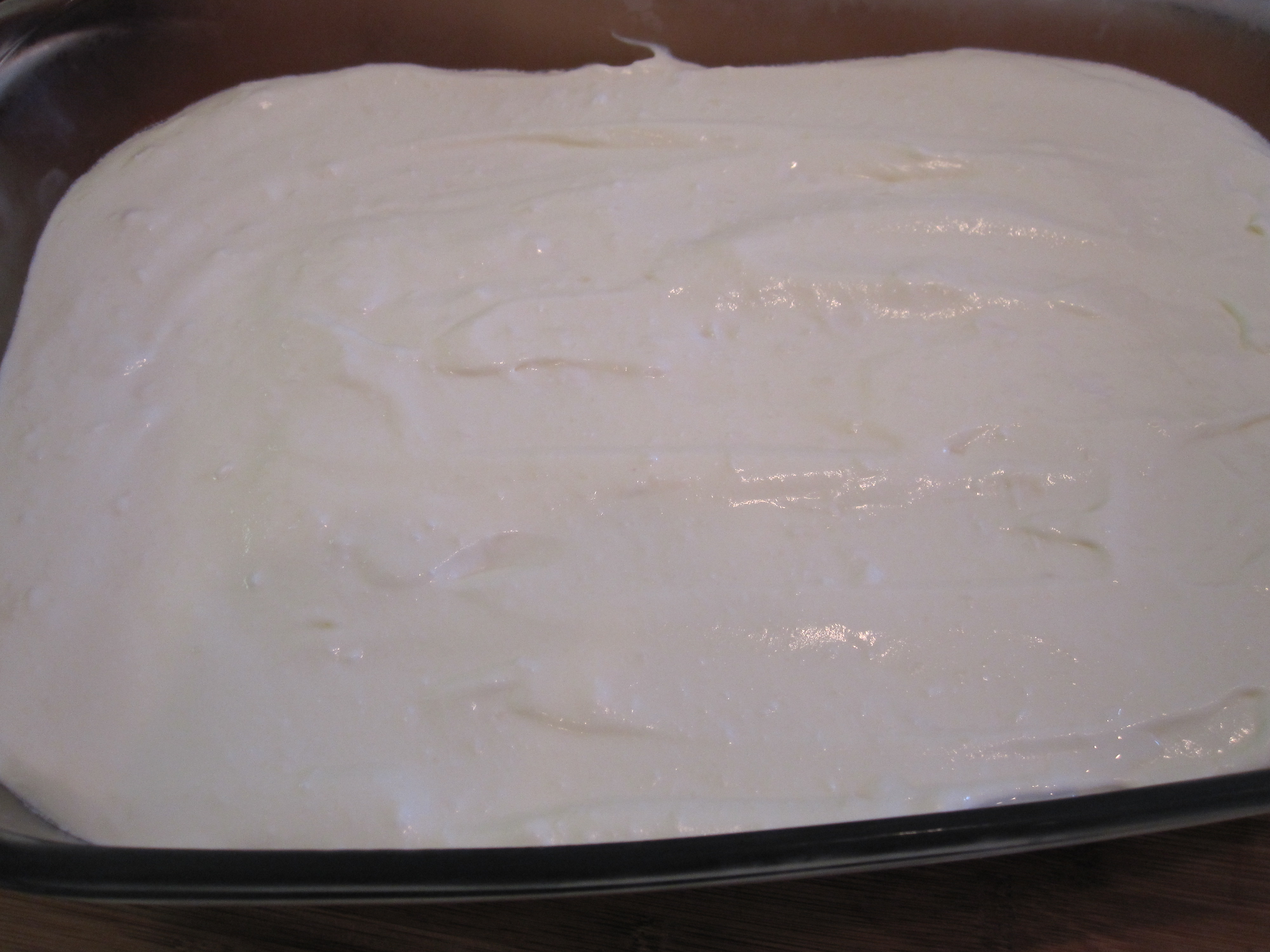 Once the cream cheese "cheesecake" filling has set, the key is to gently spoon the top layer of jello over the filling. As tempting as it might be, don't pour the jello over the filling.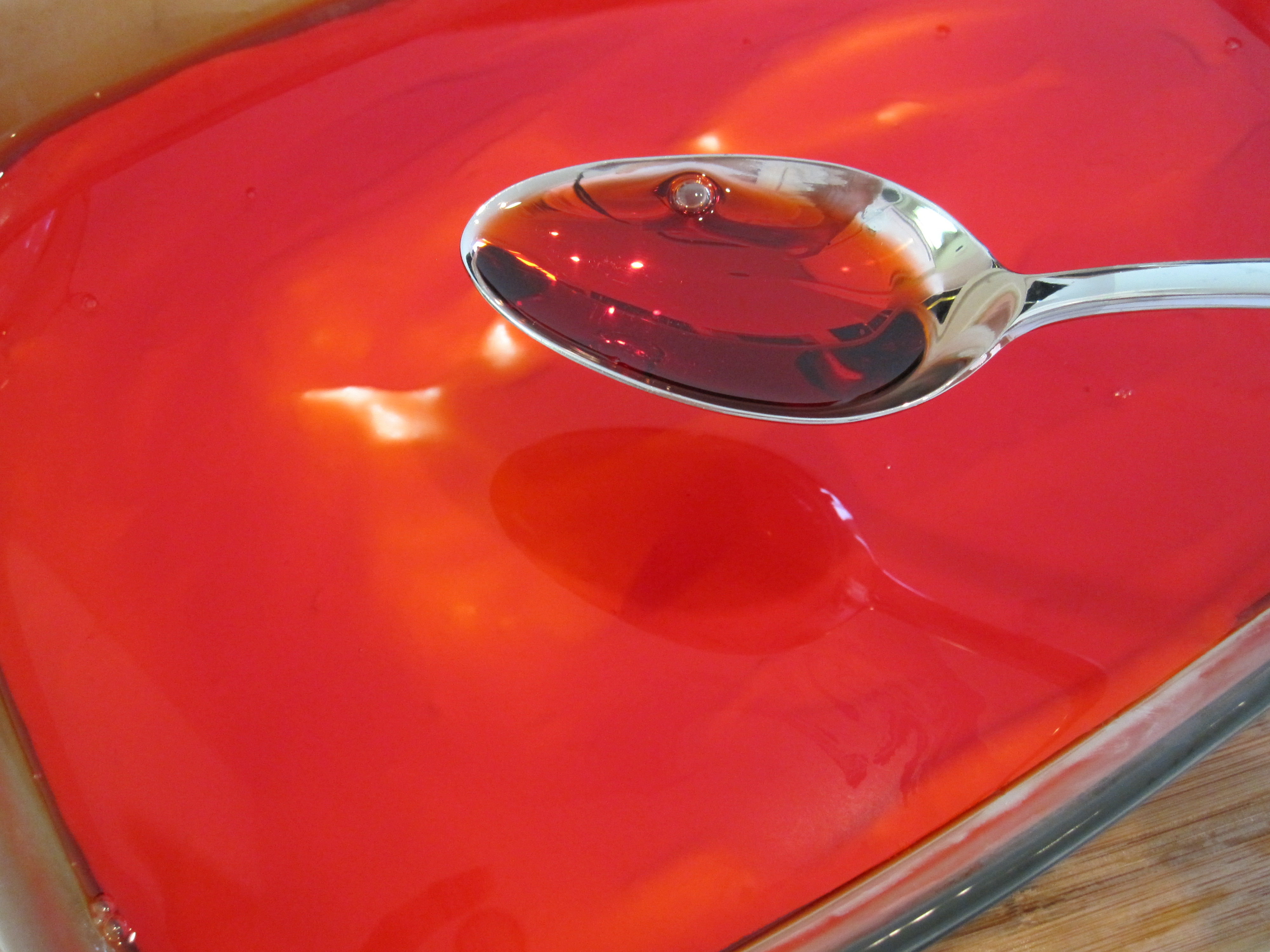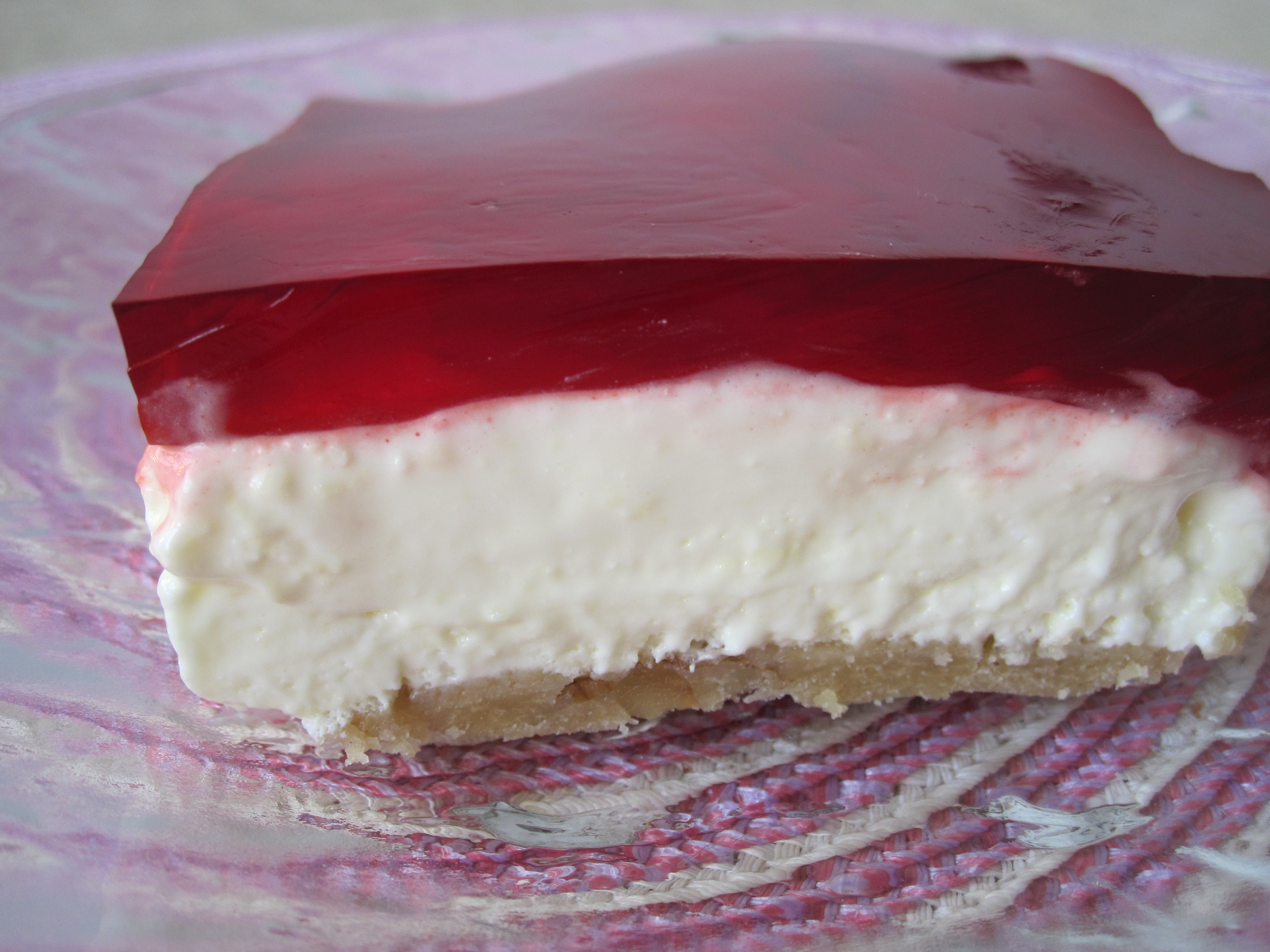 By the way, I finally assembled a page titled "Recipes" which is a comprehensive directory of all the recipes, by category, that I've posted on my blog so far. I thought this was an easier way to see the big picture of all that I've been cooking. I hope you find it helpful!
Click here to get to the Recipes page.
I hope everyone enjoyed a safe and happy 4th of July holiday!
Cheers,
Judy | bebe mama
Jello Cheesecake with Walnut Crust
A great, time-tested recipe shared among the moms of my childhood friends.
Ingredients
FOR CRUST:
½ cup salted butter, melted
1 cup all-purpose flour
¼ cup packed brown sugar
½ cup unsalted walnuts, chopped (substitute with graham cracker crumbs for nut allergies)
FOR FILLING & JELLO:
1 package (3 oz.) lemon flavored gelatin/jello
1 cup boiling water
1 package (8 oz.) cream cheese softened
1 cup of sugar
12 oz. Cool Whip (8 oz. container of Cool Whip can be substituted)
1 package (6 oz.) cherry flavored jello (any flavor may be used, I also love lime)
2 cups of boiling water
Instructions
Preheat oven to 350 degrees. Mix together butter, flour, brown sugar and nuts in a stand mixer. Press into a 13 X 9 inch pan; Bake for 15 minutes. Let this cool completely.
Mix the lemon-flavored gelatin with 1 cup of boiling water. Set aside to cool.
Mix together cream cheese, sugar and Cool Whip; add cooled lemon gelatin mixture to the cream cheese mix. Pour this over the crust; refrigerate for 1 hour. NOTE: The cream cheese filling will be light and soft. It will not be as firm as you might expect it to be.
Combine cherry gelatin (or your gelatin flavor of choice) and 2 cups of boiling water; cool.
Gently spoon the jello over the cold cream cheese mixture. Refrigerate until cherry gelatin is firm (overnight or up to 4 hours).
Slice jello cheesecake into generous squares and serve!
Notes
Recipe updated with substitutions 03.19.2014