Karashi Mentaiko Spaghetti (Spicy Cod Roe Pasta)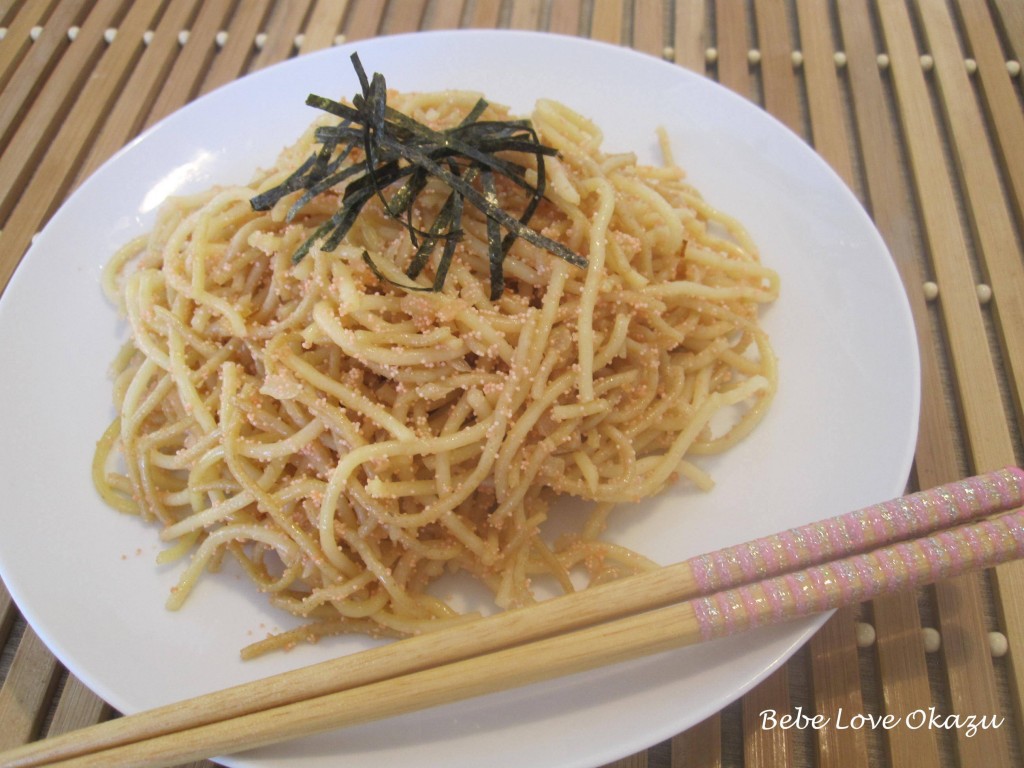 While at first we might think of spaghetti as uniquely Italian, my instant go-to-kid-friendly spaghetti with meat sauce is, by my standards, American-faire, not Italian. Then there is pasta as it relates to Japanese cuisine. There are Japanese pasta dishes that are definitely not what I consider Italian cuisine, but it is uniquely Japanese and… I absolutely love it!
As a child and throughout my teens, my Mom often took me to visit our family in Japan during my summer vacations and I always loved eating the authentic Japanese food over there, but I never could get used to what I will politically correctly refer to as "Japanicized" foreign cuisine. Having grown-up eating hamburgers, pizza, pasta, Mexican food and BBQ, it's just disturbing when you order a pizza from Pizza Hut in Japan and you find squid rings and canned tuna with Kewpie mayonaise as pizza toppings… it just has "WRONG" written all over it.
While I'm pleased to report that as an adult, I've eaten at "French" and "Italian" restaurants in Japan, and was pleasantly surprised that the cuisine was closer to what you might actually find in France or Italy, the Japanese still enjoy adding their own twist on foreign cuisine. Sometimes it works, sometimes it doesn't.
For me, Japanicized pasta is a favorite. Now THAT usually works for my palate.
My favorite is a Japanese kinoko pasta, but since I haven't been motivated to gather all the required type of mushrooms, I've only ever made my second favorite Japanese pasta, which is karashi mentaiko spaghetti, where spaghetti is pronounced: SUE – PA – GET – TTI.
Some people might think I was a weird kid when I share with you that I liked mentaiko pasta as a kid. My Mom used to buy this instant Japanese spaghetti mix called, "pa-pa-pasta". The closest translation I can come up with to express the true meaning of this catchy Japanese product name is "presto pasta". With pa-pa-pasta you just toss cooked spaghetti noodles with some olive oil or margarine, sprinkle the contents of the package over the noodles, toss and presto – you've got instant mentaiko pasta!
I eventually couldn't eat pa-pa-pasta because most brands make this with MSG and I have adverse reactions when I consume a significant amount of MSG so sometimes if we had extra fresh mentaiko, my Mom would make mentaiko pasta from scratch.
Mentaiko is cod roe, but I prefer karashi mentaiko, which is spicy cod roe. In the past, I've shared a post with you about one of my favorite onigiri, karashi mentaiko onigiri. I also enjoy eating mentiako plain, and raw, with just a little bit of rice, but occasionally I'll enjoy it tartar=style, just partially cooked. In addition to karashi mentaiko spaghetti I also enjoy one more mentaiko dish… to be posted soon!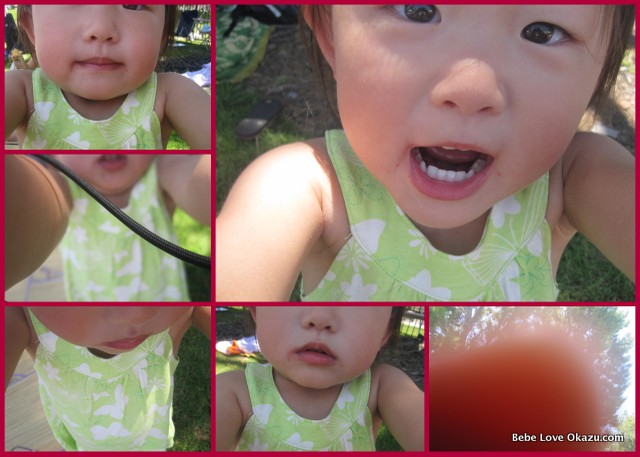 One of Bebe E's favorite pastimes is photography. She loves to play with my point-and-shoot camera and I'll often hear her saying, "won-too-tree-cheese!" Above is a nice collage of her taking pictures of herself. She does a pretty good job turning the camera around so that the lens faces her but often takes pictures of her partial face, finger or neck and chest. It's pretty funny when I download pictures onto my laptop only to find a bunch of pictures of her mouth and other times, our living room ceiling. 
Karashi mentaiko pasta is super easy to make and doesn't really require a recipe. All you need is a decent piece of fresh karashi mentaiko. My favorite brand is Kanefuku, but I prefer to eat this when I eat mentaiko raw or as a tartar. It originates from Kyushu, a Southern region of Japan. For karashi mentaiko spaghetti, I will sometimes buy a cheaper brand of mentaiko since you really can't discern the higher quality from the lower quality mentaiko once it's cooked with the pasta.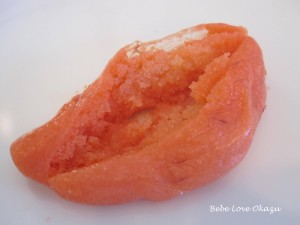 I lack the talent to photograph a piece of karashi mentaiko in a way that actually makes it look nice and appetizing. Sorry!
You'll just have to take my word for it that it's good. 
I often make karashi mentaiko spaghetti when I have leftover spaghetti noodles with no more sauce left. Don't you hate that when that happens? Well, this is the perfect way to use-up any leftover spaghetti!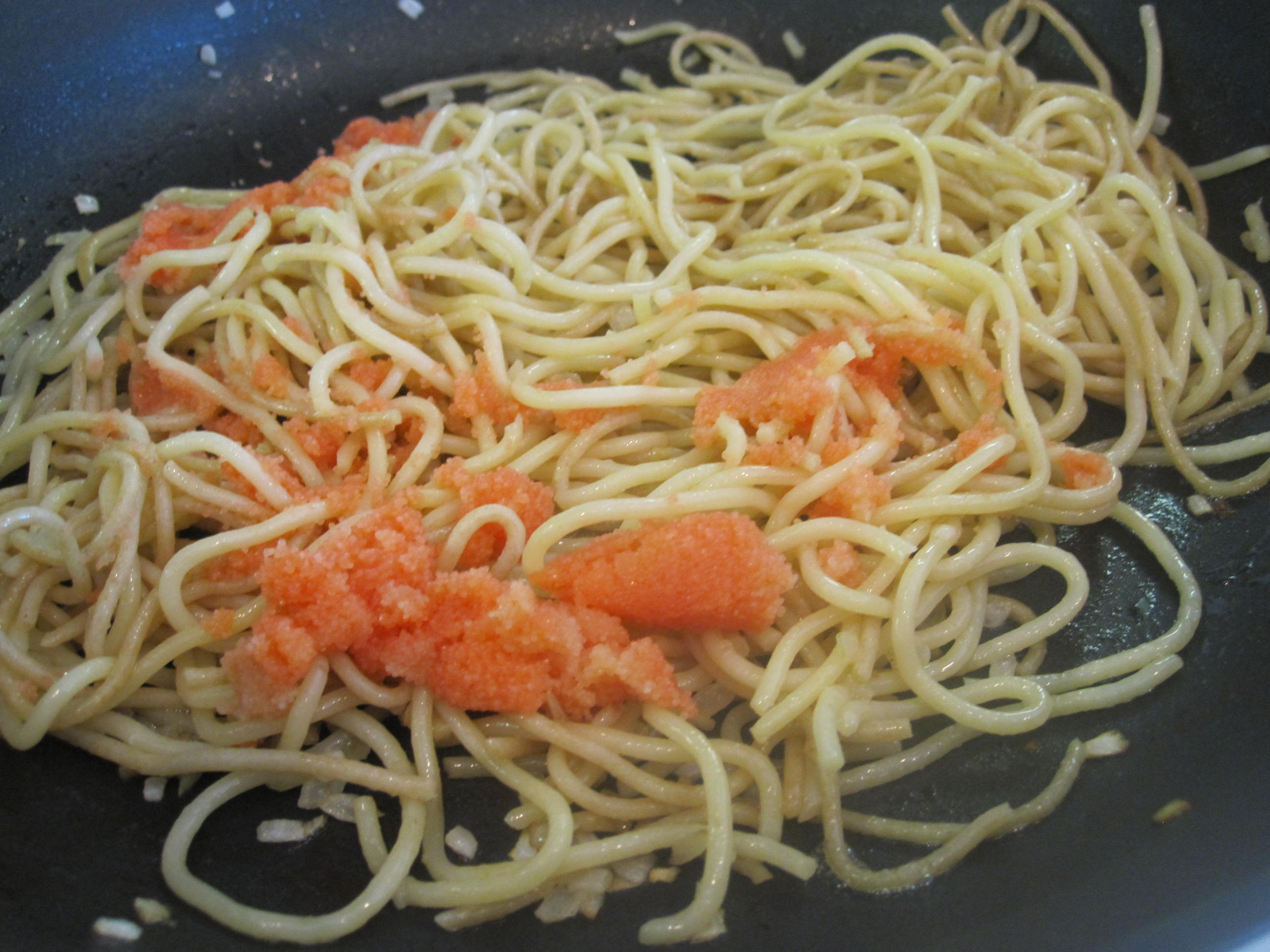 You will only want to cook the mentaiko until it's a pale pink and just cooked.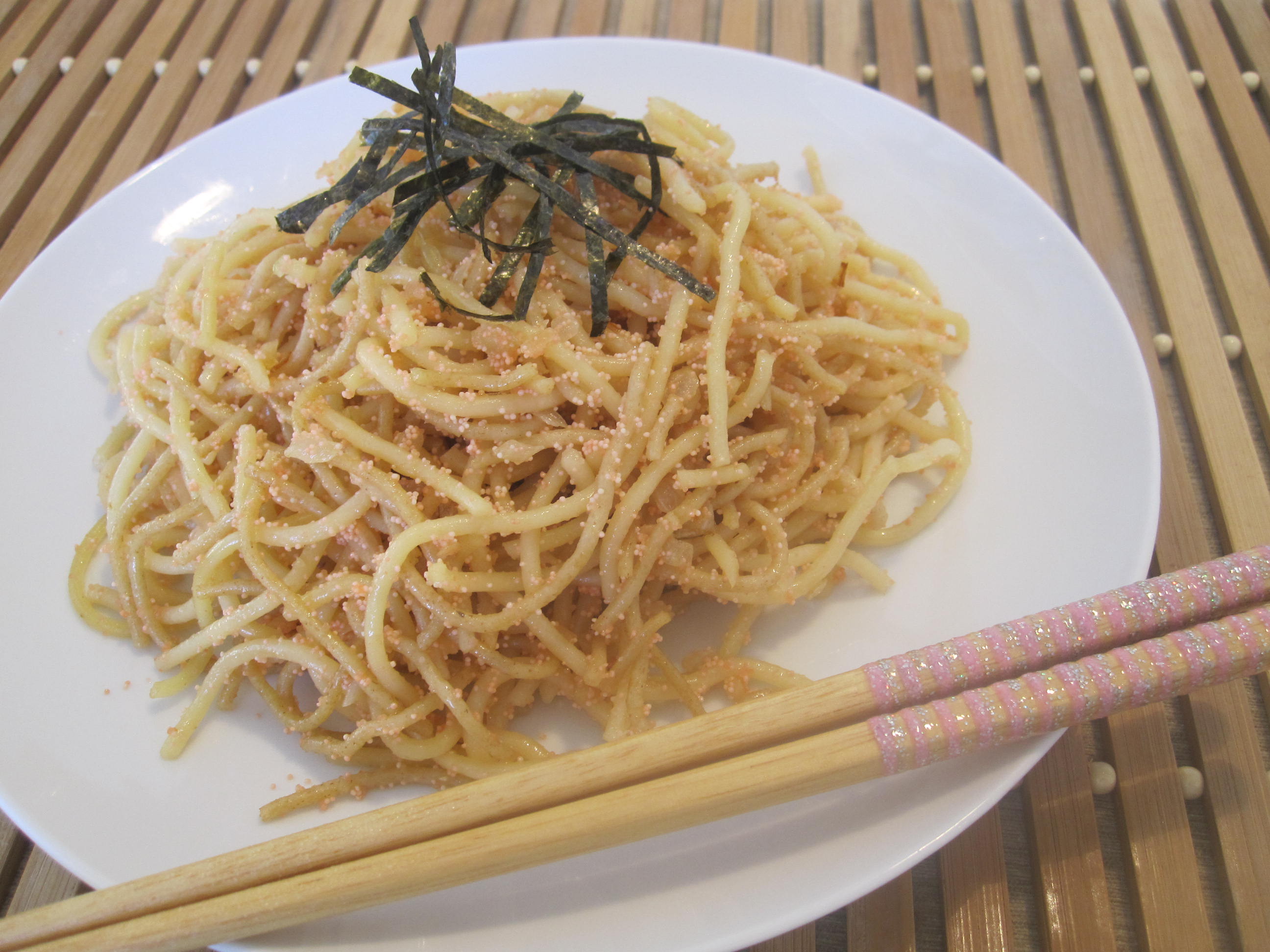 Thanks to my brother and sister-in-law for these beautiful chopsticks they brought back for us from Japan!
Of course the pink glitter ones are my favorite! 
Hope you are enjoying your summer!
Judy | bebe mama
Karashi Mentaiko Spaghetti | Spicy Cod Roe Pasta
Ingredients
1 piece of karashi mentaiko
1 to 2 cups of cooked spaghetti noodles
¼ cup chopped sweet onion
splash of olive oil
½ tablespoon of Earth's Balance (butter susbstitute) or butter
Dash of white pepper
Kizami nori (thinly sliced seaweed)
Dash of salt, optional
Instructions
In a medium skillet, heat olive oil and butter substitute. Add onions and cook until tender. Add spaghetti noodles and toss.
Slit karashi mentaiko lengthwise in half and remove skin from the eggs. Use a spoon to gently scrape the roe into the skillet. Toss with spaghetti until mentaiko roe is light pink and cooked through. Add a dash of white pepper.
Serve and top with kizami nori.