Spooky Spider Cookies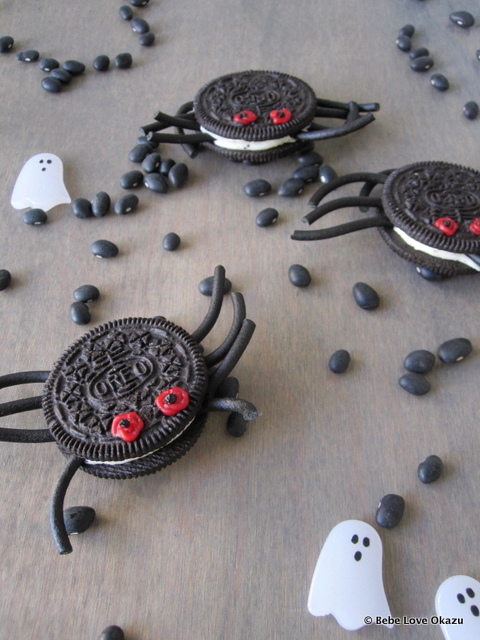 This weekend was full of Halloween costume parades, parties and festivities. It was definitely a busy weekend, but these are most certainly good times! As a fun craft / cooking activity for Bebe, we made these really easy spooky spider cookies.
Sure, you can make your own cookies from scratch for assembling equally spooky and yummy "spiders" but let's just say this Mama is OK taking a huge short-cut, HUGE, and be completely OK with it. ;)
I purchased a little Halloween candy decorating kit to see what we could make from it, and this is the first of the goodies that we made with the black candy lace. Originally, I thought it was black licorice but I was happy to discover that these were actually fondant strings because I can't stand the smell of black licorice.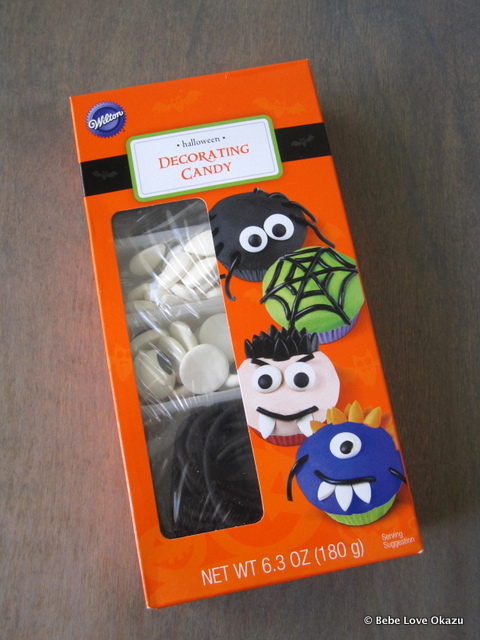 So we made these little "spiders" and Bebe had fun decorating a few of them with polka dots and special designs. She asked to try (taste) a spider leg, which she did, but honestly it's just pure sugar (much like the Oreo cookie used for this craft/treat) and that was the one and only "spider leg" she had the chance to eat. She's a good girl and was happy with the one leg. She was also very happy to eat one spider that day we made these treats and she was even happier about gifting the treats that she made to her Daddy and Nene (big sis) that night. I should mention that night was special because even though Halloween was still over a week away, we had a family Halloween party, complete with decorations and ghostly lasagna (I'll post this one momentarily!)
If you missed my post over the weekend with some of the Halloween crafts Bebe and I have been doing, you can check out this post here.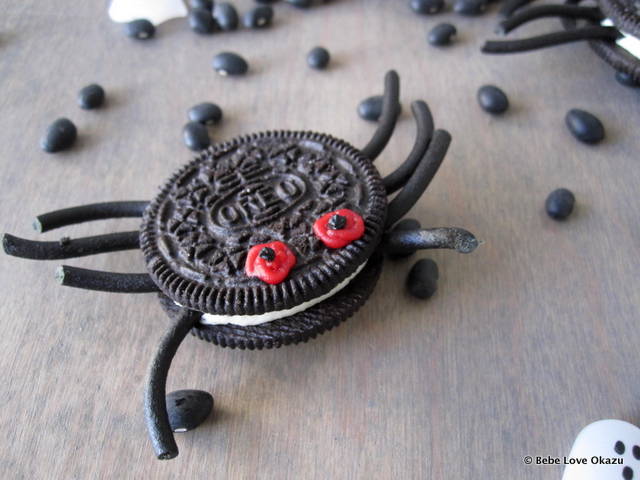 Spooky Spider Cookies
Author:
Judy | Bebe Love Okazu
Ingredients
12 regular stuff Oreo cookies (to make 6 cookies)
Black fondant rope, cut into small 1-inch pieces (48 pieces)
Black icing
Red icing
Plastic sandwich bags (for icing eyes)
Instructions
Separate Oreo cookies, discarding (or save for snacking on later) the side with no frosting. We'll only be using the frosted cookies.
Place black fondant rope pieces, 4 on each side of the frosted cookie.
Place another frosted cookie on top of the cookie with "legs".
Cut a very small hole in the corner of two plastic sandwich bags and place a small amount of the red icing in one bag and black icing in the second bag.
Frost eyes onto cookies and enjoy.