Oatmeal with Simmered Apples, Raisins & Soy Yogurt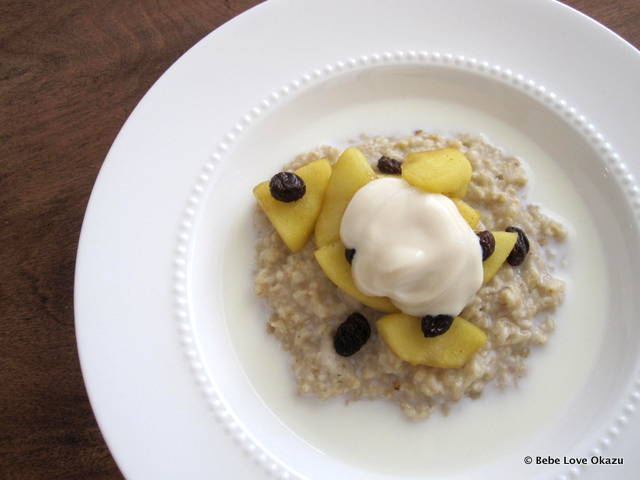 I still make oatmeal about twice a week on mornings I don't make a green smoothie. Lately we've moved on from toppings such as caramelized bananas (recipe available here) to homemade granola (recipe available here), berries, fresh apples and fresh white nectarine slices. However, I recently remembered a dessert that my Auntie Sumiko made and I was inspired to try something new with oatmeal.
The idea to top my oatmeal with soy yogurt and simmered apples came from a satsuma imo (Japanese sweet potato) dessert that my Auntie Sumiko made for us. Her dessert had simmered apples over nice chunky pieces of cooked satsuma imo, all topped with soy yogurt. Sound too healthy? It was actually a sweet dessert, but because I'm finicky about satsuma imo, I only ate the cooked apples with soy yogurt and it was delicious, especially the plain soy yogurt. It added a nice light creaminess that is really quite addicting. (In case you're wondering, my preferred brand of soy yogurt is Whole Soy & Co. which is readily available at natural food markets.)
If you're tired of plain ol' oatmeal and brown sugar, this might be a recipe worth trying!
Oatmeal with Simmered Apples, Raisins & Soy Yogurt
Author:
Judy | Bebe Love Okazu
Prep time:
Cook time:
Total time:
Ingredients
2 apples (gala)
1 tablespoon raisins
1 teaspoon sugar (add more to taste)
½ tablespoon butter or Earth's Best
½ cup water (just enough to cover bottom of the pan)
½ cup plain soy yogurt
1 to 2 cups cooked oatmeal of choice (quick-cooking, whole oats, steel-cut)
¼ cup warm milk to serve over oatmeal, optional
Instructions
Peel apples and cut horizontally to create fan-like shapes.
In a medium pot, combine butter, sugar, raisins and apples and cook just 2 minutes. Cover apples and raising with water.
Simmer for 5 minutes or until apples are just tender.
Serve apple mixture over cooked oatmeal and top with soy yogurt. Serve with warm milk to pour over oatmeal (optional).
Notes
Whole Soy & Co plain yogurt is my preference.