Green Eggs & Bacon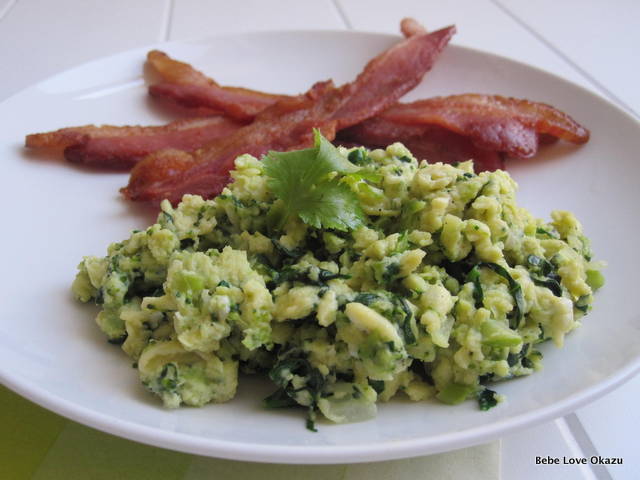 One day, when I'm much older and the kids are all grown up, I'll look back at this time and remember how much I enjoyed making a big deal of holidays such as St. Patrick's Day. I always try to find a few arts and crafts for Bebe to celebrate with, but for a family that loves to eat, celebrating with green food on St. Patrick's Day is also a lot of fun.
This morning I made two dishes. The first, green eggs and bacon, is a spin off the green hourensou (that's Japanese for spinach) tamagoyaki (that's Japanese egg roulade and the recipe is available here). The second dish I made are green pancakes using our favorite Krusteaz Buttermilk Pancake Mix. Hey, I'm a busy Mom, short-cuts are OK once in a while. This post is coming right up next!
Because we had leftover broccoli crowns from last night's dinner, I minced up the broccoli "tree", both the "trunk" and the "leaves" into teeny tiny pieces. Then I used the cooked spinach idea from my spinach tamagoyaki (egg roulade), along with some diced yellow onions and made a savory green egg scramble.
The bacon was my husband's idea. I rarely buy bacon, but when we send him to the market, it's what he comes home with. But it turned out that green eggs and ham, er bacon, go really well together. :) And he makes good chewy bacon.

Green Eggs
Author:
Judy | Bebe Love Okazu
Recipe type:
Breakfast, Brunch
Prep time:
Cook time:
Total time:
Ingredients
½ cup cooked broccoli, minced
¾ cup spinach leaves, blanched and chopped
2 tablespoons diced yellow onion
5 large eggs
4 tablespoons milk
¼ teaspoon salt
Dash of black pepper
Olive oil
1 teaspoon butter, optional
Instructions
In a small bowl combine spinach leaves with water and microwave on high for 1 minute. Rinse with cool water, gently squeeze excess water from spinach leaves, and chop.
Finely mince cooked broccoli crowns.
In a medium bowl scramble eggs, milk, chopped spinach and broccoli, salt and pepper.
Heat olive oil and butter in a pan.
Scramble eggs over medium heat until cooked.