Beef Tenderloin Roast

Happy New Year!
Thank you all for your friendship, love, kind words, encouragement, delicious food and good company!
May you all enjoy a healthy, prosperous and happy 2012!
* * * * * * * *
Soooooo….. Despite my comments regarding beef in my last post for 2011, I ended up cooking a rather LARGE piece of red meat for my family's Christmas lunch….
….And then, Christmas came and went in a flash.
The days that immediately follow Christmas always feel slightly melancholy.
♥ Holiday music no longer plays on KOST 103.5 FM.
I love holiday music on the radio and I get excited when I first hear it playing mid-November, but always dread December 26th when I know it will cease to air. Sure enough, we're driving on the 26th and no holiday music. On New Year's Eve, Bebe Dada says, "What happened to the holiday music?" Ummm…..
♥ All the prettily wrapped presents are opened.
The excitement and anticipation of the kids opening presents that they had been looking forward to the weeks and days leading up to Christmas – comes and goes. Fortunately, as parents, we enjoy watching them play and enjoy the gifts they've received from family, friends and of course, good ol' Santa, for some time even after the holiday has passed.
♥ 
The joy of planning our holiday meal(s) and the anticipation of feasting are over.
Despite the fact that I wasn't looking forward to cooking this holiday season (mild case of cooking burn out), I enjoyed it nonetheless because I like feeding our family and it makes me happy when they in turn are happy eating the food I cook. Fortunately, the week after Christmas, we celebrate Japanese New Year with even more delicious gourmet
osechi ryori (Japanese New Year's food)
. I enjoy talking to my Mom about what I can help her to make during the week between Christmas and the 31st. I've vowed to learn a new dish each year and in 2011 I made _ _ _ _ _.  Post forthcoming!
While I'm sad that Christmas came and went in a whirlwind of activity, it was nothing less than spectacular.
* * * * * * * *
Parenthood
This was Bebe E's first Christmas where she could fully understand some of our family traditions, talk with Santa at the mall, "write" Santa a letter, learn and sing holiday music, decorate the tree, make holiday cookies AND vocalize all that was magical to her. She even left out a cookie for Santa that she decorated herself! On Christmas morning when she discovered the empty plate that Santa left on one of her big presents, her expression was priceless. With wide eyes she whispered, "Santa ate cookie!"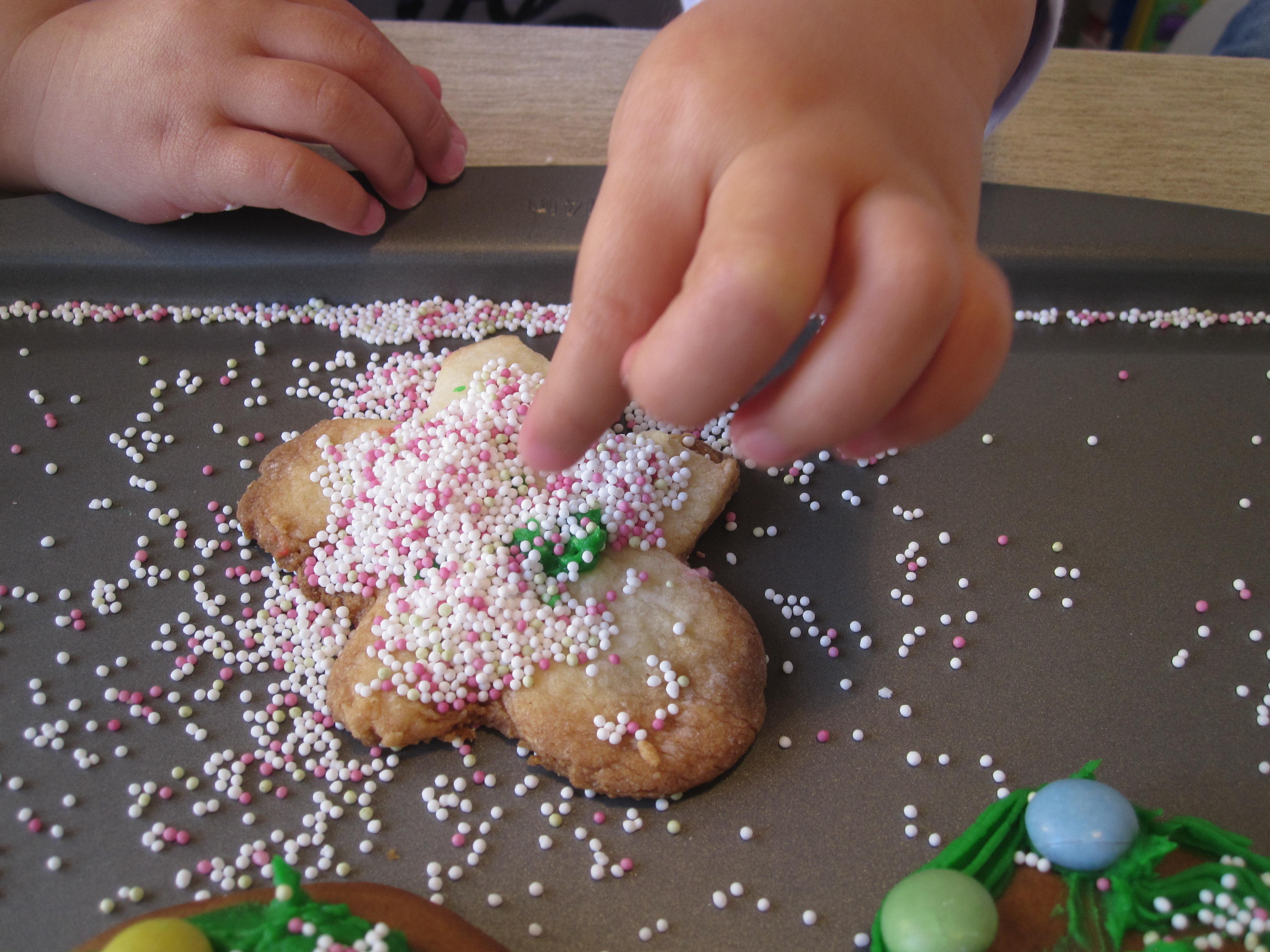 This is Bebe E's sugar cookie gingerbread man that she cut-out all by herself. His arms and legs are a little stubby but he was absolutely perfect. She then decorated this special cookie all by herself, with sprinkles (which she loves) just for Santa.
Bebe E was intrigued to find that Santa left her a 'thank you' card atop the empty cookie plate. He thanked her for the cookie, reminded her to listen to her Mommy, Daddy, and Nene (Big Onechan) and be a good girl. He hoped that she would like the presents that he left for her.
As expected, Bebe E was extremely surprised to find that Santa left presents for her under the tree, but she was even more intrigued to discover that the stockings weren't hanging from the fireplace as they had been on Christmas Eve. She actually noticed this before she noticed the many presents Santa left under the tree. She said, "Where stockings, Mommy?" I said, "I think Santa might have moved the stockings to the foot of the fireplace because they are too heavy?!?"
Bebe E is able to recognize our names on the stockings by the first letter of each of our names. She brought us our stockings and then quickly looked inside her own stocking. The fact that Santa filled her stocking with little goodies made her giddy. Had we left her alone at that point, she would have spent the entire day happily playing with each of the little goodies in her stocking. We had to encourage her to move on to some of the presents Santa brought.
As a mother, it gave me so much joy to share many exciting Christmas "firsts" with Bebe E in 2011. I keep telling myself over and over that this has got to be the best age! I wish she wouldn't grow up so fast….
* * * * * * * *
Meaning of Christmas
My husband, who is sometimes in a grinch-y mood during the holiday season because of the commercialism of Christmas, annually complains of  the lost message of Christmas and overcrowded malls.  Fortunately for him, he wasn't subjected to entering a mall once this month, given I enjoy doing our shopping, not to mention the wrapping too. It's a good thing he met me. On several occasions he thanked me for "taking care of Christmas".
Around 11:00 PM on Christmas Eve when I was still prepping food for our lunch the next day, trying to bake cookies (keyword "trying" as there is still dough that I had to freeze), and wrapping still more presents, my husband commented on my excitement about Christmas and asked me why his wife, who grew up Buddhist, loves this holiday so much.
Well, that's easy.
I have great memories of my childhood Christmases and I would love for Bebe E to feel the same way about her childhood when she looks back as an adult.
Without delving into an analysis of religion and Christmas, there are millions of non-Christian families across the world who celebrate Christmas as a cultural and family tradition (yes, I Googled). For many, to celebrate the birth of Christ is wonderful. For others, perhaps Christmas is less religious, and more about family tradition? My paternal grandparents, who were also Buddhist, annually celebrated Christmas with a tree, a big family dinner and presents. Gift giving and the celebration of Winter Solstice around December 21st pre-date the religious celebration of Christmas which some believe were "merged" to celebrate the solstice, the sun, and the birth of the son of God. (See National Geographic article here.)
Perhaps the meaning of Christmas does not necessarily mean the same for each of us, and it doesn't have to. It's ok if it doesn't. To me, what is important is love, friendship, giving thanks, family, friends, warm fuzzies and the sharing of good food.
* * * * * * * *
Childhood to Present, in a Nutshell
What I remember most about my childhood Christmases is the excitement on Christmas eve about opening presents first thing in the morning and waking up to a stocking filled with little goodies. Then there was the fact that my grandparents and Auntie would come over mid-morning to spend Christmas day with us. We would all eat a big turkey lunch along with some Japanese food, I would play with my family and it would simply, feel like Christmas should. I have many good memories of my childhood Christmases. It was magical, gave me lots of warm fuzzies and how we celebrated Christmas was filled with tradition. As a parent, all I want to do is recreate that same magic, warmth, love and tradition.
By Christmas morning, despite Bebe Dada's grinch-y-ness, he came around and happily joined me among the ranks of parents who take joy in the simple things in life, and the little things that make our children happy.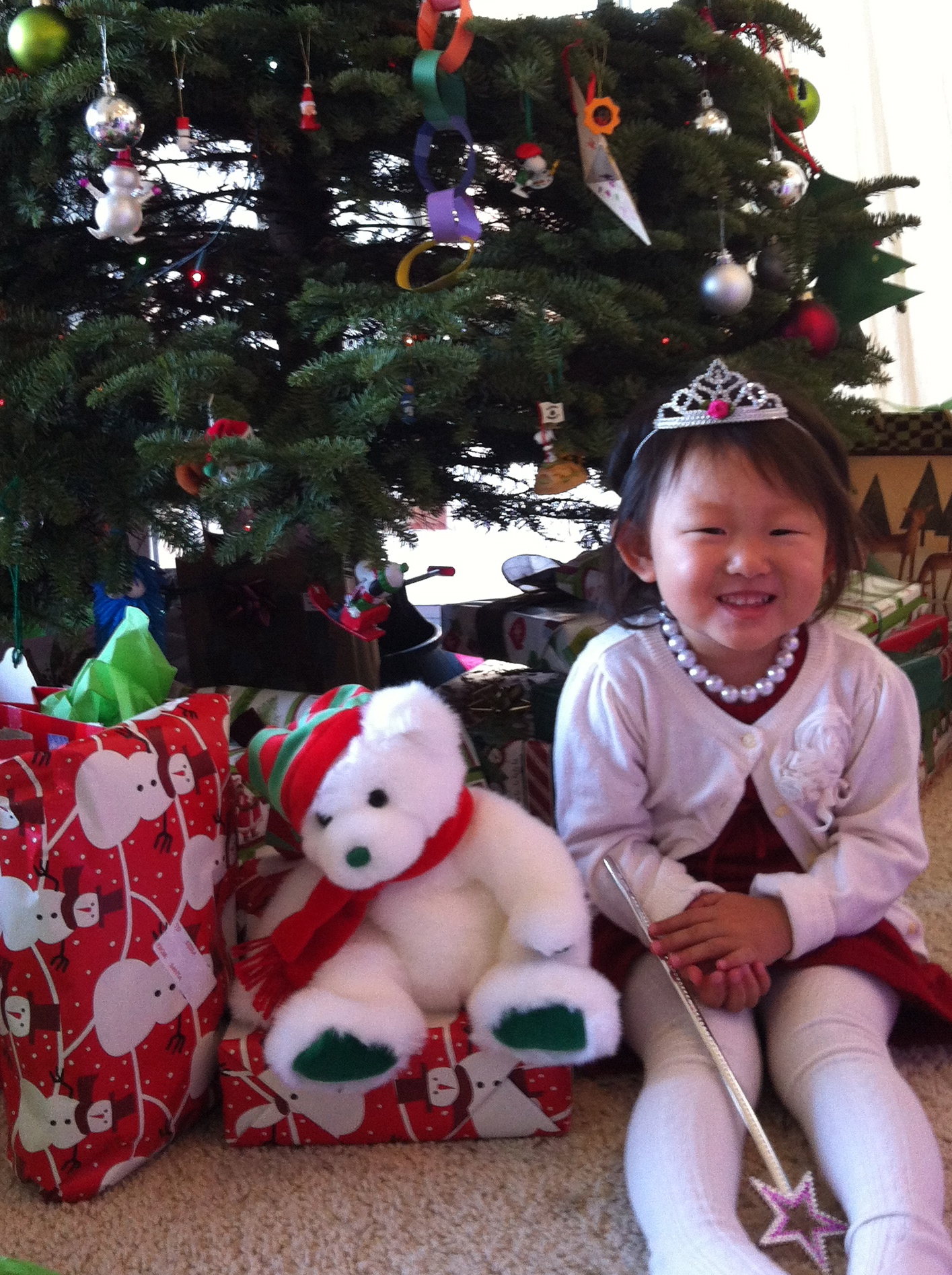 Little Prin-Prin E (she calls her princesses, "prin-prin"), dressed in her holiday dress with prin-prin accessories, sans princess gown. She was ready to party at Bachan and Jichan's house.
Today, we still celebrate Christmas day with my parents and my brother's family and we still enjoy a fabulous lunch together. One of the best things about our Christmases now, is that we share them with our dearest friends the Tree Village family. When I was in 6th or 7th grade, my grandparents moved to Hiroshima, Japan to care for my ailing great grandparents and help them with their family business. Our Christmases just weren't the same after that. If she wasn't volunteering, my Auntie would still join us for Christmas lunch occasionally, but my brother and I primarily celebrated Christmas with my parents. It was a cozy affair with the four of us. Eventually, my parents began inviting the Tree Village family to join us for Christmas lunch, as they too were a family of four with most all their relatives in Japan.
A new tradition was born.
From then on, we've celebrated Christmas, Thanksgiving and New Year's with our dear Tree Village family. My Auntie and Uncle are closer to me than any blood relative could possibly be. Their daughter is my little sister – she was even one of my bridesmaids. Their son, despite the fact that I already have a wonderful younger brother, is my little brother. No major family event is celebrated without them. They're our family.
After I met my husband, yet another Christmas tradition was born – – – to celebrate Christmas Eve with my husband's family. My husband has a large family and it's always nice during the holidays to be amongst them, especially with all the kids. Having grown up with my parents and my brother, our family of four was cozy, yet in my "hope-list-of-sorts" (a post for another day) I always hoped to marry into a larger family, to experience what that was like. Fortunately, my husband is one of several siblings and our Christmas Eve together is just that, a large family celebration and it's wonderful. Unfortunately, this year my in-laws were under the weather so we postponed our traditional Eve dinner. We're looking forward to when we can all get together.
Because we no longer had plans for Christmas Eve… all I can say is, "thank goodness for Asian restaurants open for business on Eve", because my husband, Bebe E and I strolled down to a new Vietnamese restaurant and enjoyed pho (noodles) and egg rolls, along with our complimentary Vietnamese ice coffee and Thai ice teas. It was the perfect break from my baking and cooking and wrapping. The food was good, but the Thai ice tea didn't work too well for me – should have known better not to drink it since I can't handle caffeine. Oops – – – 3 hours of sleep on Christmas Eve was rough the next day!
Despite my lack of sleep, Christmas 2011 was fabulous! We ended our Christmas day at my sister-in-law's parents' home for a delicious shabu-shabu dinner. We've been fortunate to enjoy Christmas day dinner with them the past few years and I must say, after a heavy lunch of good ol' traditional mashed potatoes, creamed corn, and holiday meats… there's no better way than to end the day with a traditional Japanese shabu-shabu hot pot for dinner. I love my Japanese food!
Many thanks to all of our family and friends for good food, good company, and many thoughtful gifts. Thank you for making our Christmas so special!
* * * * * * * *
FINALLY. About the beef….
I am still a carnivore and I enjoy an excellent piece of well-cooked red meat. Just because I didn't eat much beef this past year, doesn't mean that I wouldn't enjoy it for Christmas!  After contemplating fish as our main dish, I decided we still needed a beef dish, in addition to our Honey Baked Ham and turkey meatloaf. I admit that I didn't enjoy handling a 7.5 pound large piece of raw beef, but it was well worth the effort.
The reason why I broke our Christmas prime rib tradition this year, is because I just didn't have enough time on Christmas morning to roast a prime rib for 4 hours. After much research, I found that the beef tenderloin required less cooking time and was par with our favorite prime rib.
I'd never cooked a beef tenderloin so I did my research. A few years ago I saw an episode of Alton Brown's "Good Eats" where he trimmed a large beef tenderloin and made filet mignon medallions. I immediately found that episode and watched the video clip online. Gotta love Food Network! I highly recommend watching Alton's video as an introduction to PSMO, or beef tenderloin and for tips on trimming.
There is no recipe for the beef tenderloin roast that I made for Christmas 2011. I used the primary ingredients that I use for my prime rib, and winged it. I did, however, do quite a bit of research prior to cooking this expensive and very large cut of meat. The following is a summary of what I learned from Alton Brown (AB) and the nice elderly gentleman (EG) at Costco who was standing over the beef tenderloin roasts at the same time I was. As you might have guessed, I ended-up talking with this gentleman for over 20 minutes about tenderloin. It was quite an educational conversation.
What I Learned about Beef Tenderloin
♦ Tenderloin is known as "PSMO", in beef-speak, and refers to beef tenderloin with muscle chain attached as well as the fat. (AB)
♦ Each cow has 2 PSMO's to offer, located beneath the ribcage . (AB)
♦ The "chain" should be removed from the beef tenderloin. It can be saved and frozen for use in another dish. (AB)
♦ Costco sells PSMO's.
♦ The butcher at Costco will tell you that the untrimmed tenderloins are more tender and cost less than the trimmed tenderloins.
♦ One serving of tenderloin per person is approximately 8 ounces. (EG)
♦ If a tenderloin is 5 pounds, it will feed approximately 10 people (16 ounces per pound => feeds 2 people per pound). (EG)
♦ The tenderloin is a great piece of meat because it satisfies rare, to medium-rare, to well-done beef eaters alike. To achieve, this, cook the center to medium rare, and the ends of your tenderloin will be perfectly well-done, but not over-done. (EG)
♦ Stick the meat thermometer at the end of the tenderloin, parallel to the meat. Don't stick it in perpendicular to the meat because you won't get an accurate temperature reading. (EG)
♦ The beef will cook 5° more than the temperature at which you pull it off the heat; therefore, remove from heat at 125° F and you'll have a perfectly cooked medium-rare tenderloin at 130°F. (EG)
♦ Grilling a 5 LB tenderloin on the BBQ works well. (EG does this annually because his wife usually has other meats cooking in the oven.) It's important to use the meat thermometer even when you're grilling the meat on the BBQ. (EG)
♦ Don't trim the fat off the tenderloin. This adds flavor. The reason why filet mignon's are often wrapped in bacon is because there is very little fat on the cut of a filet. (EG) I didn't trim the fat off the tenderloin, but I wrapped it in bacon anyway.
♦ Trim all the "silver skin" off  the tenderloin. This is the white, silvery-blue colored connective tissue found along the tenderloin. When cooked, this connective tissue will "curl-up" and get very tough. It's inedible. Better to remove it. (AB & EG)
♦ There is a skinny "tail" on one end of the tenderloin. Fold this under the tenderloin and tie it up with butcher's twine. (AB) Or, cut it off, freeze it  and save it for another meal. (EG)
Here are some useful tools when cooking beef tenderloin:
Digital meat thermometer (I have a remote digital thermometer and it's one of the best investment I made 10 years ago). Tip: be sure to remove the batteries when you store the unit.
Baster
Butcher's twine
Roasting pan, with rack and meat forks
Ingredients
7.5 pound beef tenderloin, untrimmed
1 pound of bacon
6 to 7 cloves of garlic
8 to 10 sprigs of fresh rosemary
Ground thyme (Supplement with fresh thyme, if you have some on hand. I didn't, and dried works fine.)
Fresh ground black pepper
Sea salt
Olive oil
3 to 4 pats of unsalted butter
2, 15 ounce cans of beef broth
Instructions
Remove tenderloin from the refrigerator at least 2 to 3 hours prior to placing it in the oven. It's important to bring the meat to almost room temperature, prior to roasting. This was a "MUST DO", according to Alton Brown.
Pre-heat your oven to 350° F. (NOTE: There were several recipes utilizing varying temperatures from 425 to 400 to 375. I went with a lower temperature for longer - low and slow.)
Lay 5 to 6 pieces of butchers twine along your workspace, perpendicular to the meat, for the length of the meat. You can also use a criss-cross pattern with one long piece of butchers twine, which is what I had to do because the butcher didn't give me enough twine.
Gently make small slits in the tenderloin and place rough chopped garlic pieces within the slit. Be careful, as the tenderloin is extremely tender and the meat will quickly "fall apart", so to speak. FOLD the skinny tail-end of the tenderloin under the meat to create a "thick" end, similar to the shape of the rest of the tenderloin.
Drizzle with olive oil. Generously season with freshly ground black pepper, sea salt, and a lot of ground thyme. Add fresh thyme if available.
Lay fresh rosemary sprigs along the tenderloin.
Wrap bacon slices on top of the tenderloin, covering the entire top of the meat.
Tie tenderloin using butcher's twine. Drizzle a little bit more olive on top. Lay a few pats of butter on top.
Place the roast in the oven.  Periodically, BASTE the roast using the beef broth. Eventually, use both cans of the beef broth. Roast until the center reaches 125° F. The time will vary, depending on your oven. It took approximately 1 hour and 45 minutes to 2 hours to roast, but please, don't attempt to roast your tenderloin according to time!
As with all meats, allow your meat to "rest" outside of the oven, un-carved, for about ½ an hour. Allowing the meat to rest allows all the juices to absorb back into the meat, creating a juicy, tender piece of meat for your enjoyment!
Prior to serving, remove butcher's twine, slice to desired thickness and enjoy!