Cream Corn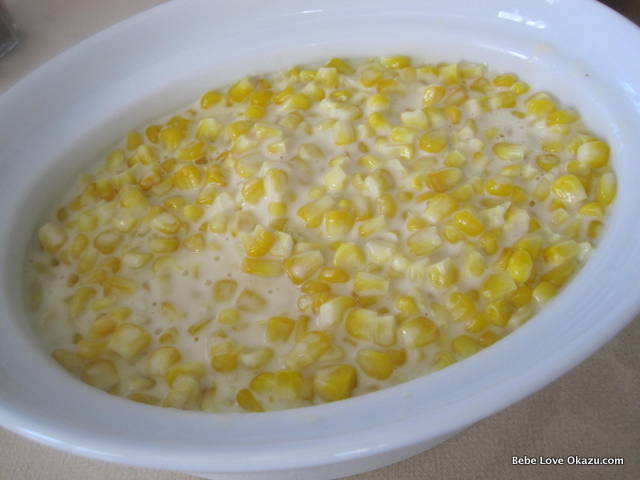 Cream corn is a family favorite that I only make for Thanksgiving and again for Christmas. Occasionally, it may also make a surprise appearance at Easter.
This home made cream corn is simple to make and not as time-consuming as some of our other holiday favorites. It's a great side dish when you're also responsible for cooking six or more dishes. It's one of those side dishes that you can make ahead of time, reheat, and still tastes like you served it hot off the stove.
Unfortunately, despite it's simplicity and ease, it is laden with ingredients that we can only indulge, just because it is the holidays! Yes, butter, heavy cream and sugar are what make this cream corn absolutely rich and delicious.
Typically, I post recipes of some of our favorite holiday dishes after the holidays have passed. Last year, I shared our family's sweet potato soufflé after the holidays, but this year I thought I would share a recipe prior to the Thanksgiving Holiday! Amazing that I'm actually on top of things for my blog this year!
Now, just because this cream corn is a family favorite and holiday tradition, I don't want to mislead you about it's roots. Neither my parents nor my grandparents made home made cream corn for Thanksgiving when my brother and I were growing up. We may have occasionally been served canned or frozen whole corn, or even sweet cream style corn, also canned, but never did we eat home made cream corn during the holidays. So sad… I know….
It wasn't until college, after attending a few potlucks, that a friend of mine, whom I unfortunately rarely ever see anymore, thankfully shared this recipe with me and I happily share this with you now. Perhaps it will become a favorite holiday side dish for your family as well.
May you and yours enjoy a safe and Happy Thanksgiving.
Cheers,
Judy
Ingredients
32 oz frozen whole corn
1 cup heavy whipping cream
1 cup nonfat milk
1 teaspoon salt
2 tablespoons granulated sugar
Black pepper, to taste
FOR RUE:
2 tablespoons butter
2 tablespoons flour
Instructions
In a large stock pot, cook corn according to the package and drain water. As a shortcut, I usually just pop the bag of frozen corn into the microwave for a few minutes and then add it to the stock pot with the heavy whipping cream and milk.
Bring corn mixture to a boil, reduce heat and add salt, sugar and black pepper.
Make the rue: In a small bowl, melt butter in the microwave and then add flour, mixing until incorporated.
Add rue to boiling corn mixture and stir until it thickens, about 10 minutes, until the cream corn is a smooth silky-looking texture. Serve immediately.
Notes
This dish can be made a day in advance and stored in the fridge. It reheats well.