Baked Brie with Honey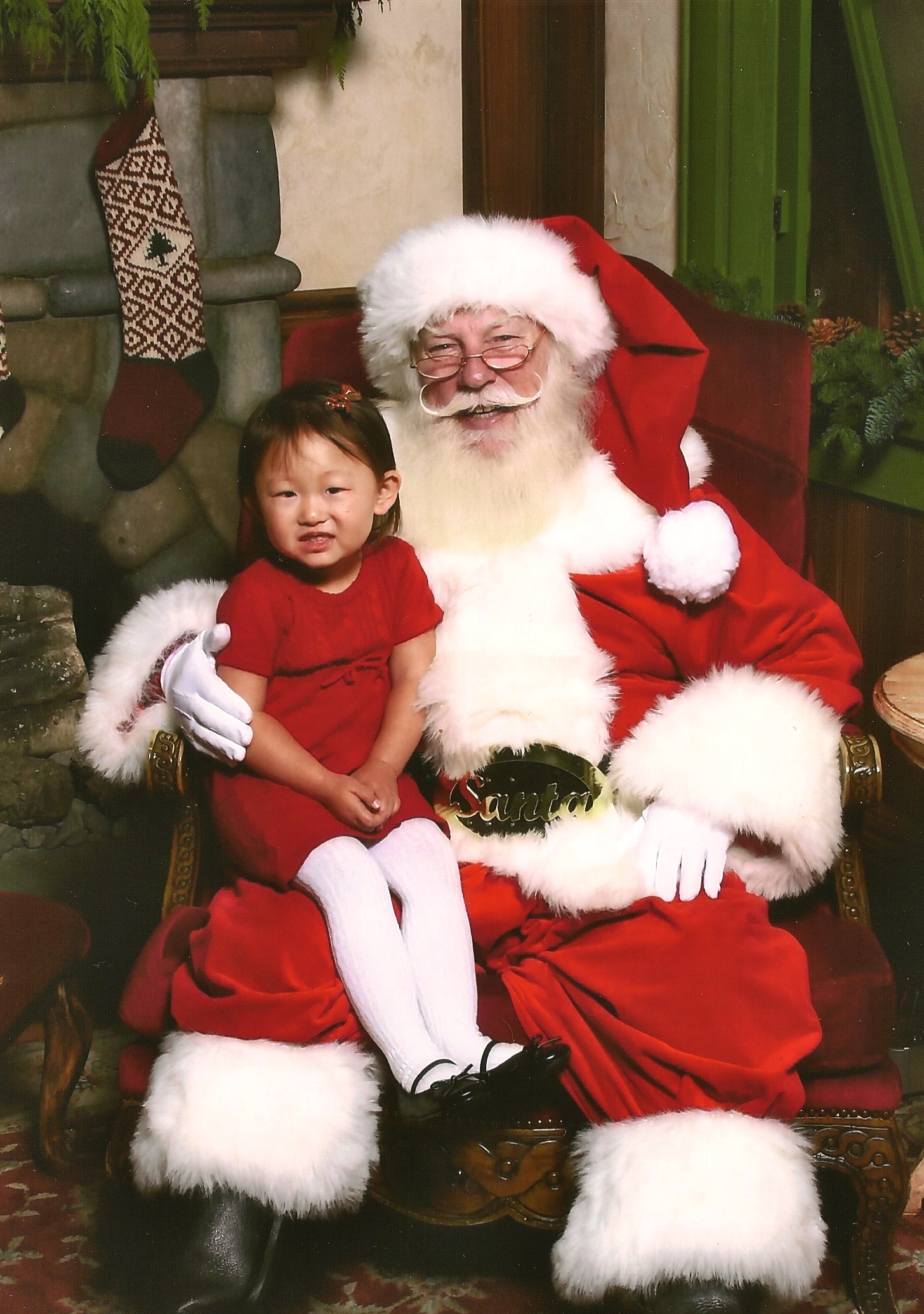 The holiday season is in full swing!
Earlier last week I was feeling a bit overwhelmed with all that I needed to do, yet all-in-all it's been great. Most all of our Christmas shopping is now done, presents are wrapped and under our decorated tree. Christmas cards have been sent. Bebe E "wrote" her letter to Santa and even visited him and his elves (twice) at South Coast Plaza. She told Santa she wants a bicycle (a.k.a. tricycle) and a puppy. She also told Santa, "I good girl." Heh-heh-heh. Because all little children know that Santa only brings gifts to good little girls and boys! Oh, I should mention that, according to my Mom, I never wanted to visit with Santa because I was scared of him. LOL. Hence, I have no pictures of me with Santa…
Not much else to do this week before Christmas other than to think about our menu for my family's Christmas lunch and later this week we're planning to make a few different types of cookies. Bebe E is excited about decorating them!
I love the holiday season!
Yesterday, I was pleasantly surprised with a phone call from Pepe, one of my besties (1 of the 10 WLA girls I grew up with) that I hadn't seen in MONTHS, letting me know she was in the area shopping and whether I was available to meet for lunch at Nordie's Cafe. Who else but a bestie would call to ask if  we could have lunch at Nordstroms. "Of course I am available!" Due to our various calendars, our gang doesn't get together to celebrate Christmas until January so it was such a treat to see one of my besties. ♥
Last night we had the pleasure of enjoying "Sounds of Christmas", a holiday concert performed by The All American Boys Chorus. My husband's dear friend is a board member with a son who is an alumnus of the Chorus. He kindly extended an invitation to us and the concert turned out to be a wonderful way to celebrate this holiday season. We all enjoyed the singing, and it was a joy to watch Bebe E happily dance to the music in her seat and clap her hands. Jingle Bells and Here Comes Santa Claus are her two favorites. She can even sing a few of the words which makes the music all the more merry. What a difference a year makes! It was only a year ago that she was still a little baby, using baby words and dancing, but unable to sing a tune and now she tells me what her favorite songs are!
Unfortunately, despite the fact that I'm enjoying this holiday season, I don't feel like cooking for our Christmas lunch! I'm looking forward to baking (and eating) cookies, but oddly, I'm feeling like I just want to eat a Christmas feast, without having to cook… In other words I wish someone else would cook!  There's nothing wrong with that, is there? I'm usually in charge of the prime rib. That big guy below is what I made last year for Christmas, and every year before that for the past 10 years, at least. These days, I only occasionally cook beef at home and I just can't motivate myself to make a huge prime rib this year! I'd rather deep-fry a whole turkey!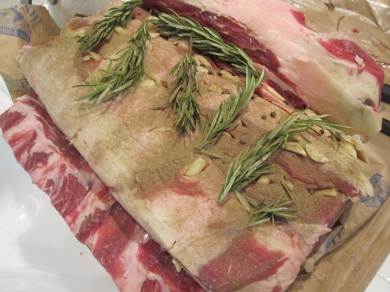 Alas, there are members of our family that love red meat but I've actually been thinking of making a pot roast in my slow-cooker or some other beef dish that is smaller, requires less handling, and can cook overnight so I don't need to wake up at 4 AM to turn on the oven. I'm afraid that my past life as an ovo-lacto-vegetarian is influencing my negativity towards prime rib. While it was only a year ago that I professed my love for beef and embraced my inner carnivore, in 2011 I started eating less red meat, preferring fish over chicken or beef. Beef rarely makes an appearance on our dinner table these days… That said, what will I make for our Christmas lunch, I have NO idea!
What I do know, is that I will once again make Ina Garten's very simple baked brie with honey as an appetizer. I made this for Thanksgiving last month, and it was super easy and popular. I thought about making a puff pastry wrapped brie appetizer, which is also a very common brie appetizer, but I went with no frills simplicity. Thanks Ina, for a simple and delightful appetizer!
Ingredients
¼ wheel brie (any size works)
4 tablespoons honey (I just drizzled and didn't measure)
Instructions
Preheat the oven to 350 degrees F.2. Place the brie on a sheet pan covered with parchment paper and drizzle with the honey. Bake for 5 to 7 minutes, or until it starts to ooze but not melt. Wait about 10 minutes and serve with crackers.
Notes
Recipe compliments of Ina Garten.