Crispy Sweet Red Bean Dumplings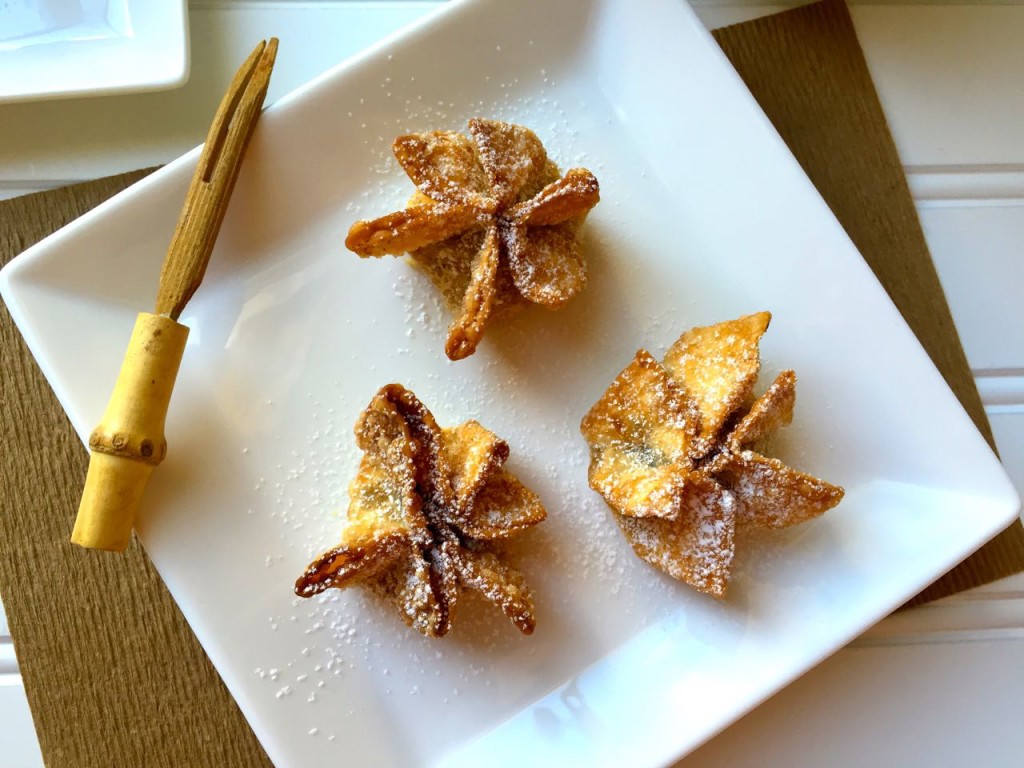 It's hard to believe 2014 is coming to a close and Christmas already came and went.
I know it's been awhile since I shared anything on my blog here, but believe it or not I had a post ready for Thanksgiving, and then again one for Christmas. The only problem is that I wasn't able to find the photos I took of my food.  So those posts have been saved until my archiving (and technology), backup, and memory (laptop's not mine) issues can be resolved.
I've been fairly busy blogging for About.com, in addition to my other responsibilities to Bebe, volunteering at her school(s), etc., and although I keep believing that I'll have more time for other things (such as finding my files and photos, organizing my files and photos, running more frequently in the morning, volunteering more, laundry and work) I think I'll just accept what my mom said to me a few weeks ago, about things (in my life) only getting busier.
I'm afraid she might be right. It's ok. Bring it on.
That being said, here's an easy wintery dessert that anyone, including a busy person, can make with a little bit of patience.
These pretty little sweet red bean dumplings are so festive and shaped like beautiful stars. They seem perfect for the winter don't they? They could be perfect for a Christmas or other holiday get together as well.
Contrary to what you might think, this dessert is fairly easy to make if you use pre-made sweet red beans or tsubuan. This can be purchased at Japanese super markets in the refrigerated section, and I've also seen them at other Asian markets. For my homemade tsubuan recipe, follow this link here.
I won't lie. Making the little star-shapes require a little patience, but it's just like folding a little pouch, just a bit at a time towards the middle of the dumpling. For these wrappers, I simply used leftover round gyoza wrappers but you can also use square wonton wrappers too.
You can also find my recipe over on About.com.
Thanks for taking the time to visit my blog, leaving comments and connecting with me via social media. 2014's been a good year and I'm looking forward to the New Year! See you then!
Happy Holidays! Happy New Year!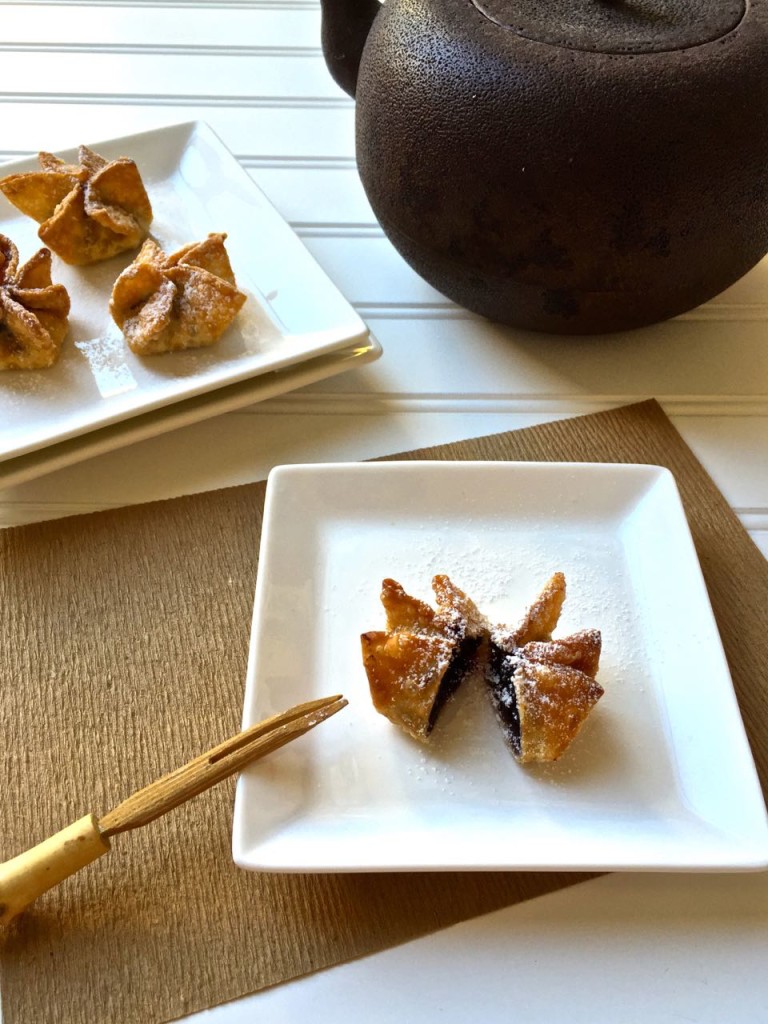 Crispy Sweet Red Bean Dumplings
Author:
Judy Ung | Bebe Love Okazu
Prep time:
Cook time:
Total time:
Festive holiday dessert of sweet red beans in a dumpling wrapper which is fried and dusted with powdered sugar. The dumplings are shaped into pretty little stars.
Ingredients
½ 14-ounce package of ready made "Tsubuan" sweet red beans
30 fresh gyoza wrappers
½ cup water, for sealing wrappers
Canola oil, for frying
1 tablespoon powdered sugar, for garnish
Instructions
Set-up a workstation with a clean cutting board, a small bowl with water, a teaspoon sized measuring spoon and a platter for resting wrapped sweet red bean dumplings. Place about half of the ready-made sweet red beans in a bowl. Store the remaining half of the sweet beans in a resealable storage bag and freeze for later use.
Lay 5 to 10 circular gyoza wrappers on the cutting board. Working assembly line style, place a heaping teaspoon of sweet red beans (tsubuan) in the center of each of the gyoza wrappers.
Working with one wrapper at at time, dip your finger in the water and moisten the entire rim of the wrapper. Next, to create a star shape, make small folds along the edge, pinching the sides together to make six folds. For an easier shape, pinch sides to make four folds. Either will look beautiful. Repeat, until all the dumplings are made.
Heat canola oil in a small spot over medium-high heat to about 350 degrees fahrenheit, or, simply test a small piece of gyoza wrapper by dropping it in the hot oil. If the wrapper quickly bubbles and floats to the top, the oil is ready.
Set-up a large plate lined with paper towels to drain and cool the fried dumplings.
Fry 3 to 4 dessert dumplings at a time for just 20 to 30 seconds on each side. The dumplings should be a light golden brown. Because the filling is pre-cooked, the dumpling is simply being fried to achieve crispness and color.