Chinese Wontons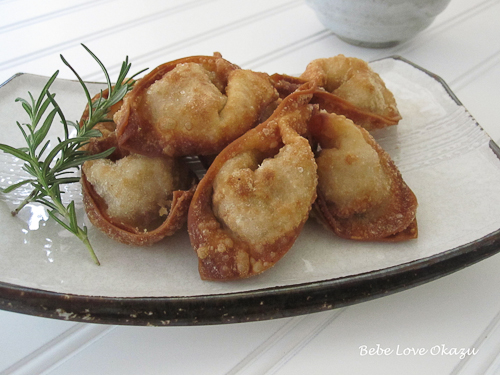 There's something about fried wontons that are addicting.
Inherently, we all know fried foods aren't necessarily the healthiest of foods, yet you can't stop at just one wonton. You eat one, and then you want another, eat another, and then you want yet another, and another!
Perhaps it's the light, crunchy fried wonton skin. Or perhaps it's that tasty wonton center of succulent ground pork mixed with subtle bursts of flavor from the shiitake mushrooms or scallions. Or perhaps it's my favorite ingredient, chopped water chestnuts, that add an unexpected little crunch that makes wontons addicting. They make me happy, right down to the core of my soul.
Yes, good food makes me happy.
I grew-up eating what I will refer to as "Japanese wontons" because my first generation Japanese Mom made our wonton filling with ingredients that differed significantly from the Chinese wontons my husband grew-up with. Don't get me wrong, I love Japanese wontons and there's nostalgia associated with the wontons I grew-up with, but these days, if I'm in the mood for making wontons, I make my husband's family wontons that he learned from his Mom.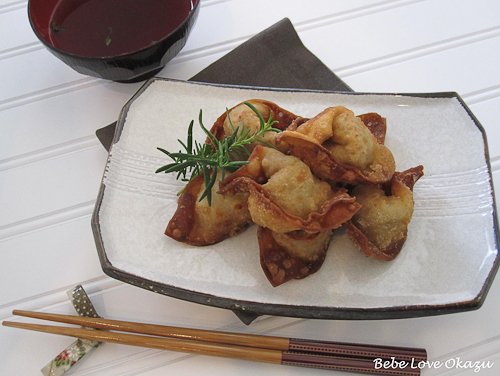 Once in a while, Yin-Yin (Bebe E & Nene's paternal grandmother | my mother in law) makes us wontons when we go over to watch a USC football game together or just to hang-out for a relaxing lunch on the weekend. Obviously, I never go to watch the game (perhaps you've missed my previous mentions of my dislike for football), I go to eat! But I'm always hopeful that Yin-Yin made wontons for us, and when I see the cute little fried wontons on a plate on the dining table, I'm simply, happy.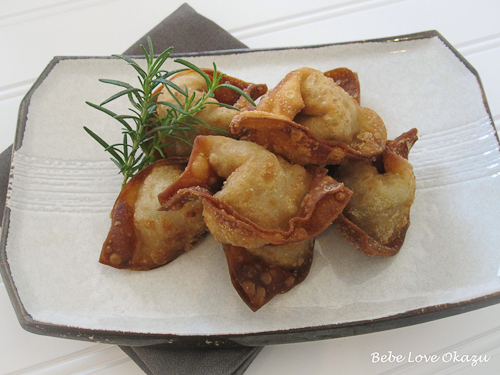 Three Wonton Dipping Sauce Ideas
1. Duck Sauce:
These wontons taste delicious on their own, but if you're interested in a dipping sauce, my in-laws sometimes use duck sauce (available at the Chinese supermarket). It's pale orange in color (almost looks like apricot marmalade), sweet, and has just a touch of heat. It's quite delicious, and it's a great shortcut for wonton sauce.
2. Yin-Yin's Sweet and Sour Sauce:
1/2 cup ketchup (or use equal parts ketchup to pineapple juice)
1/4 cup pineapple juice
Brown sugar, to taste
1/2 tablespoon corn starch (add more if you prefer a thick sauce)
1/2 tablespoon water
Boil ketchup and juice over medium-high heat. Add brown sugar to taste. In a separate bowl, dilute corn starch with water. Add to pan and whisk until the sauce thickens.
3. Mom's Ketchup & Tonkatsu "Japanese Wonton" Sauce:
I typically don't keep duck sauce in the refrigerator, so when I serve wontons at home, I make a quick and easy sauce that I grew-up with. It is one part ketchup to one equal part tonkatsu sauce (available at Japanese supermarkets). Occasionally, I will use okonomiyaki sauce (also available at Japanese supermarkets), which is sweeter than tonkatsu sauce. Gently incorporate the ketchup and sauce together.
Mourning the Lakers,
Judy… Let's just not talk about last night's horrid game. There was nothing pretty about it at all. Nothing.
Recipe type:
Appetizer, Main
Ingredients
1 pound lean ground pork
½ 8-oz can chopped water chestnuts (about 2 heaping tablespoons)
3 - 4 medium dried shiitake mushrooms, reconstituted, finely chopped
1 green onion stalk, finely chopped (optional, but I prefer to add)
Dash of salt
Dash of pepper (optional)
1 teaspoon soy sauce
2 packs wonton wrappers
2 - 3 cups canola oil for frying
Instructions
In a medium bowl, add hot water and dried shiitake mushrooms. Allow the mushrooms to reconstitute for about 20 minutes or until tender. Discard stems and chop finely.
In a large bowl, add ground pork, chopped shiitake mushrooms, chopped water chestnuts, and chopped green onions. Season with a dash of salt, pepper and soy sauce. Use your hands to mix the meat and vegetables until all the ingredients are well-incorporated. I don't recommend using anything but your hands; it's just the easiest way to get everything all good-and-mixed.
Prepare your work station for assembling the wontons. I usually place a large piece of wax paper over a cutting board, then lay about 10 - 15 wonton wrappers in assembly line | mass production format. In a mug, add cold water and place your butter knife in there. I like using a mug vs. bowl because the knife, and or bowl, won't tip over when you leave your butter knife in it.
Next, using a teaspoon, scoop heaping spoonfuls of the wonton meat and place each scoop in the center of each wonton skin. It's tempting, but don't use too much filling or else your wonton will: a) not seal properly; b) tear.
Wrap your wontons, Chinese style. The reason I specify this method as Chinese-style, is because the Japanese wontons I grew up with are shaped differently (plain triangle), and are not as fancy. My husband taught me how to wrap wontons properly.
I find it's easier to pick-up the wonton wrapper with the meat in the center, and place it in the palm of your left hand (if you're right handed, like I am), rather than leaving it on the wax paper.
Using a butter knife (or your finger), wet the edge of two connecting sides of the wonton wrapper, then fold over to seal and make a triangle (see top left photo in the collage below).
Next, face your triangle pointing down, and wet the top the of the left corner. Then, gently bring the right corner over to the left side, and rest it on top of the left corner. Pinch together. By doing so, you'll achieve the nice little wonton-pouch shape you see in the bottom left photo of the collage. You're done! Now repeat, about 50 more times.
I like to fry my wontons in a deep cast iron pot, but I only use enough oil to completely cover the wontons. Fry for about 2 or 3 minutes on each side, turning over once. The wontons should have a nice golden color when they are removed from the oil. Allow the wontons to drain on a paper towel.
If necessary, add more oil if it seems as though it's running low. If you do this, just make sure that your oil reaches the appropriate cooking temperature once again. I never measure the temperature of the oil but I read somewhere that about 375°F is appropriate.
Notes
Useful supplies for assembling wontons: wax paper, water, teaspoon, butter knife.