My Moms Japanese Style Egg Rolls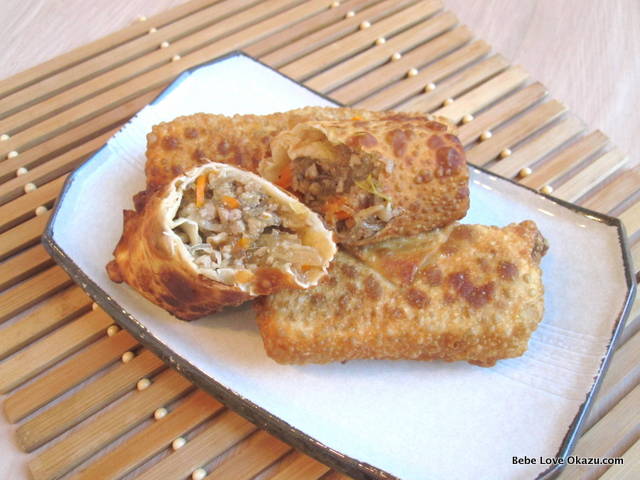 As the title of this post implies, I made fried food! It was somewhat impulsive. I was cleaning out our freezer and I came across a pack of Nanka Seimen egg roll wrappers that I purchased quite a long time ago. To be honest, I'm not even sure when I bought these, but after defrosting them, they didn't have any noticeable freezer burn so I didn't want them to go to waste.
I remembered a type of egg roll that my Mom used to make for us when we were kids and decided to try and recreate it. When I called her for the recipe, she gave me a list of ingredients, but of course, no measurements as usual. My mom makes the meat filling with ground pork, carrots, onions, shiitake mushrooms, and harusame (noodles made of potato or mung bean starch).
When I served these egg rolls to my family for dinner, I explained to my Chinese-American husband that these were "Japanese" egg rolls that my Mom used to make, not Chinese egg rolls (follow link for recipe). My husband asked, "What's the difference? Aren't all egg rolls Chinese? Wait, aren't egg rolls Vietnamese?" Honestly, I have no idea, and neither of us took the time to Google egg roll history, so if you're reading this, and you know the answer, please leave me a comment. :)
My Mom used to serve these Japanese egg rolls with a clear Japanese soup, or sumashijiru, (follow link for recipe), rice, and a salad. Egg rolls are often thought of as an appetizer or a side dish, but at our house it was the main course. When I found those egg roll wrappers in the freezer, I suddenly became nostalgic for my Mom's Japanese egg rolls. I'm so glad I made them, despite having to fry them (a task I don't enjoy). Our Japanese egg roll dinner brought back good memories, and it was delicious!
I hope my fellow Southern Californians are staying cool because it was SO hot today. I had to turn on our air conditioner. Despite the heat, some of the leaves are changing color and I'm teaching Bebe E that it's Fall, but boy, does it still feel like summer or what? My daughter learned the word "deciduous" thanks to Sesame Street, so lately she's having fun pointing out any brown or slightly orange leaves to me and shouting out, "It's deciduous Mommy!" Just love this pre-school age!
As for the giveaway, stay tuned because I've narrowed it down to two ideas that have to do with what I've really been into lately, but I'm not sure which one readers will enjoy more. Decisions, decisions... I will make an announcement a week from Saturday.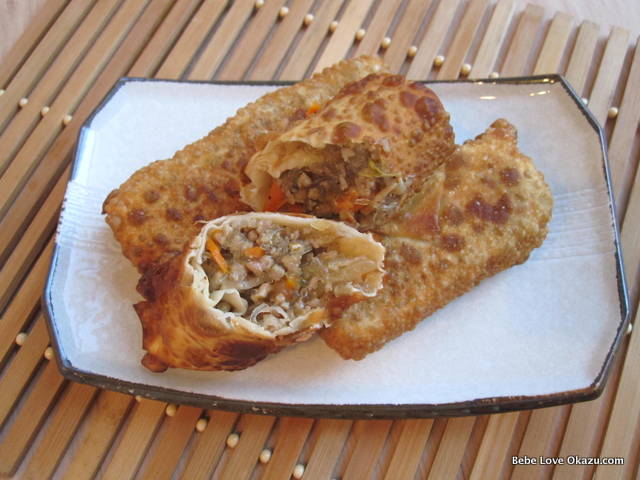 My Moms Japanese Style Egg Rolls
Author:
Judy | Bebe Love Okazu
Recipe type:
Appetizer, Main
Cuisine:
Japanese, Chinese
Ingredients
1 pound ground pork (or turkey)
½ yellow onion, diced
5 dried shiitake mushrooms, reconstituted, liquid reserved
1 medium carrot, julienned
1 2 oz dried harusame (mung bean noodles/thread)
2 cups moyashi (soy bean sprouts)
2 stalks negi (green onions), sliced
3 tablespoons shoyu (soy sauce)
2 tablespoons mirin (sweet cooking sake)
Salt and pepper to taste
1 tablespoon cornstarch
2 tablespoon reserved shiitake mushroom liquid
Egg roll wrappers
Canola oil for frying
Instructions
In a small bowl, add dried shiitake mushrooms and hot water. Allow to soak about 15 minutes until tender. Reserve soaking liquid.
In a medium pot, boil water and cook dried mung bean noodles (thread) about 3 to 4 minutes until tender. Drain, and rinse with cold water. Rough cut noodles into 2-inch pieces using kitchen shears. Set noodles aside.
In a large pan, sautee ground meat (pork or turkey). Season with salt and pepper. Drain fat from meat and remove cooked meat from pan.
In the same large pan, sautee julienned carrots, onion and moyashi (soy bean sprouts) until tender. Season with salt and pepper.
Add ground meat back into the pan.
Also add cooked harusame (mung bean thread) back into the pan. If the noodles appear dry and are sticking together, gently rinse then with water and drain. Then add into the pan.
On medium-high heat, combine all ingredients together. Add soy sauce and mirin, stirring gently. Combine cornstarch and reserved shiitake liquid. Stir until the mixture thickens slightly. If it seems dry, add a bit more of the reserved shiitake liquid.
Make egg rolls. Place about 3 heaping tablespoons of the meat mixture in the center of the egg roll wrapper. With one corner pointing towards you (the wrapper looks like a diamond), fold both left and right corners towards the middle, then take the bottom "point" and fold it towards the center and roll. Use the top "point" of the diamond to seal the egg roll by brushing some water along it's edges. Place egg roll seam facing down, until you finish rolling all of the egg rolls.
In a medium pot, heat enough canola oil. Only add about 3 egg rolls at a time to the pot of oil. Fry each side for about 30 - 40 seconds until golden brown.
Drain egg rolls on paper towels.