Corned Beef Hash & Summerpalooza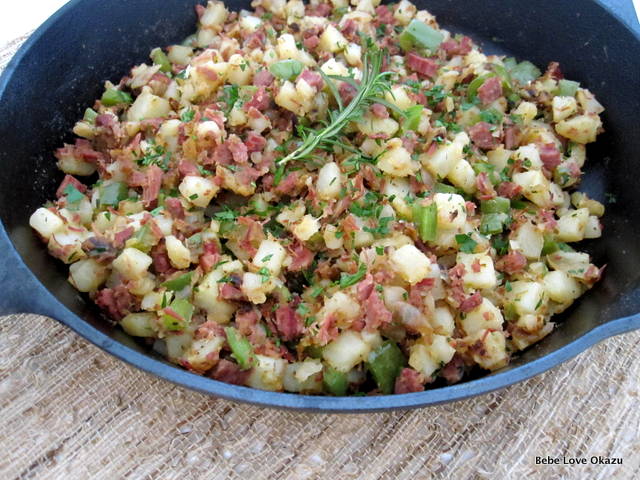 Our summer is heating up with activities very quickly. This weekend Bebe E starts a soccer for tots class and Bebe E just finished up basketball for tots. We also started obon odori practice, which is a Japanese dance for the summer obon festivals. (Click here for my post on obon and okinawa dango, a Japanese sweet donut). Bebe E loved her first dance practice and especially the popsicle that was offered during break!
This week, Bebe E is swimming up to three times at a new swim school.  The time we need to get ready, drive to school, take our lesson, change and head back home for me to prepare lunch, essentially takes up half our day. After lunch we usually do arts and crafts, and Bebe E is happily making great use of a new little easel that we picked up. Afterwards, we have story time with a few favorite books from her collection or borrowed from the library, and then it's nap time.
Oh nap time.  How I love nap time, but not because I get to sleep too. Ok, ok, I confess once in a while I have been known to catch a few zzz's out of sheer exhaustion…
What I enjoy about nap time is that it's the best time for me to knock off a few chores, prep a few items for dinner, and have a moment of quiet time. I used to blog during her nap time, but recently I've been slowly working on my new website and for the next few weeks I'll be folding "tsuru" or Japanese origami cranes.
A very dear friend of mine is getting married very soon and I am helping to fold some of the 1,001 cranes that she needs to make her "senbazuru" (one thousand crane) wedding art display. So far, I've folded cranes for a number of girlfriends that got married, but I probably made the most cranes for our own wedding, specifically hundreds for our senbazuru wedding art display. It now hangs in our home, and when I look at it, I am reminded of our wedding and my family and friends that helped to make it.
Now, I am fortunate to give back and help a dear friend as an honored bridesmaid. Bebe E has been asking if she could do origami with the gold paper too, but that probably wouldn't be a good idea. The paper is very small about 2″ x 2″ and the folded cranes are tiny. I gave her some colored origami to play with but she says it's not the same. Since then, when she sees me folding cranes, she says, "AGAIN, mommy? How come you folding those AGAIN?" I just laugh. One of these days I need to share an origami blog post. For now, I share with you what the folded cranes look like in the photo below. They are about 3/4 " tall and less than 1/2″ wide. Their wings are not down and their heads are not folded, but those are details that the "crane lady" will take care of. She is the master craftsperson who will arrange all 1,001 cranes into an artfully crafted display. I can't wait to see my friend's senbazuru display on her wedding day!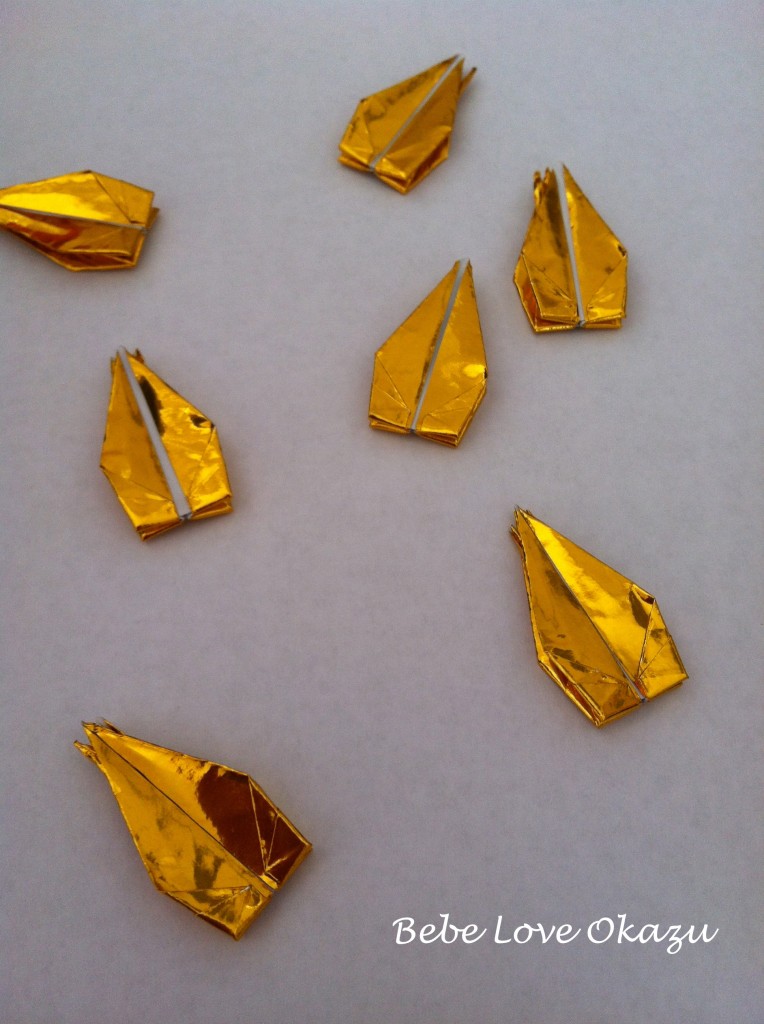 So what does corned beef hash have to do with folding cranes? Absolutely nothing. I bought corned beef on sale a while back and decided to make a late St. Paddy's day corned beef meal and I used the leftovers to make a hash for brunch.
While I occasionally enjoy ordering corned beef hash when I dine out, I'm always skeptical about ordering this, and I'm always careful to ask whether the corned beef is homemade. I will now confess that when I was pregnant, I often had cravings for corned beef hash and I was so desperate for it that I often asked my husband to buy me canned corned beef hash. I was bed ridden, so at least I made it more convenient for my husband rather than demand that he make it from scratch?!? Not to worry, Bebe E, despite my cravings I only ate this once in a while during your 9-month gestation.
This corned beef hash is very easy to make, especially when you've got leftover corned beef available (click here for my recipe).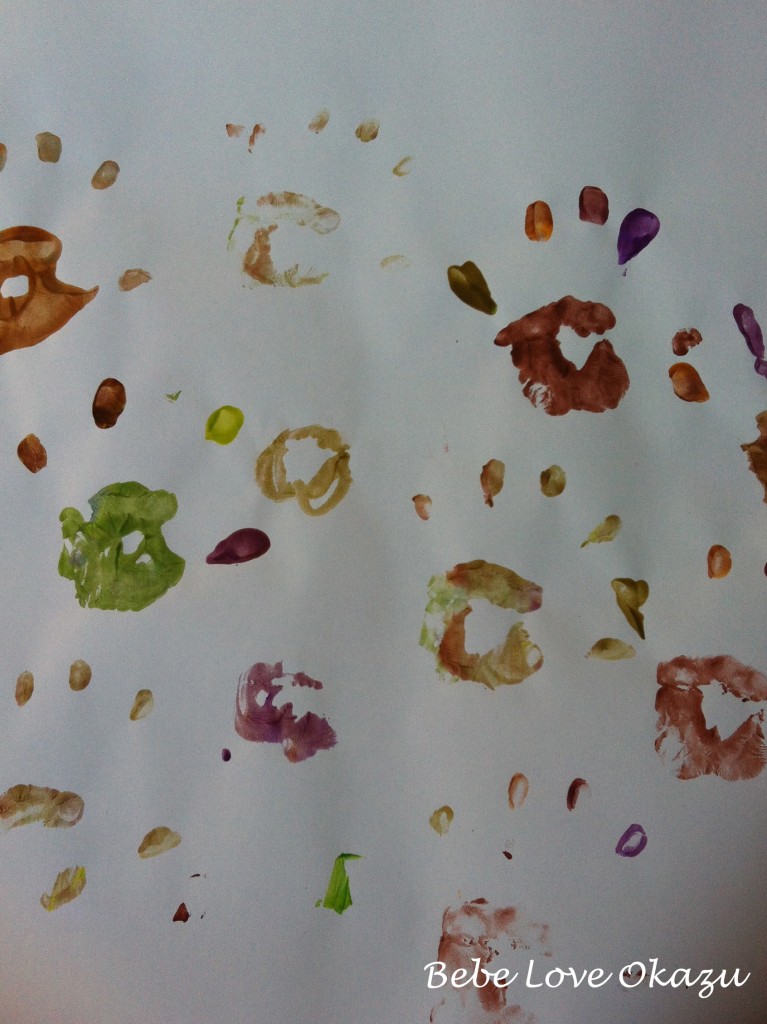 Pictured above is Bebe E's "hand art" that she created all by herself using her new easel and paints. I was cleaning up the kitchen when I noticed she was repeatedly running back and forth from her easel to the bathroom. I asked her what she was doing, and she would simply reply, "washing my hands, mommy". No harm in that, right? She later called me over to show me what she made and I was surprised to see her beautiful artwork. I realized that every time she painted her hand a different color she would wash it out to use new colors. What can I say, I am a very proud mommy!
What's next? Aside from our summerpalooza activities, we've got a trip to San Diego Zoo planned, a few birthday parties, a couple of Obon festivals, and a possible trip to Lego Land and the Aquarium as well. As we immerse ourselves in summer time activities, I would like to encourage readers to consider becoming a fan of my Facebook page, Bebe Love Okazu. Here, I will be sharing some of our summer time bento dishes and a few other food related tidbits and family activities that I might not have time to upload on my blog, until much later. As in, possibly after my new website is done, until the cranes are folded, until my bridesmaid duties are completed and my good friend is happily married. :)
Happy 4th of July!
Judy
Ingredients
4 medium potatoes, peeled and cubed
3 cups chopped corned beef
1 cup chopped onion
1 large green bell pepper, cubed
1 teaspoon dried thyme
½ cup chicken stock (original recipe calls for heavy cream)
1 tablespoon Italian flat leaf parsley, chopped
1½ tablespoons olive oil
Salt, to taste
Pepper, to taste
Instructions
Boil potatoes in salted water until tender.
In a frying pan, sautee onions and bell pepper in olive oil until tender. Season with salt and pepper.
Add potatoes and let them brown for about 5 minutes. Add chicken stock, simmer for about 1 minute. (Original recipe calls for heavy cream but it seemed to rich so I opted to use chicken stock.)
Add chopped corned beef, thyme and flat leaf parsley and cook for about 3 - 5 minutes. (See Recipe Index for corned beef recipe)
Notes
Corned beef recipe available on my "Recipes" Page. Hash recipe adapted from Epicurious.com