Okinawa Dango, an Obon Festival Favorite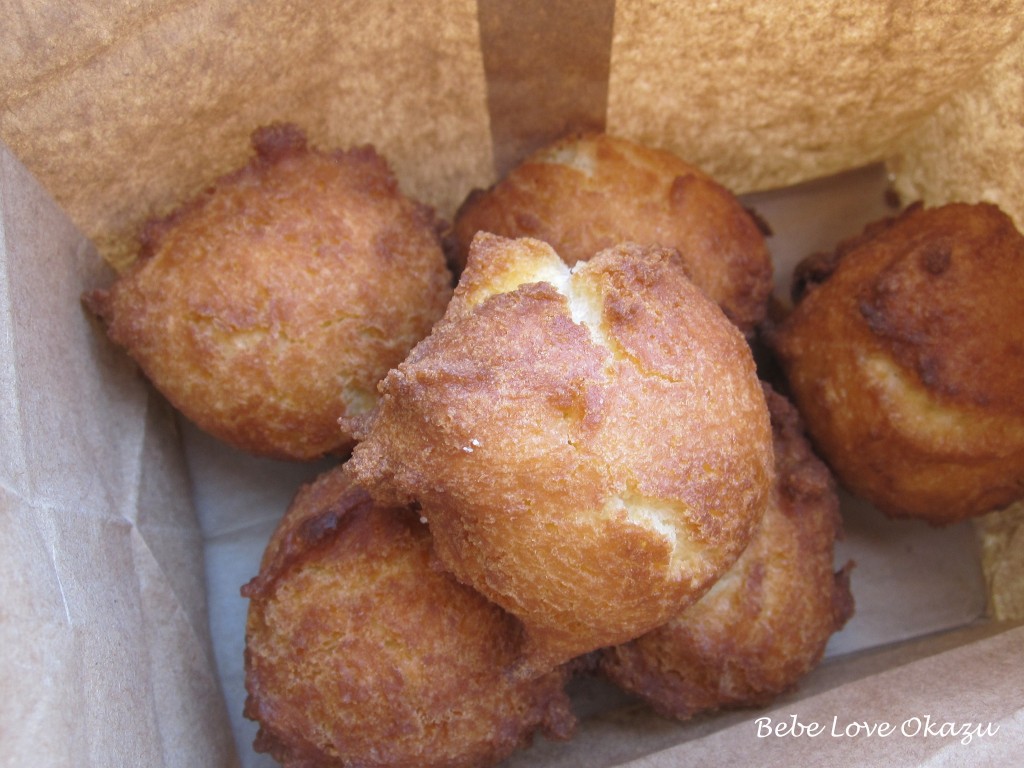 As a Japanese-American child growing-up in Los Angeles, I was fortunate to be a part of a local Japanese community which provided the opportunity to experience a number of wonderful cultural traditions. My favorite summer-time tradition was, and still is, attending Obon.
Long ago when I asked my mom about the meaning of Obon, she told me that it was a time during which we remembered and honored our family members that have passed on. In our teens, my friends and I would occasionally talk about the absurdity of, in our exact (blunt) words, "celebrating the dead with a carnival". However, it's more than just a carnival. There's Obon-odori (dancing) too!
The significance of Obon, or "Bon" as my Japanese relatives would say, originates from Buddhism. During our summer trips to Japan, I often overheard my aunts and uncles talking about this cousin or that cousin coming home to visit during Bon. I didn't realize the significance of this Japanese Buddhist custom and always believed that Bon meant summer vacation.
History of Obon
According to my Google research, Bon is a Buddhist custom that dates back over 500 years and is celebrated in Japan and other parts of the world during July through mid-August. During Bon, families reunite at their ancestral homes to visit and clean the burial sites of their ancestors, as well as to welcome their ancestral spirits which are believed to visit their home altar during this time. Sounds a bit scary, doesn't it? I'm not so sure that waiting for spirit ghosts to visit, especially in the dark, is a good idea; however, if they are friendly ancestors and loved ones, I suppose it is OK?!?
I also Googled Obon-odori and found an interesting story on Wikipedia. Mukashi-mukashi (this is how all Japanese childhood stories begin, and is similar to the English version of "once upon a time"), there was a disciple of the Buddha known as Maha Maudgalyayana, also known as Mokuren. He is believed to have used his supernatural powers to check upon the well-being of his deceased mother. To his dismay, he discovered that his mother was lost in the Realm of Hungry Ghosts where ghosts suffer extreme thirst and hunger, far worse than human suffering.
Mokuren visited Buddha and asked how he could release his mother from this horrible realm. Buddha instructed him to make offerings to the Buddhist monks on the fifteenth day of the seventh month after they completed their summer retreat. When he did this, his mother was released. Mokuren then came to see the true nature of his mother's unselfish nature and kindness. Mokuren danced with joy because his mother was released and also because he was so grateful for her kindness. Obon-odori originates from Mokuren's dance of joy.
Obon Today
Today, in addition to Obon-odori, the Obon festival consists of food booths, ikebana (flower arrangement) and bonsai exhibits, art displays, a craft bazar and games. When I was young, my favorite game was always kingyo sukui, a traditional Japanese game where goldfish are scooped out of the water using a special scoop made of very thin paper. It's designed to break very easily, making it very difficult to catch the fish. I'm not sure that this game is humane, given any goldfish I won always died the next day, or the day after that.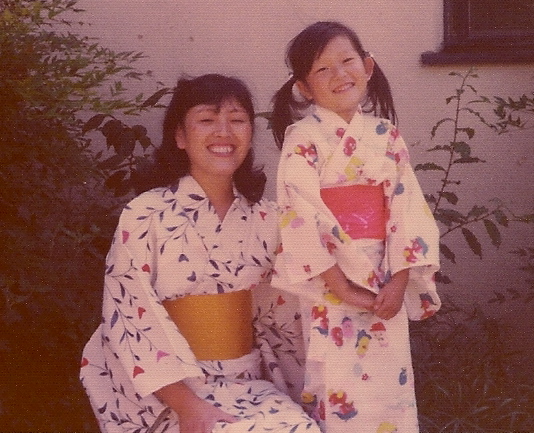 My mom and I dressed in yukata, a casual lightweight summer kimono, for Obon. I thought that dressing-up was so much fun! My dad took this photo of us in our backyard. I am six years old.
After we moved to L.A., every summer, if we were not in Japan, we attended the West Los Angeles Buddhist Temple Obon. In addition to attending this Obon, my parents also took me to the Pasadena Obon. We lived in South Pasadena until I was three years old and my paternal grandparents still lived there, so every summer it was a tradition for us to attend this with them. My grandfather was a very active member of the Pasadena Buddhist Temple and his Buddhist Men's Group always ran the chicken teriyaki booth. I loved that chicken teriyaki! Such great memories.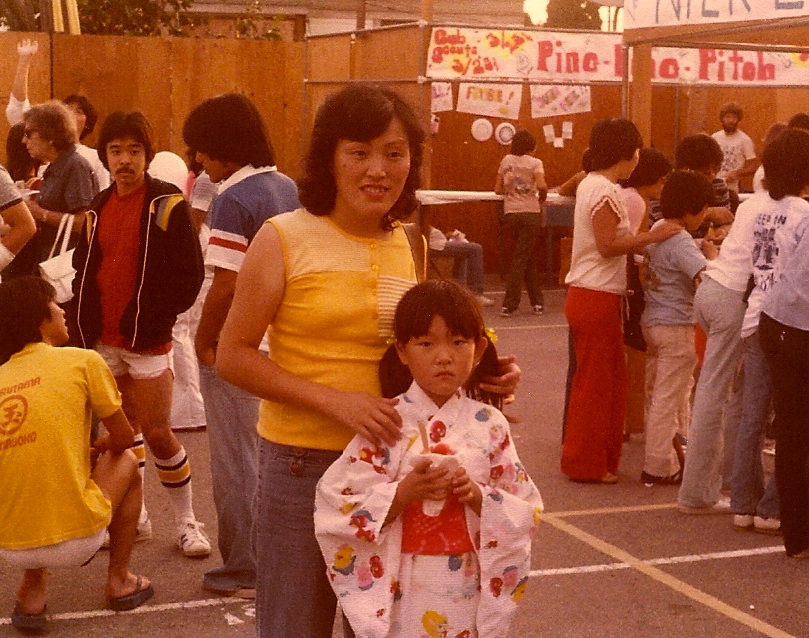 My mom and I at the WLA Obon. I'm not sure why my mom isn't wearing her yukata in this photo. Did you notice that guy behind us with the tube socks and short white shorts?!?! He probably dates this photo in a not-so-great-way.
In high school, in addition to attending the WLA Obon, my friends and I drove (or our parents drove us) ALL over town to attend Obon festivals in Orange County, Gardena, San Fernando Valley, Downtown Los Angeles, and Venice. In the summer time, Obon was THE place to see (boys) and be seen (by boys).  :) This tradition of attending as many Obon festivals as possible continued through our college days. Post-college, however, we only attended the WLA Obon to see each other, have dinner with our families, and see old friends that we typically only saw at Obon.
One of my favorite treats at Obon is Okinawa dango, also known as sata andagi. In Okinawan dialect, saataa means "sugar", while andaagi means "deep fried". It's basically a deep-fried doughnut hole made with flour, sugar and eggs. It was rarely served at the WLA Obon, but it was readily available at some of the other Obon festivals we visited, and it was always a must-visit booth.
Two weeks ago, Bebe Dada and I took Bebe E to meet our friends at the Orange County Obon. This was my first trip to the OC Obon in almost 10 years. Despite the fact that we already had plans to attend the WLA Obon (a post for the future) the following weekend, I announced that attending the OC Obon annually from now on was verrrrrry important because it was my attempt to "integrate" into The OC since this is likely where Bebe E will grow up. My friends and family laughed at this, and most of them just rolled their eyes.
Bebe Dada often says to me, 'you can take the girl out of L.A., but you can't take the L.A. out of the girl'. Now that is certainly the truth!
Anyway, I was very excited to find an Okinawa dango booth at the OC Obon and I actually got in a line with 30-40 people to buy these fried doughnut holes. I waited 10 minutes but realized that I was wasting my time and cutting into Bebe E's bedtime. I decided I would make these myself at home! I used a random recipe I found online from Red Hill Elementary School in Honolulu, HI.
Okinawa Dango
3 cups all-purpose flour
1 cup sugar
3 1/2 teaspoons baking powder
1/2 teaspoon salt
3 eggs
1/2 cup milk
1) Combine dry ingredients in a bowl. Lightly whisk together milk and eggs. Add wet ingredients to the dry ingredients and mix until incorporated. 2) Shape dough into small balls and deep fry.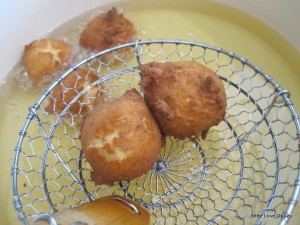 3) Dust with powdered sugar. This is optional. Most of the Okinawa dango found at Obon are not served with powdered sugar.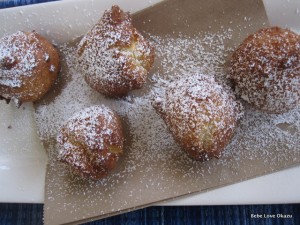 Now I'd like to share my not-so-perfect Okinawa dango. Heh-heh. Yes, readers… if anyone is still reading that is… my never-ending rambling continues! Bebe Dada said these looked like Pikachu. This is the yellow character from the Pokemon anime in case any of you are not versed in children's anime.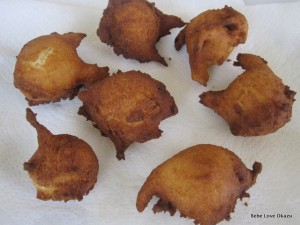 It gets worse. Look at what I did to the ones below!!!  I crack-up when I look at these photos. I can't believe I'm posting these, but I thought it was pretty funny. In all honesty, these photos tell you everything about me. I am just your average (below average?) cooking mama and I can definitely laugh at myself.
Some of you might remember that I mentioned in my last post that I almost burned down the kitchen, twice in my lifetime. The second time was when a paper towel caught on fire. Well, it caught on fire while I was making Okinawa dango! I can laugh about it now, but in all seriousness it wasn't funny at the time since I was screaming at the top of my lungs for Bebe Dada to hurry to the kitchen, "HOLY COW! The paper towel's on fire!!!"
I'd like to blame the small kitchen fire for these blackened dango, but I did this before the fire. I can't help but to laugh when I look at these. It's disgusting, but it's also pretty funny, isn't it? Have you heard of kabutomushi? It's a weird but harmless blackish-brown insect in Japan that children enjoy collecting in the summer, and some of them are actually this big.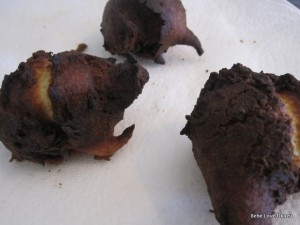 Since I don't want to end this post on a burnt note, here is another look at my Okinawa dango that turned out nice and golden. Crispy on the outside, soft and cake-like on the inside.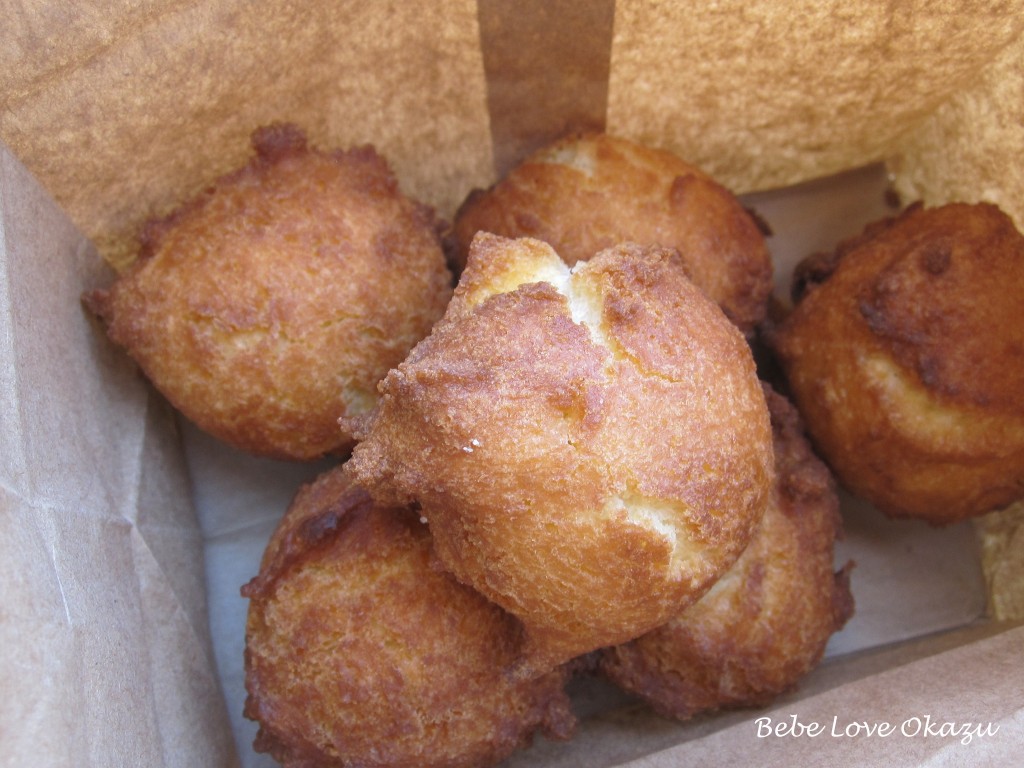 Have a great Obon season, and a wonderful weekend! Judy | bebe mama

Ingredients
3 cups all-purpose flour
1 cup sugar
3½ teaspoons baking powder
½ teaspoon salt
3 eggs
½ cup milk
Instructions
Combine dry ingredients in a bowl. Lightly whisk together milk and eggs. Add wet ingredients to the dry ingredients and mix until incorporated.
Shape dough into small balls and deep fry.
Dust with powdered sugar, optional.
Notes
Recipe compliments of Red Hill Elementary School in Hawaii.