Spicy Konnyaku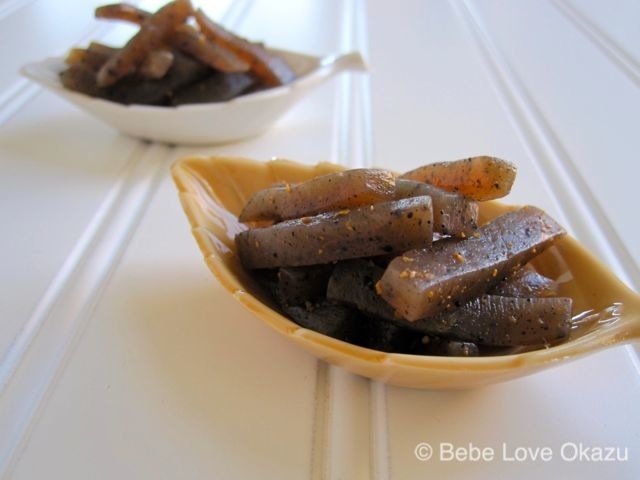 Konnyaku, is the Japanese term for the root vegetable (plant) or yam cake, also known as konjac, konjak, konjaku, devil's tongue, or elephant yam.
To me, konnyaku is a vegetable that was as common as broccoli at our family's dinner table when I was growing up. It's also a favorite of mine. I loved it, even before I knew what I was eating. I just accepted it as "konnyaku", a Japanese food that my Mom cooked, and it wasn't until I was in middle school that I bothered to ask what it was: yam cake.
In Japanese, the term konnyaku refers to both the vegetable or plant, as well as the cooked food where the root of the plant is made into a jelly-like yam cake. It is available for sale at Japanese markets, as well as other Asian grocery stores. Usually, konnyaku can be found in blocks of either brown or white. It is also available as noodles. My Mom always bought the brown konnyaku block or noodles, so I have a tendency to purchase the same.
In case you've never tried konnyaku noodles, they are delicious in Japanese hot pot dishes such as shabu-shabu and sukiyaki (follow the links for my recipes). Konnyaku noodles also work great for this recipe as well, but I prefer to use the block of konnyaku as the cooked slices offer a heartier bite.
Not too long ago, my Mom made onishime, which is a Japanese dish of simmered vegetables which includes konnyaku. I found myself selectively eating more konnyaku and less of the other vegetables in her dish. She noticed. The next time I visited my parents, my Mom simply made a batch of no-oil, braised spicy konnyaku.
It was so delicious, but she took the majority of it to her friend's potluck and I was left to snack on the few pieces she left for me.
So, I went home to make a batch of spicy konnyaku for myself.
My Mom slices the konnyaku, or block of yam cake differently each time. Konnyaku can be sliced horizontally into thin or thick rectangular pieces, or it can be made into medium sized match sticks. After making this batch of match stick sized konnyaku, I decided I like the bigger slices instead. I recommend experimenting to see what suits your taste.
This dish of spicy konnyaku is very nostalgic as it reminds me of my many trips to Japan during which I stayed with my paternal grandparents. My bachan (grandmother) would regularly make batches of spicy konnyaku because my jiichan (grandpa) liked it, and he especially enjoyed the spice! Our family dinners at my grandparent's home always involved about six to eight (possibly more) different small okazu, or side dishes, which always made our dinners quite the feast, but one of my favorites was always spicy konnyaku.
This dish is so easy, it doesn't really require a recipe. It's konnyaku, braised in a bit of soy sauce, dashi seasoned soy sauce, water, and seasoned with Japanese shichimi togarashi, or 7-chili spice.  The amount of soy sauce depends on how savory you prefer your food, similarly, the togarashi chili spice can be adjusted according to how much heat you enjoy.

Spicy Konnyaku
Author:
Judy | Bebe Love Okazu
Recipe type:
Side Dish, Appetizer, Vegetarian
Prep time:
Cook time:
Total time:
Ingredients
1 14-ounce package Japanese konnyaku (yam cake)
2 tablespoons water (optional: substitute with katsuo dashi)
3 teaspoons dashi seasoned soy sauce (Kamada Dashi Shoyu brand), to taste
1 - 2 teaspoons soy sauce, to taste
⅛ teaspoon Japanese 7-chili pepper (shichimi togarashi)
Instructions
Rinse konnyaku with water.
Slice konnyaku to thick match sticks or other desired size.
Heat a non-stick pan over medium heat. Add water, soy sauce, dashi seasoned soy sauce, and konnyaku together. Stir continuously. Add 7-chili pepper (shichimi togarashi) and braise until most of the liquid evaporates, about 6 to 8 minutes. Add more soy sauce to taste.
Remove from heat and serve spicy konnyaku on individual small plates. Garnish with additional 7-chili pepper (shichimi togarashi).