Shio Koji Salmon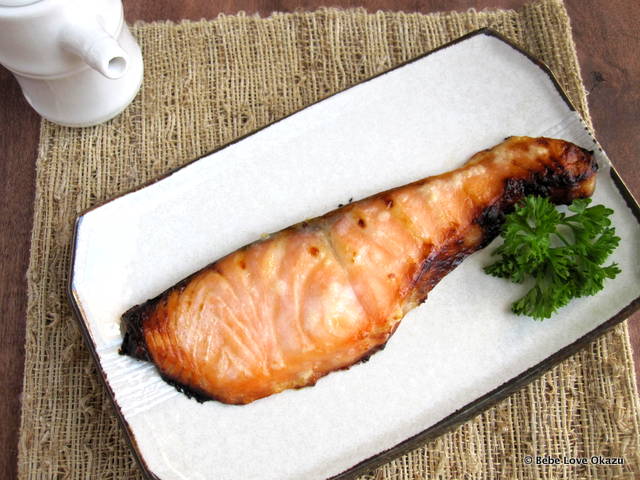 Here's a super easy and quick shio koji recipe that's great on a busy weeknight, and perhaps better than getting take-out. These days I've been so busy fully engrossed in our summer that I haven't had much time for "fancy" cooking (or blogging – boo).
Thankfully, shio koji seems "fancy" but it's actually a super-easy short cut for "fanci-fying" any meal. If you missed my primer on shio koji, the post is available here.
Shio koji is packed with umami flavor and provides great seasoning to almost anything it graces. For this quick and easy salmon, simply marinate salmon filets for about 15 minutes and then lightly sauté in olive oil over the stove or bake in the oven. This recipe is also available on my About.com blog.
Serve shio koji salmon with a simple side salad, Japanese brown rice, miso soup, steamed veggies (broccoli is a favorite of Bebe's) and some quick kyuri su-shoyuzuke pickles (follow links for recipes).
Bebe started her summer vacation on June 1st, and needless to say, we've been busy finishing-up spring extra-curricular activities the first two weeks of June and settling into new summer activities. It's hard to believe a month of summer break is already over.
Unfortunately, I haven't had much time to update my blog here, but towards the end of July our schedule will settle down. Meanwhile, you can also check-in with me on About.com to see what's new there as well.

Shio Koji Salmon
Author:
Judy | Bebe Love Okazu
Prep time:
Cook time:
Total time:
Ingredients
2 salmon filets (about 4 - 5 ounces each)
2 tablespoons shio koji
Canola cooking spray
Instructions
Evenly spread shio koji on both sides of the salmon filets. Store in a re-sealable plastic bag or (non-reactive) glass or plastic container. Marinate 15 to 30 minutes or overnight. NOTE: If you are pressed for time, simply spread shio koji over the salmon and cook.
Prepare a baking sheet by lining it with foil and then placing a metal broiler rack on top. Spray the broiler rack with cooking spray to prevent the fish from sticking.
Set the oven to broil on high and grill the fish for 6 to 8 minutes on one side. Turn fish over and broil an additional 3 minutes until cooked through. Time may vary slightly depending on the thickness of the filets.