Kinpira Gobo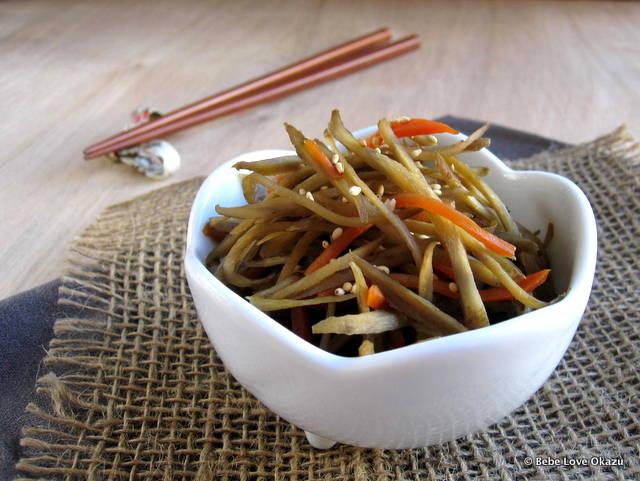 Kinpira gobo is a traditional Japanese side dish made of gobo (burdock root) and carrots. It's both savory and sweet and sometimes has a hint of red chili spice, depending on the cook. While gobo is considered a mainstream vegetable as far as Japanese and other Asian cuisines are concerned, it is less common in Western cuisine, although in recent years it has gained more visibility.
Growing up in a traditional Japanese home (albeit in Los Angeles), its not unusual for someone like me to love a root vegetable such as gobo. My Mom regularly made kinpira gobo for us as a side dish at dinner, and she often put heartier slices of gobo in my favorite tonjiru (miso soup with pork and vegetables).
Not surprisingly, there are many dishes in Japanese cuisine which are vegetarian, such as kinpira gobo, but that's not something I thought about much as a child. Today, as both a Mom and a wife that tries to cook healthy for my family, I find myself incorporating more of the dishes that my Mom made for me as a child.
The method for cooking kinpira gobo is fairly standard, which involves sautéing the gobo and carrots until they're slightly tender with either a neutral oil (canola or vegetable) or sesame oil. Then adding a few basic Japanese ingredients (soy sauce and mirin) with optional ingredients such as sake and dashi. Finally, you must decide whether the kinpira gobo should have a kick (chili flakes or powder) or not.
The only challenging part about making kinpira gobo is to julienne the gobo and carrots. My Mom taught me a great technique which simplifies this (what I consider) tedious process. After the skin of the gobo is removed using a peeler, slice the gobo on a big diagonal, creating large, flat and thin pieces of gobo. Next, either one or two pieces stacked, can be sliced into matchstick pieces. The carrots may also be sliced similarly.
My Mom's current version of kinpira gobo is very light, and a healthier alternative to the traditional version of kinpira gobo.
The recipe has changed slightly over the years because she's reduced the amount of oil and sugar used, primarily due to health concerns. She also par-boils the gobo to minimize sautéing time (and oil needed). It is common to find kinpira gobo that is much sweeter and heavier due to the higher oil and sugar content that is sometimes used. This is more often the case for  ready-made kinpira gobo found at the deli section of Japanese markets, or in pre-made bento lunches.
I encourage you to adjust the oil and sugar proportions to your liking, as well as the spiciness. Please note, however that the texture of the gobo when cooked will be slightly crunchy (chewy) in the center and tender on the outside. If you prefer the texture more tender on the inside, simply boil the gobo a few minutes longer until desired tenderness. While kinpira gobo typically has hagotai, a Japanese term that refers to an al dente texture, again, I encourage you to cook it longer for a slightly softer texture if you prefer.
Kinpira gobo may be served as a side dish, appetizer, or included in a bento lunch. Kinpira gobo is typically served with steamed rice as one of many okazu dishes during a typical Japanese meal.

Kinpira Gobo (Japanese Burdock Root & Carrots)
Author:
Judy | Bebe Love Okazu
Recipe type:
Side Dish, Appetizer
Prep time:
Cook time:
Total time:
Julienne burdock root and carrots are sweet and savory with a hint of sesame and red chili flakes. Perfect addition to any bento lunch.
Ingredients
1 piece gobo or burdock root (approximately 2½ feet long)
1 small carrot
1 teaspoon canola oil
½ teaspoon sesame oil (add more if desired, up to 1 tablespoon)
½ teaspoon dried dashi powder
2 tablespoons mirin
1½ tablespoons soy sauce
½ teaspoon sugar, optional (or omit for savory kinpira gobo)
1 teaspoon red chili flakes or wagiri (round-cut chili peppers), optional
½ tablespoon roasted white sesame seeds (+ more for garnish)
Instructions
Peel dark outer layer of gobo (burdock root). You'll notice the gobo will quickly oxidize and turn brown while you're peeling it. Slice gobo on a large diagonal, then julienne the slices into matchstick pieces. Place sliced gobo in a bowl of water and soak for 10 minutes. Rinse and drain the water 2 to 3 times. Soaking and rinsing the gobo helps to eliminate enzymes which cause the gobo to change color (oxidize).
While the gobo is soaking, peel and julienne the carrot.
Cook gobo in boiling water for about 7 to 10 minutes until it's slightly tender. Drain. This step helps to minimize the time and oil required to sautéing the gobo until its mostly tender (gobo will be slightly crunchy in texture)
In a large saute pan, heat canola and sesame oils together. Add gobo and carrots, add dashi powder. Cook together until carrots are tender.
Add mirin, sugar (if using), dash powder, and red chili peppers (if using). Lastly, add soy sauce and sauté until soy sauce evaporates. Remove from heat. Toss in sesame seeds. Add additional sesame seeds as garnish.