Kyuri Su Shoyuzuke (Soy Sauce & Vinegar Pickled Cucumbers)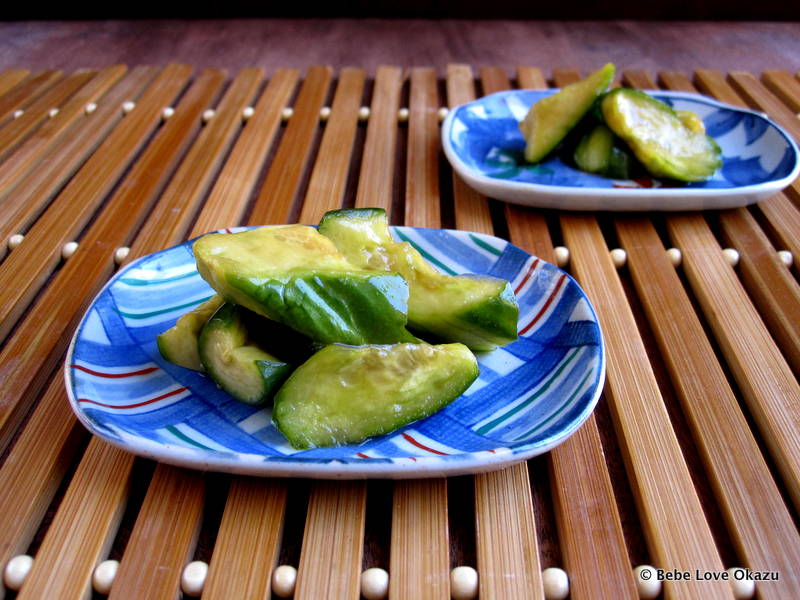 Su shoyuzuke Japanese style tsukemono, or pickles, marinated in a vinegar (su) and soy sauce (shoyuzuke) mixture is one of Bebe's favorites. She wouldn't complain if all she found on our dinner table were a huge bowl of these pickled cucumbers for a one-dish (unbalanced) meal.
Whenever we visit my parents, my Mom is certain to make a batch of these delicious kyuri (cucumber) tsukemono a day ahead of our arrival, or on the morning we head over. Bebe loves, loves, loves these kyuri!
My Mom always sends us home with some of her tsukemono, but because Bebe loves these so much, I've taken to making a large batch at least once a month. The only caveat of serving these at our dinner table is that I need to keep an eye on Bebe so that she eats other foods and doesn't make a meal of these kyuri.
Yes, we ration these to her.
There are many different techniques for making Japanese tsukemono (which I will delve into one of these fine days) and one of the my favorites is shoyuzuke, where the vegetable is preserved by being cooked in soy sauce.
This recipe differs in that the cucumbers are not cooked in the soy sauce mixture, but rather, the sauce is cooked first, and then the raw cucumber is steeped in the shoyuzuke. Because it is not preserved in the traditional sense of pickling, these cucumbers will spoil similarly to other non-preserved foods.
For best flavor, I recommend the cucumbers steep in the shoyuzuke mixture at least overnight in the fridge. As each day passes, the flavor of these pickles will improve.
The original recipe for this shoyuzuke kyuri came from my Auntie Sumiko. We're so grateful you made these for us at our potluck many years ago!
This recipe can also be found on my latest article on the Japanese Food Channel of About.com.

Kyuri Su Shoyuzuke (Soy Sauce & Vinegar Pickled Cucumbers)
Author:
Judy | Bebe Love Okazu
Recipe type:
Appetizer, Side Dish, Salad
Prep time:
Cook time:
Total time:
Ingredients
2 large English cucumbers or 4 Japanese cucumbers
¼ cup water
¼ cup soy sauce
¼ cup sushi vinegar
¼ cup sugar
Instructions
In a small pot, heat water, soy sauce, sushi vinegar and sugar over medium heat. Allow sugar to melt and flavors to meld. About 5 minutes.
Remove pot from heat and allow marinade to cool.
Rough chop cucumbers into medium pieces.
Place cucumbers in a storage container and pour marinade over the cucumbers. Store in refrigerator overnight, tossing cucumbers periodically to coat them evenly.