Korokke (Japanese Beef Croquette)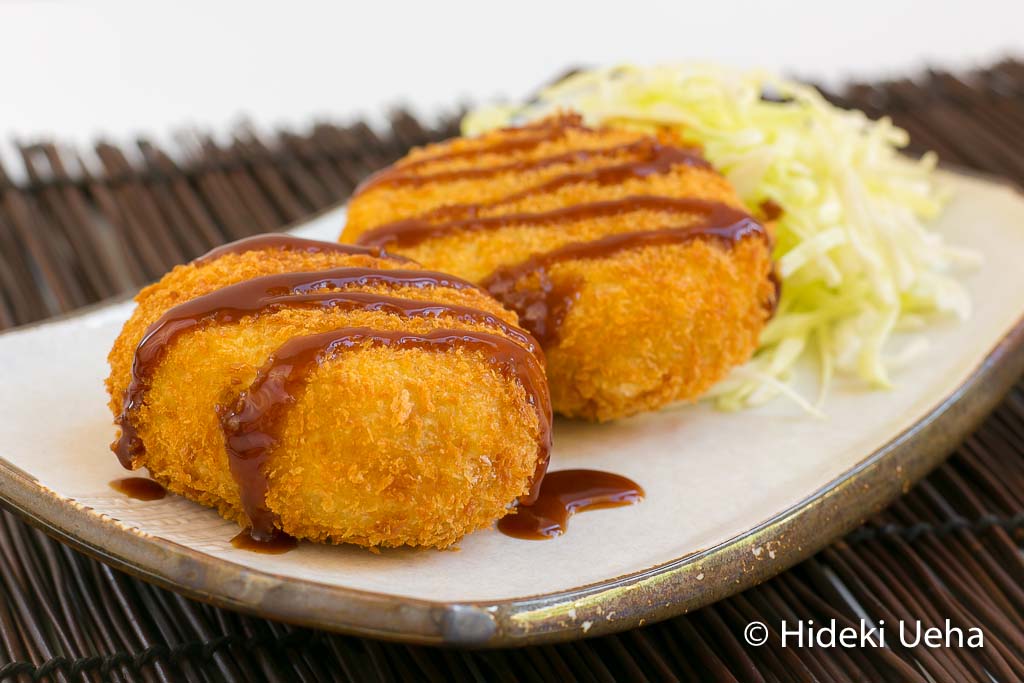 Every culture has it's own version of a meat-and-potatoes meal, and the Japanese are no different. (Photo credit: Hideki Ueha)
In Japanese cuisine, a meat-and-potatoes meal just might present itself in the form of a beautiful round croquette filled with a mixture of mashed potatoes, ground beef, and onions. This, ladies and gentlemen, is the most basic of Japanese-style croquette that you will find in most Japanese homes, and ours growing-up was no different.
We, of course, never called these golden fried beauties croquette, but rather, "korokke", which is the Japanese term for the french croquette.
My Mom's Japanese beef croquet is simple. Meat. Onions. Potatoes. Salt. Pepper. All dressed-up in a traditional panko crust created with flour, an egg wash and Japanese style panko bread crumbs.
Each round croquette is fried in oil and served hot with a side of shredded green cabbage and served with savory and tangy tonkatsu sauce.
It's hard to believe that it's been two years since I last made korokke, but I realized it was about time.
Last weekend we were shopping at our local Japanese market and my husband started pulling out frozen korokke from one of the aisles as he mentioned that we hadn't eaten this in awhile. While frozen korokke are convenient, and I've certainly purchased my share of these in the past, I just couldn't justify the cost and taste of the frozen korokke against homemade korokke.
So I bought ingredients instead.
I made the meat mixture out of extra lean ground beef and brown onions. I never cook with ground beef anymore, but for nostalgia's sake, I used ground beef for this recipe, since that's how my Mom used to make korokke for my brother and I when we were kids. Then, I cooked a lot of potatoes, mashed them, and then mixed it with the meat mixture.
Then it was the fun part. Bebe and I had a blast molding the korokke into oval-shaped "space ships", which is what she called them. She made a lot of smaller baby-sized ones, but she also made several large ones that were very nicely shaped. Bebe even helped me with the breading process. We ended up making about 20 beef and onion korokke and my husband helped me fry them.
Korokke night was a family affair.
The best part, however, was eating hot, freshly made, crispy on the outside, soft and tasty on the inside, korokke. With korokke drizzled with tangy tonkatsu sauce and freshly sliced raw cabbage on the side, our korokke dinner instantly became a family tradition, just as it was for my brother and I when we were growing up.
Delicious comfort food!

Korokke (Croquette) | Japanese Beef Croquette
Author:
Judy | Bebe Love Okazu
Recipe type:
Appetizer, Dinner
Ingredients
4 pounds potatoes (14 to 16 small potatoes); roughly 8 cups mashed
Water for boiling
3 tablespoons milk (for mashed potatoes)
1 small onion, diced
1 teaspoon olive oil
½ pound ground beef (substitute ground turkey or ground chicken)
Salt and pepper, to taste (for meat mixture)
1 teaspoon salt (for korokke mix)
⅛ teaspoon black pepper (for korokke mix)
2½ cups panko (Japanese bread crumbs)
¾ cup flour
2 eggs
4 tablespoons milk (substitute water) for egg wash
Canola oil for frying (about 2 cups)
Tonkatsu sauce for seasoning
Thinly sliced cabbage, optional side dish.
Instructions
Bring large pot of water to boil. Peel and chop potatoes and add to pot. Cover and cook potatoes 15 to 20 minutes until tender. Drain potatoes well.
While the potatoes are cooking, make the meat mixture. In a frying pan, brown chopped onions with olive oil. When onions are translucent add ground beef and brown meat until cooked through. Add a dash of salt and pepper. Drain excess oil.
In a large bowl, mash cooked potatoes with 4 tablespoons milk until smooth. Don't over mix. Next, add in meat mixture.
Make large oval-size, flat korokke. Set these on a tray.
Set-up breading station: in 3 separate shallow dishes set out 1) flour, 2) egg wash (eggs and milk), 3) panko bread crumbs.
Coat korokke with flour, dip in egg wash, cover with panko crumbs. Repeat.
Heat oil in a medium deep pot. Place korokke in oil (about half the korokke will be submerged), fry for about 30 - 40 seconds until brown, then flip over to fry the other side. The korokke mixture is fully cooked so the exterior just needs to be browned.
Drain fried korokke on paper towels.
Serve immediately with tonkatsu sauce and sliced cabbage (optional).
Makes 20 to 22 korokke.