Avocado Wontons and Apricot Soy Dipping Sauce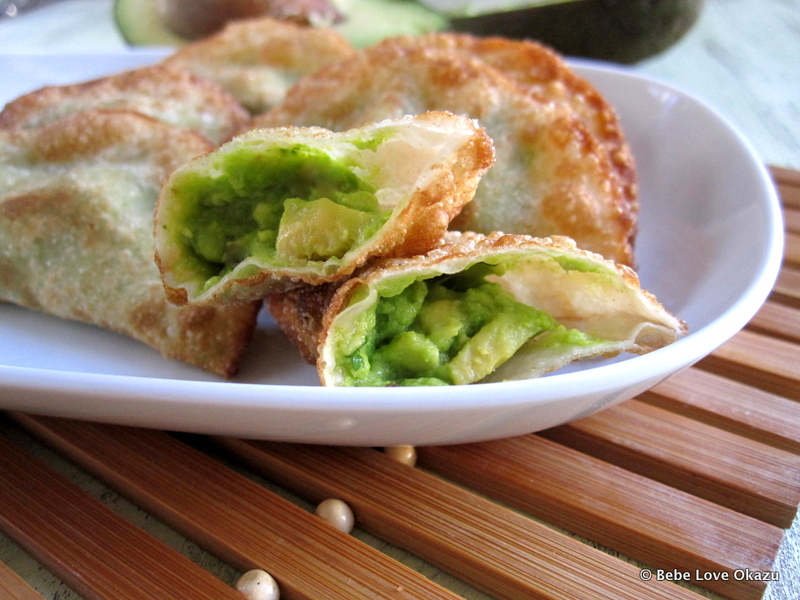 There are three things that I love at The Cheesecake Factory: 1. Vanilla Bean Cheesecake; 2. Mushroom Soup; and 3. Avocado Egg Rolls. Everything else on the menu is good and I have my favorites and not-so-favorites, but the three dishes I listed above are truly what get me through the restaurant's doors.
The first dish, Vanilla Bean Cheesecake, I will never, ever, try to re-create. Ever. It's just one of those recipes that deserves to be made by a genius, so that people like me will pay $8 for a (somewhat small slice for $8) piece of cheesecake. Sadly, I used to be able to save half the cheesecake to savor later (like when the kiddo's gone to bed and I can eat it while indulging in Grey's Anatomy or The Blacklist), but now, if I don't catch myself, I can easily eat the entire slice in one sitting. It's so good! As in, you could cry over this cheesecake kind-of-good. (OK, maybe I'm exaggerating, but you get my point. I really love this cheesecake.)
The second dish, Mushroom Soup, I've actually considered re-creating. The more times I visit The Cheesecake Factory on a Wednesday (it's only available on Wednesdays), savoring each bite of rich, delicious soup, the closer I feel I'm getting to almost memorizing the exact way it tastes and each and every flavor ingredient that could possibly be in the soup. Yes, when I become obsessed with a food, I can get pretty neurotic about the way I try to analyze its flavor palate. In other words, I like to visit The Cheesecake Factory on Wednesdays, as often as my schedule and wallet will allow. Don't be surprised if you find a post on my blog regarding mushroom soup at some point in the distant future.
The third dish, Avocado Egg Rolls – SO easy to re-create. Super easy. I almost feel guilty about ordering it when I'm at The Cheesecake Factory, and honestly, when I was there last month for a birthday party, I ended-up ordering the tuna tartar. Shocker. Along with a slice of key lime pie cheesecake. Yet another complete SHOCKER. It was good though, the key lime pie cheesecake I mean. If you haven't tried it, I highly recommend it. It's super tart, but it's sweet, and with the whip cream, it's quite "happy-inducing".
I guess I'm not the creature of habit I always believed myself to be.
I decided to make these Cheesecake Factory inspired avocado wontons because our friend gave us almost 20 avocados from their backyard and all I've been making lately are avocado-this and avocado-that. I'm not complaining though. We're so lucky to be the happy recipient of their tree's bounty! We love avocados here at our home!
Since I already had gyoza (pot sticker) wrappers in my fridge (I was planning to make my Mom's homemade gyoza one night for dinner – recipe available on my blog here) it just made sense to make little semi-circle shaped wontons instead of using traditional square wonton wrappers. There's really not a big difference in gyoza and wonton wrappers, but you'll notice that depending on the brand some wrappers are thicker or thinner than others.
The avocado filling is similar to making guacamole. In fact, if you wanted to, you could use your favorite guacamole recipe and use that as the filling for these avocado wontons. In writing this post I realized I never created a post for my favorite guacamole, with the exception of guacamole for babies and avocado salsa for tacos. Hmmm, I'll have to add that to my to do list.
This avocado filling is really simple: avocado, lemon, salt, cilantro (because I love cilantro), but you can omit the cilantro if you don't have any on hand.
The sauce is really simple to make. Again, I just used what I had in my fridge: soy sauce and apricot marmalade. Somehow, the two just go together. It's quick, it's easy and it tastes great because it has that savory-sweet balance-thing going on. You'll know what I mean when you try it.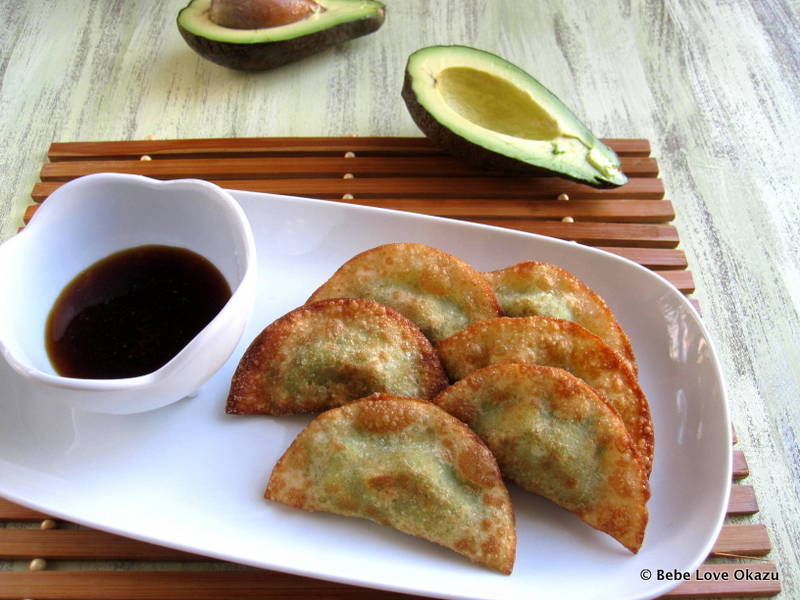 Avocado Wontons and Apricot Soy Dipping Sauce
Author:
Judy | Bebe Love Okazu
Prep time:
Cook time:
Total time:
Ingredients
3 large avocados
1 teaspoon lemon juice
⅛ teaspoon salt
2 tablespoons cilantro, chopped
20 to 25 round gyoza wrappers (or substitute square wonton wrappers)
Water, for sealing wrappers
Canola oil, for frying
2 tablespoons soy sauce
2 tablespoons apricot marmalade
Instructions
In a medium bowl, combine peeled and chopped avocado, lemon, salt and chopped cilantro. Gently mash half of the avocados, but leave a good portion of it chunky.
Prepare a small cup of water for sealing the wontons. Place a small teaspoonful of the avocado mixture into the center of the gyoza wrapper. Using your finger, dip finger in water and trace along the edge of half of the wrapper. Fold up the wrapper to seal the two sides together. Repeat until all of the avocado mixture is wrapped.
In a medium pot, heat canola oil on medium high. TIP: Test the oil by dropping a small piece of a gyoza wrapper into the oil. If it sizzles quickly and the color tans quickly, it is ready for use.
Fry each avocado wonton for less than a minute on each side until golden brown. Remove from oil and drain on a paper towel or rack. Try not to overcrowd the pot.
FOR DIPPING SAUCE: Combine equal parts soy sauce and apricot marmalade and mix well. Serve immediately with warm avocado wontons.