Meal Plan Monday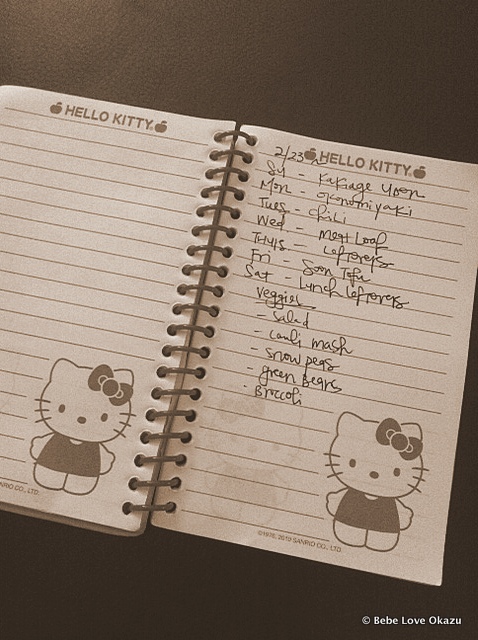 I've been hesitant to post my meal plans in the past. I'm not sure why that it is. Perhaps it's because I like to plan, but I don't always stick to the plan.
Which is O.K., too. Sometimes meals get pushed a few days or I'll switch things around depending on my mood and any last minute life things that pop-up. Usually, however, when I stick to my weekly plan, it really makes my life easier.
I usually take about 10 minutes on Sunday or Monday to jot down my meal plan for the week in my trusty Hello Kitty pocket notebook (showcased proudly above). Compliments of the Dollar Spot at Target. 
When you see my plan for the week below, you'll see that our meals are very "homey", kid-friendly, and skewed towards Japanese-influenced meals. We're lucky that the little one eats almost everything we do with the exception of spicy foods and sadly, raw lettuce.
Do you make a weekly meal plan? Do you stick to it?
It's been over three weeks since I've planned meals, but doing so really streamlines my grocery shopping needs, compels me to use what I already have in the freezer and pantry, minimizes unnecessary trips to the market, but also helps me to plan my various market visits throughout the week.
I don't know about you, but I have a number of grocery stores that I like to visit for different items. Some stores I don't visit on a weekly basis, but they're important for stocking-up on pantry items, household items or freezer items.
This might be more information than you might care to read, so feel free to skip this section and jump down to the plan for the week. The following are the stores where I shop for our family's sustenance and what I like to purchase (based on quality and price), not listed in any order of preference. (Clearly, I have more time on my hands than I'd like to admit this evening.)
Where I Shop for Groceries
Sprouts (produce, ground chicken, pork chops, dairy, salsa, dried fruit, nuts, oatmeal) – usually weekly
Costco (bulk chicken, bulk ground turkey, nuts, fish, dairy, produce, bread, pantry items, beverages, rotisserie chicken) – twice a month
Trader Joes (produce, dairy, chicken stock, breakfast items, lunch meats, cheese) – every other week
Whole Foods (tea, dairy, fish, specialty peanut-free snacks)
Marukai (Japanese pantry items, sashimi, fish, seafood, Japanese-style cuts of meat, Japanese-style shoku-pan (bread), Japanese beer)
Mitsuwa (fish, sashimi, Japanese-style cuts of meat and Japanese-style shoku-pan (bread), Japanese pantry items)
Target (canned items, pantry items, any last minute items for packing lunches)
Smart & Final (frozen shrimp, take-out containers (note: at our holiday celebrations we usually have so much food leftovers that each family unit, or guest takes home a full meal and these containers make packing food very convenient.)
Farmer's Market (produce, fruit, tamales, hummus, and these caramel banana tarts that are SO to-die-for)
99 Ranch chinese Market (pre-cooked BBQ char siu from their deli, Chinese vegetables, ground pork, pork chops)
Korean Markets (tofu, pre-marinated Korean-style chicken, kalbi, and bugolgi, pre-made japchae noodles, kimchee, seasoned spinach and bean sprouts)
Dinner Meal Plan for The Week
(recipe links included where available)
Sunday – Hot Kakiage (mixed seafood and vegetable tempura) Udon (wheat noodles)
Monday – Okonomiyaki (Kansai-style Japanese savory pancake), Broccoli
Tuesday – Turkey Chili, Bread or Crackers, Salad
Wednesday – Turkey Meatloaf, Cauliflower Mash, Green Beans, Salad, Brown Rice
Thursday – "Buffet Night", i.e. LEFTOVERS, Salad
Friday – Korean Soon Dofu (tofu stew) with Rice, Sauteed Snow Peas, Salad
Saturday – Leftovers from Hinamatsuri (Japanese Girl's Day) Lunch Party
What's on your meal plan for the week?