My Great Grandmothers Egg Foo Young with Shrimp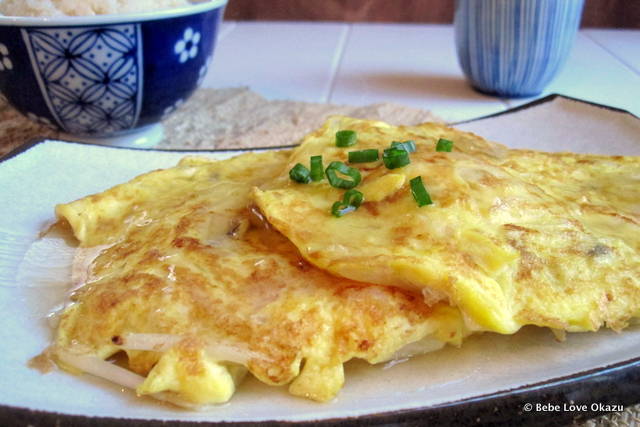 For over a month now, the ongoing debate in our home has been whether egg foo young is a Chinese dish or a Japanese dish.
I asked my Chinese-American husband if he grew-up eating egg foo young, to which he replied, "No, I've never eaten that. I don't believe that's a Chinese dish." I was quite surprised by this, to which I said, "REALLY? Your parents never made egg foo young? Or ordered it at a Chinese restaurant?" Again, I was met with more "no's".
My first-generation Japanese Mom was fairly certain it was a Chinese dish, and she shared with me that my paternal great grandparents used to serve this at their Chinese – Japanese restaurant in Los Angeles. She then changed her mind and thought that this dish might be Chinese – Japanese.
My great grandmother was born in Hawaii, and like me, was raised Japanese – American. However, my great grandparents eventually moved to Japan to support their family's business and to care for their elders. By the time I was old enough to remember my childhood trips to Japan (my Mom often took  me to Japan, almost every other year since the age of one),  I assumed that my great grandparents were native Japanese nationals, and yet, now that I look back, I never thought it was odd that my great grandparents spoke Japanese to me, yet mixed in English words and phrases here and there. Also, if I spoke English to my great grandparents, they understood what I was talking about while my other Japanese relatives did not. Funny how these little details are often overlooked through a child's eyes.
I wish I knew more about my great grandmother and great grandfather and their life history…
I feel fortunate, however, that my great grandmother's egg foo young was passed to my grandmother, who then made it for my Dad and Auntie growing-up. Taking that yet another step further, I'm thankful my grandmother taught the recipe to my Mom, because she often made the same egg foo young dish for my Dad, brother and I when I was growing-up. It was one of my favorite dishes and I can't believe I almost forgot about it.
Fast forward many (many) years to about a month ago at my parents house. My Mom made this egg foo young dish for Bebe and I on one of our visits and guess who absolutely LOVED this dish? Yep, Bebe. She loves shrimp and words can't express how much she enjoyed this dish. The fact that she ate almost three (small) egg foo young omelettes speaks volumes. I am so grateful my Mom remembered this dish! It brought back many childhood memories.
Setting aside any and all debates about whether egg foo young is Chinese, American, Japanese, or even Hawaiian in nature, all I can say is that you need to make this and try it for yourself. It's delicious, and for our family, it's filled with tradition, regardless of it's origins.
This egg foo young dish is so very easy to make and requires very few ingredients. The omelette consists of eggs, bean sprouts, brown (or yellow) onion, shrimp and a dash of salt. The light gravy that it is served with is made of water, hondashi (dried bonito seasoning), soy sauce, salt and starch. My Mom always seasoned this with only a little bit of soy sauce and salt, but of course, if a bold flavor is preferred, additional soy sauce may be added.
The omelettes are small to medium in size and eating several for a meal is not unusual, therefore, it's much easier to cook four at a time on a teppanyaki (Japanese griddle) or any type of table-top griddle, which is how I cooked these.

My Great Grandmother's Egg Foo Young with Shrimp
Author:
Judy | Bebe Love Okazu
Cuisine:
Japanese, Chinese
Prep time:
Cook time:
Total time:
Ingredients
10 large eggs
1½ brown / yellow onions, sliced
4 cups bean sprouts, rough chopped
2 cups large raw frozen shrimp (peeled, tails off), or more
For Sauce:
3 cups water
1 tablespoons Hondashi brand (dried bonito stock, or similar)
1 tablespoon shoyu (soy sauce), or more to taste
Dash of salt
2 tablespoons potato starch
2 tablespoons water
Canola oil, optional for griddle
Instructions
Thaw frozen shrimp and rough chop.
In a large bowl, gently scramble all eggs.
Combine rough chopped bean sprouts, shrimp, onions and eggs. Add a few dashes of salt. Mix all ingredients together.
Heat griddle on medium high. Using a ¾ cup measuring cup, create small to medium size omelettes.
Cook about 3 to 4 minutes on one side until the egg is slightly set on one side but still wet on the other side and then flip. (If one side of the egg is overcooked, when flipped, the omelette will not be able to hold all of the ingredients together.
For Sauce:
Combine water, hondashi (dried bonito stock), shoyu (soy sauce) and salt in a small pot over medium-high heat. Cook and stir until the sauce is bubbling.
Combine starch and water into a paste, then slowly pour the starch mixture into the bubbling pot as you stir constantly.