Easiest Seafood Dynamite Appetizer You Will Ever Make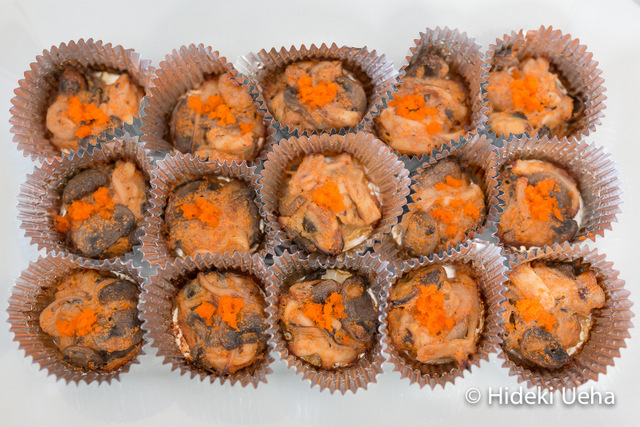 I firmly believe there is a Japanese sushi chef somewhere in California that woke-up one morning and decided to mix a few pieces of fresh sashimi-grade fish and abalone with some mayo, throw in some masago (caviar) for good measure, and baked it all together in his little toaster oven. (Photo Credit: Hideki Ueha)
This sushi chef, after tasting one bite of his crazy creation yells at the top of lungs, "D-Y-N-A-M-I-T-O-H!!!!!  Kore wa DYNAMI-TOH!"
English translation: "This is DYNAMITE!"
Hence, this is why we call this little appetizer, Dynamite.
When my brother and I were growing up, my Mom would make a small casserole-size portion Dynamite that we would eat along with grilled fish, a salad, miso shiru (miso soup recipe available here), and gohan (steamed rice).
It was a simple dinner, but those Dynamite casseroles were nothing short of amazing!
My Mom's Dynamites were simple and the ingredients varied dependent upon the type of seafood she had in the fridge. These ingredients included sliced mushrooms, shrimp, perhaps some fresh salmon, calamari, or abalone.
I made this appetizer version of my Mom's Dynamite casserole for our Oshogatsu | Japanese New Year's celebration (2014 post available here). This version that I share with you today is even easier than my Mom's since I used a pre-cooked, frozen mixed seafood mix. 
Yes, a frozen bag of seafood. I don't have a problem with short-cuts.
The mixed seafood pack that I used included: calamari, baby shrimp, mussels, and scallops. I considered adding fresh fish, which I'm sure would have been fabulous, but I decided to keep things simple and just cook-up the bag of seafood.
After I baked the dynamite appetizer cups, I added a dollop of masago for a splash of color.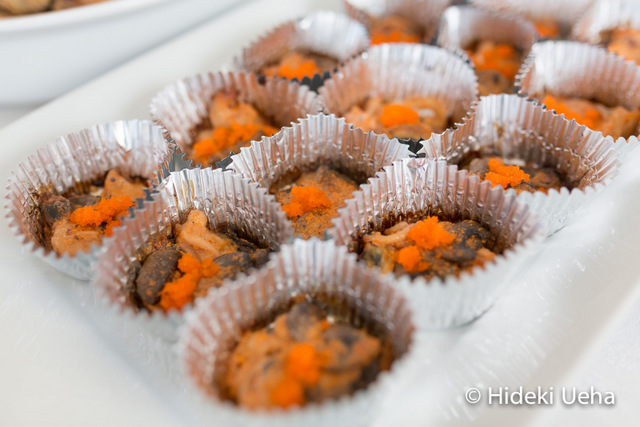 Photo Credit: Hideki Ueha
Seafood Dynamite
Author:
Judy | Bebe Love Okazu
Prep time:
Cook time:
Total time:
Ingredients
1 14-oz bag frozen mixed seafood (calamari, mussels, baby squid, shrimp, imitation crab)
¾ to 1 cup light mayonnaise (Best Foods), add more for creamier and richer texture
2 tablespoons masago (caviar)
2 tablespoons addional masago (caviar) for ganish, optional
1 package of white button mushrooms, stems removed, sliced
Aluminum foil baking cups
Muffin tin
Instructions
Heat oven to 375 F.
Line muffin pan with aluminum foil cups.
In a medium pot, bring water to boil, reduce heat and simmer frozen seafood for 10 minutes or until cooked through. Drain, and allow it to cool slightly.
In a small pan, sautee sliced mushrooms to remove excess water. Allow the mushrooms to cool to room temperature, and drain on a paper towel to remove excess water and moisture. NOTE: this step can be skipped all together and fresh mushrooms can be baked with the dynamite mixture, however the end result will be slightly watery due to the mushroom's moisture content.
In a medium bowl, mix cooked seafood, cooked mushrooms, mayonnaise and masago. Mix gently until all ingredients are incorporated.
Gently scoop a small portion into each individual aluminum foil cup.
Bake for 15 minutes or until the tops of the dynamite is browned.