2014 Osechi Ryori, Japanese New Years Good Luck Food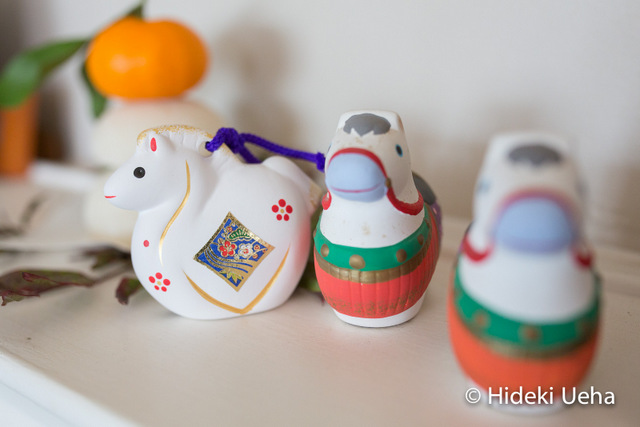 Happy New Year!
明けましておめでとう!
2014 is the Year of The Horse and true to family tradition, on January 1st my parents lined-up in front of their local Japanese market to get their free New Year's zodiac ceramic. My Mom takes my Dad along with her so that he can get an extra ceramic to ensure that both my brother and I get one.
Our ceramic horse is proudly decorated in our home as I write! (Photo Credit: Hideki Ueha)
This year's Oshogatsu (Japanese New Year) celebration was no different than years past in that we celebrated merrily with a family gathering of 18, sans my Sister from Another Mother and her hubby who unfortunately both had to work. (We missed you guys!)
Our osechi ryori (New Years food) includes a traditional line-up of good luck food, in addition to a few new dishes which change from year to year. While there are no new recipes in this post, I will add a few new Japanese New Year's food recipes over the coming weeks as time permits.
When available, previously posted recipes to some of our family's Oshogatsu recipes are included in this post.
All the gorgeous photos in today's post are compliments of my bro-in-law, Hideki Ueha. You can follow all of his amazing photography on his Flickr site available here. (Thanks Hideki!) One day, when I grow-up I hope to be able to afford a camera like his and hopefully gain some awesome photography skills & knowledge prior to wielding such a noble camera! :)
The Food
Let's start with the PLATE I made myself for lunch! I only took a small sample of sushi, but let's just say there is a taste of every dish that was available at our oshogatsu (New Year's) lunch, with the exception of the teriyaki chicken I made and my Auntie Sumiko's oden (a type of Japanese stew).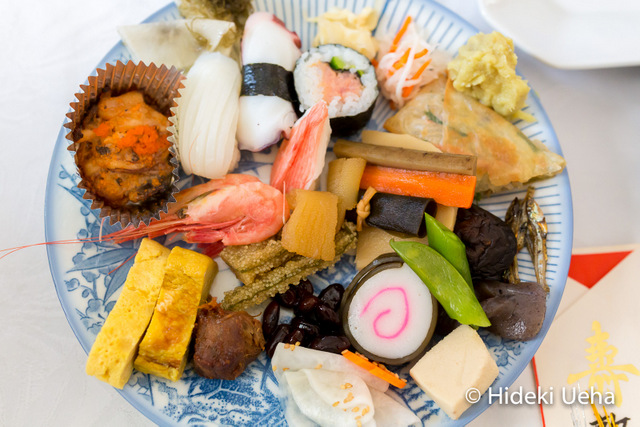 Photo Credit: Hideki Ueha
Ozoni
We usually start off our celebration with ozoni/New Year's mochi soup which is typically eaten at breakfast but usually we start off with ozoni as our appetizer. My Mom's ozoni recipe is available here.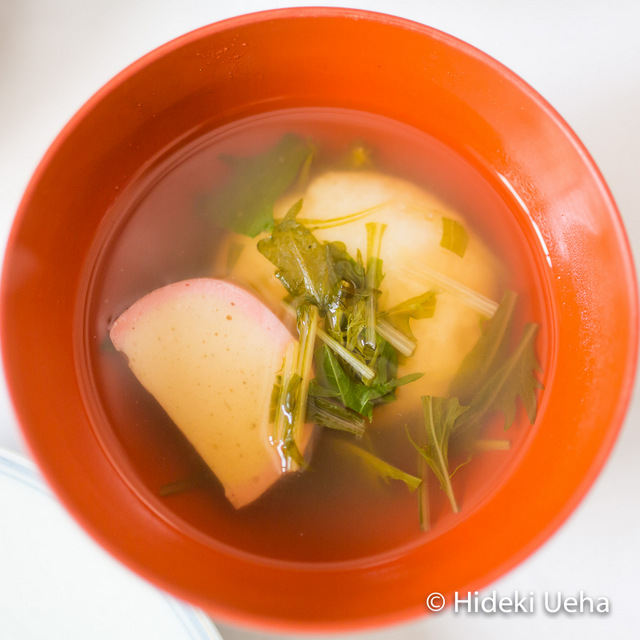 Photo Credit: Hideki Ueha
Onishime
Below, you'll see my Mom's onishime – melange of vegetables (carrots, gobo/burdock root, bamboo shoots, konnyaku/devil's tongue yam, konbu/seaweed and renkon/lotus root) simmered in dashi broth. The small white squares are koya dofu/cooked freeze-dried tofu. This is also a favorite dish of mine and the recipe and post are available here.
There's also some sunomono salad made of radish and carrots in the jubako (serving box) in the forefront. In the background you can spot one of a few trays of sushi.
Photo Credit: Hideki Ueha
Kazunoko Konbu
The dish featured below is kazunoko (herring roe caviar) on thick konbu (seaweed). This is easily another favorite osechi ryori dish of mine, but as a purist my favorite is still kazunoko straight. My Mom's kazunoko recipe is available here.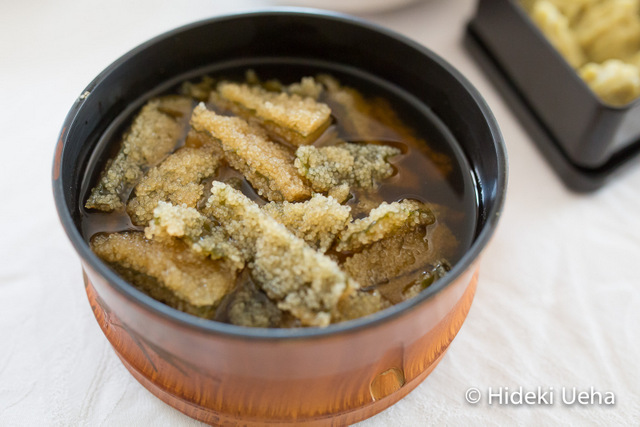 Photo Credit: Hideki Ueha
Maguro no Sakana-ni
My Uncle Yoshi made this great ginger and soy sauce simmered fish that you see below. I have NEVER liked sakana-ni or simmered fish in all my life for two reasons – 1. the smell of it while it's cooking and 2. the fishy taste of the dish. However, my Uncle's fish was so delicious! It's made with sashimi-grade maguro (tuna) and it wasn't fishy. I never thought I'd find myself saying this, but I'm actually going to try my hand at making sakana-ni at some point in the future. I think the decorative plastic New Year's piece on top of the dish makes the dish festive and really brings it all together. Love it!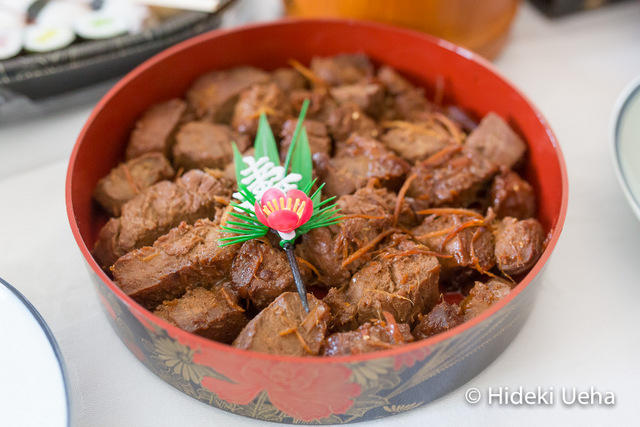 Photo Credit: Hideki Ueha
Kazunoko
Finally, my favorite osechi ryori dish: kazunoko, or herring roe. I can snack on this ALL day long. It's a childhood favorite of mine. My Mom's recipe available here.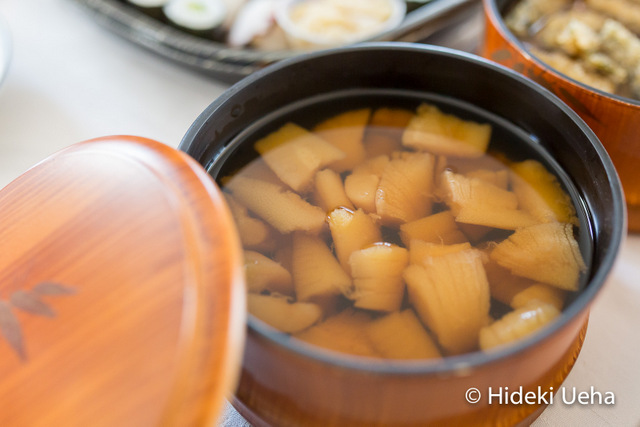 Photo Credit: Hideki Ueha
Kuri Kinton
Below is a classic osechi ryori (good luck New Year's) dish called kuri kinton, made of Japanese satoimo or sweet potatoes and kuri (chestnuts).  This is one of the dishes that I learned to make this year; recipe is forthcoming!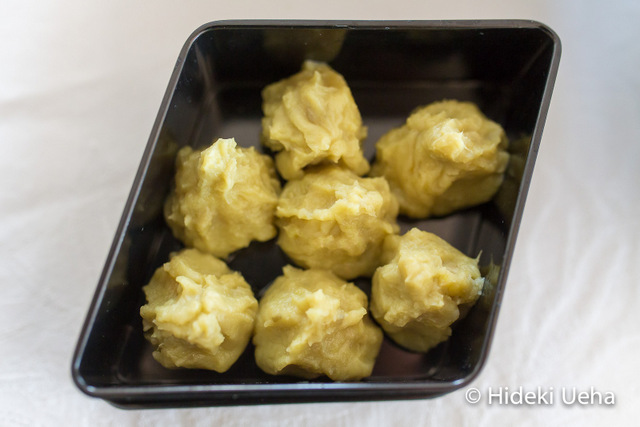 Photo Credit: Hideki Ueha
Kamaboko, Prawns, Onishime
In this jubako (New Year's food box), there is kamaboko/fish cake, shiitake mushroom and sato imo/taro, and prawns. Apparently my Mom only made five large prawns. I wonder who the lucky family members are who snagged 'em first. :)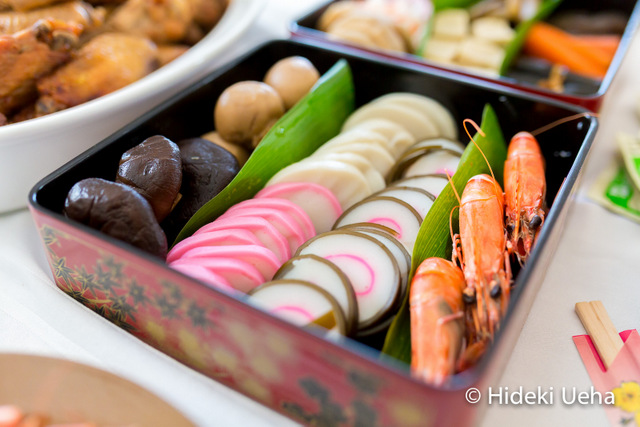 Photo Credit: Hideki Ueha
Dynamite
This year, aside from helping my Mom make a few of the osechi ryori dishes, I decided to make individual seafood dynamite cups on the morning of New Years. Recipe forthcoming.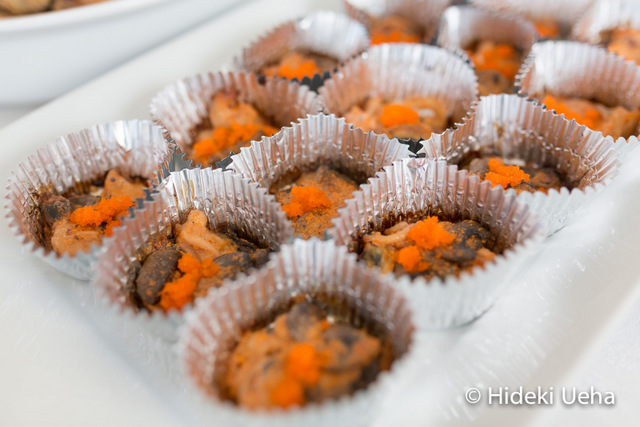 Photo Credit: Hideki Ueha
Shiba Ebi
Another favorite of mine is the shiba ebi/small shrimp loaded with caviar. These are sold frozen and pre-cooked and can be eaten once thawed.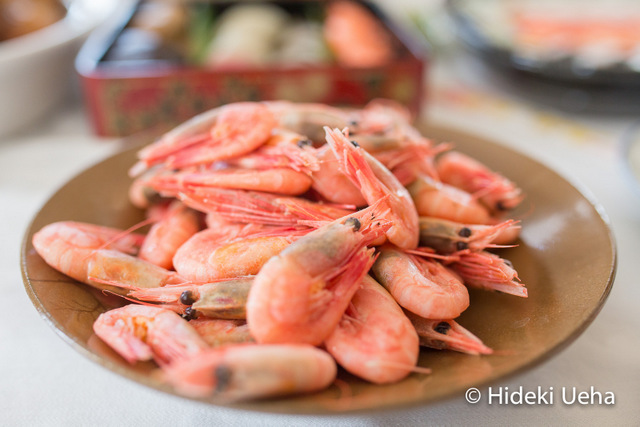 Photo Credit: Hideki Ueha
Kuromame
This year my Mom and I made kuromame/sweet black soy beans in the slow cooker. Until now, the past few years I made it while babysitting the stove and burning a pot or two. The stovetop kuromame recipe is available here. Slow cooker recipe is forthcoming.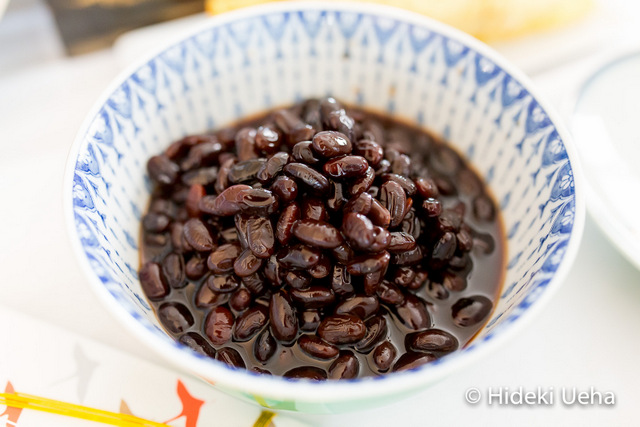 Photo Credit: Hideki Ueha
Sunomono
I love this sunomono salad made of daikon/radish and carrots, all topped with thinly shredded konbu/seaweed. My Mom makes this throughout My mom's recipe and post for this dish is available here.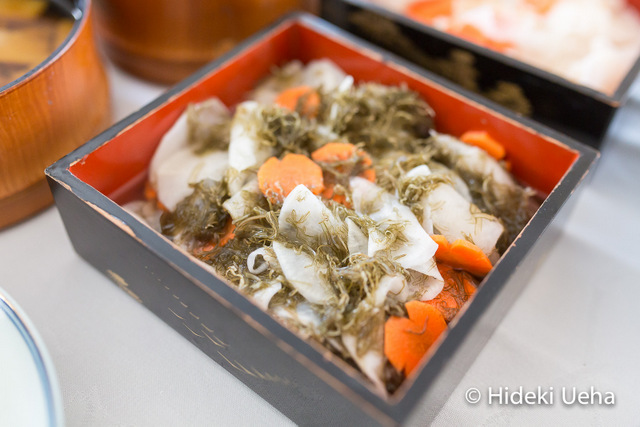 Photo Credit: Hideki Ueha
Harumaki
My Auntie Sumiko made these great vegetable harumaki (Japanese egg rolls). I haven't fried anything in a while but I'll be making these soon.  I love the plastic decorative New Year's topper that my Auntie added to this. :)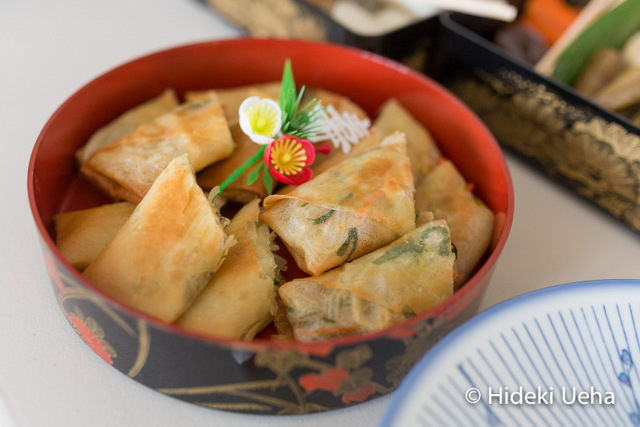 Photo Credit: Hideki Ueha
Pickles, Konbu, Onishime
My Mom put together a platter of simple tsukemono/pickled vegetables, steamed broccoli, konbu (seen in the white wrappers), onishime (simmered vegetables) and sunomono.
Photo Credit: Hideki Ueha
Tamagoyaki
I made a quick batch of tamagoyaki/a savory and sweet egg roulade. My spinach tamagoyaki recipe is available here. I'll have to do a separate post in the future for the sweet tamagoyaki which Bebe loves.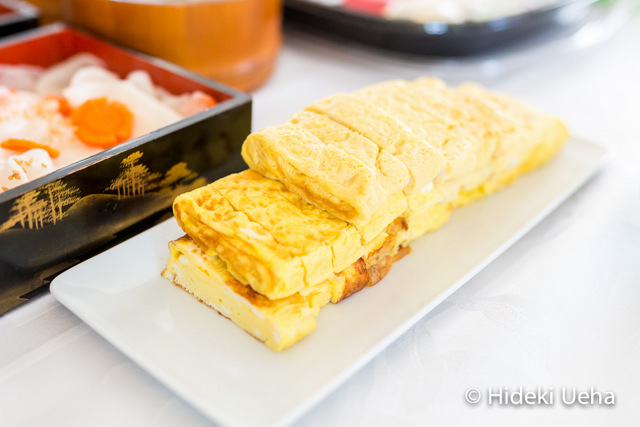 Photo Credit: Hideki Ueha
Teriyaki Chicken
Usually, my Dad grills his delicious salt and pepper chicken wings for us on New Year's day but he's slowing down and hasn't been up to doing a lot of prep on holidays so I decided to make some teriyaki wings in the slow cooker.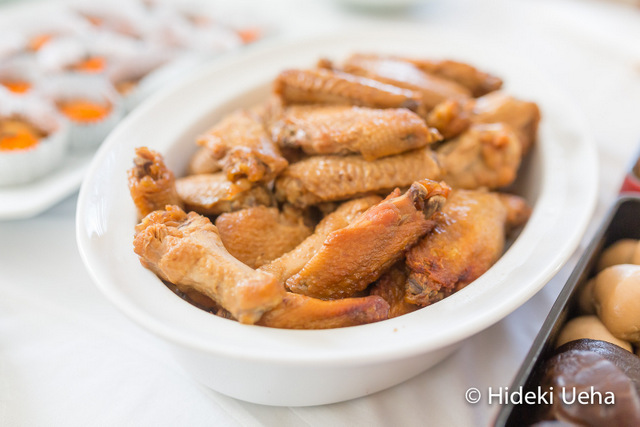 Photo Credit: Hideki Ueha