Merry Christmas! and Reindeer Cupcakes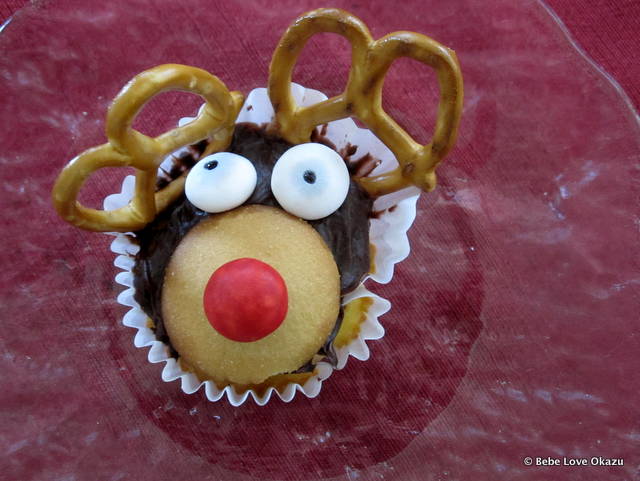 Happy Holidays!
Christmas just snuck up on me and it feels as though the last few weeks quickly flew by. I'm a bit sad that in just another day our Christmas celebrations will all be over but it's been a wonderful season so far.
I was looking for a quick and easy treat that Bebe and a few friends could make at a little holiday cookie decorating party last week. Of course, I went straight to Googling and found these adorable reindeer cupcakes floating ALL over the Internet and it seemed perfectly easy and fun for little kids to make.
I whipped up a batch of yellow vanilla cupcakes from the box the morning of the party.
Frosted them with pre-made sugary chocolate frosting.
Added a vanilla water, pretzels and special holiday peppermint M & M's which only contain red and white colored candies, perfect for the eyes and nose.
For the eye balls, use black icing but don't use the gel icing because that doesn't dry. Unfortunately, I ran out of black icing and the store only had gel. Boo!
But, it all worked out.
In no time… Voila!
A goofy, slightly imperfect but cute reindeer!
Bebe had fun making her reindeer. So did the other kids! :)
Reindeer Cupcake Ingredients / Supplies:
Boxed cupcake mix, flavor of your choice
Chocolate frosting (pre-made); use as "glue" for nose & other pieces
Pretzels
Vanilla wafers
Red and white M & M's or other candy
Black icing
If you're pressed for time and need an easy craft / dessert. This is it!
Merry Christmas!