Mummy Dogs; Halloween Here We Come!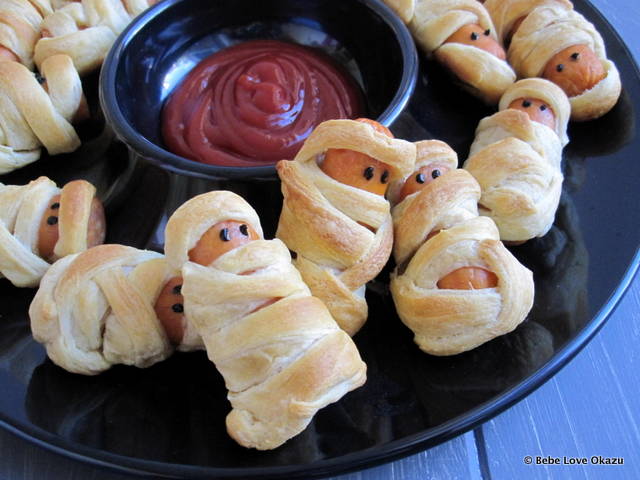 BOO!
Every year around this time, I profess my love for the Halloween holiday and this year is no different. Until I had the little one, Halloween was fun, but now that she's getting older and Halloween is filled with crafts, decorations, costumes, and of course, candy and treats, it's even MORE fun.
For starters, there's the costume (hers I mean). This whole year has been all about The Little Mermaid, so not surprisingly, she wants to be Princess Ariel for Halloween. She also professed (in only a way that a four-year old will) that she needed Ariel's long, red-hair wig because that's what The Little Mermaid has, and she can't be The Little Mermaid without long red hair. Call me a softie, but there's a long red hair wig in our home now, hanging with her costume…
Then there are the crafts. I didn't share any craft posts last year, but this year I think I'll make time to do that since it's always such an important part of Bebe's Halloween experience.
Of course, there are also the treats.
Last year, for one of our Halloween parties I made rice krispie treats that were orange like jack-o-lanterns with little green stems and not-so-spooky faces made out of icing. The post for these treats can be found here.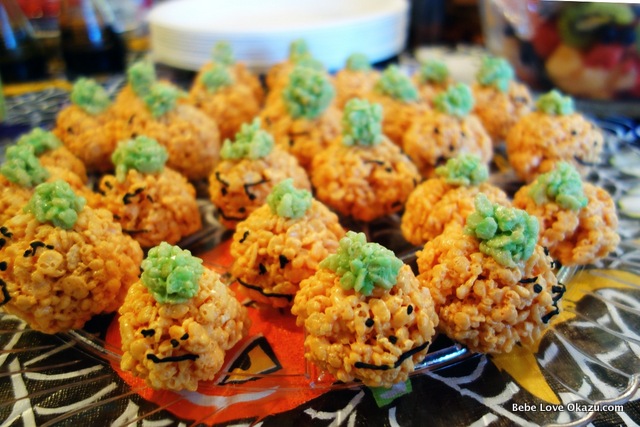 For a different Halloween party, I made a quick toddler / preschooler friendly Halloween party mix made with favorite cheesy goldfish and pretzel goldfish, as well as fruit gummies. Bebe loves fruit gummies. My favorite to buy are the organic gummies from Costco made with real fruit and vitamin C. Despite the mom-friendly selling points of these gummies, our Bebe is still lucky if she gets to enjoy two packs a month. Fresh fruit is always, best, no? :) My post for this Halloween party mix is available here.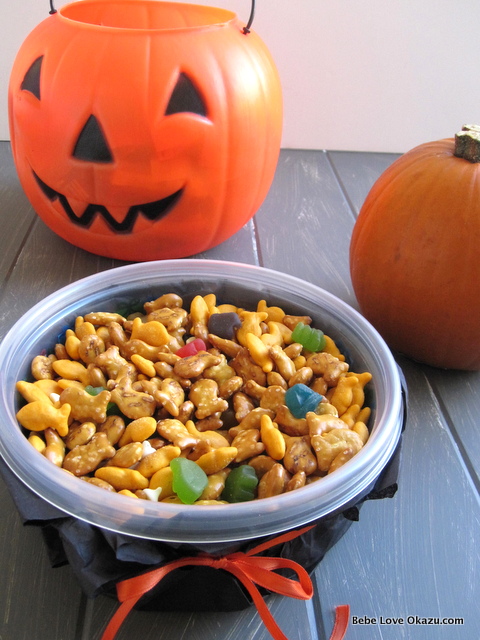 Last year, for our trick-or-treat night potluck over at Dr. Eye's home, I made the little mummy dogs below using ready made crescent dough and nitrite / nitrate free turkey dogs which I cut in half. I would have preferred to use the mini nitrite/nitrate free beef "pups" from Trader Joes but they were all sold out! I'm sure it was all those other moms out there making mummy dogs. ;) As for the mummy's eyes, after they cooled, I used black icing which I placed in a ziplock bag. I cut a VERY TINY hole in the corner of the bag, from which I squeezed out little mummy eyes.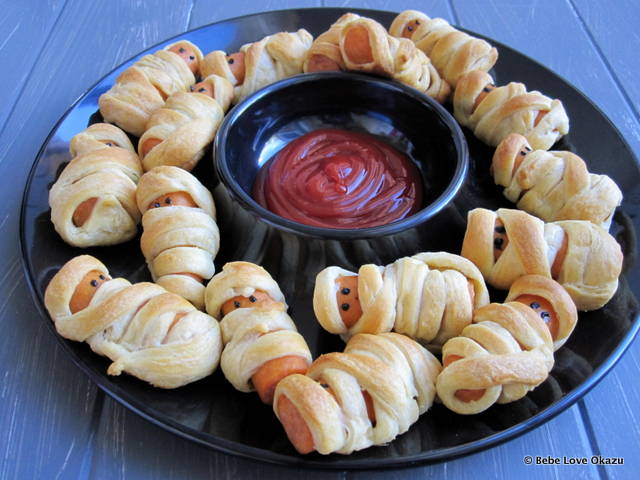 Not surprisingly, my little one has been popping out from doors and around corners in our home, shouting "BOO!" She's definitely ready for Halloween. Now it's just waiting and finding more celebratory crafts to do. :)

Mummy Dogs; A Halloween Snack for Kids
Prep time:
Cook time:
Total time:
Ingredients
1 8-ounce roll of crescent ready-to-bake dough
20 mini turkey (or beef) pups (franks), preferably nitrate/nitrite free; if none are available cut regular size franks in half
Black icing
Ketchup for dipping, optional
Small ziplock back for decorating "eyes" onto the "mummies"
Instructions
Prepare baking sheet with foil and spray with cooking oil.
Unroll ready made crescent dough. Separate dough, then cut into thin strips.
Wrap each mini pup / frank with the dough, leaving space around the top for eyes. Tuck the end under the frank and place on a prepared baking sheet. Repeat.
Bake mummy dogs for 15 - 20 minutes until dough is golden brown.
Allow mummy dogs to cool.
Prepare pre-made black icing by placing a small amount in a ziplock bag with the corner cut out. Make sure the corner that is cut off is VERY TINY.
Ice eyes onto each mummy.
Serve immediately. Ketchup optional.