Strawberry Puree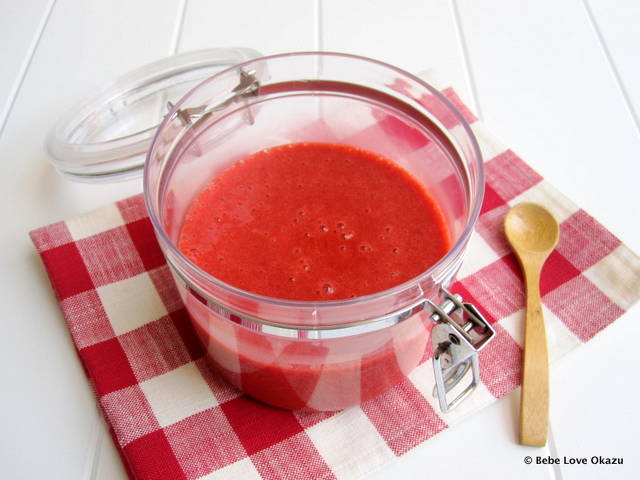 Sometimes, the simple things in life provide great pleasure.
Such as a bag of frozen strawberries that I found buried in our freezer.
We've been fighting colds, sore throats, fevers, allergies, asthma, and generalized tiredness from overexerting ourselves during the weekends, but for the most part, we are still healthy and well. Given all that is going on, I'm still keeping our meal repertoire quite simple and once again, I haven't cooked anything too exciting, yet this strawberry puree is purely heavenly for something that originated out of a frozen bag of fruit. It reminds me of the blueberry puree I used to make for Bebe when she was still eating baby foods.
The applications for this sweetened strawberry puree are versatile. (Where available, links to recipes on my site are below.)
Add-in for sprucing up plain greek yogurt

Drizzling sauce for homemade cheesecake or cheesecake cups
Topping for an ice cream sundae or frozen yogurt
Mixed into a beverage to make a smoothie or a milkshake
Serve over banana slices
Add into strawberry shortcake cookies
Use as a jam, but beware because the consistency is much thinner than jam
Swirl it into cake or cupcake batter
Mix with whipped cream for a flavored cream
Add into strawberry muffins
Drizzle over angel food cake or pound cake
Make a strawberry custard
Add it to 7-up milk jello
Strawberry Puree
Author:
Judy | Bebe Love Okazu
Prep time:
Cook time:
Total time:
Ingredients
1 pound (16 ounces) bag frozen strawberries, fresh may be substituted
¼ cup granulated white sugar
Instructions
Thaw frozen strawberries in the microwave.
In small sauce pan add strawberries and sugar. Bring to a gentle boil, then reduce to low heat and simmer for 10 minutes until sugar completely dissolves.
Allow strawberry sauce to cool. Puree in a blender until smooth.
Store puree in an airtight container for 3 to 5 days, or freeze in individual 1 to 2 tablespoon servings.