Little Tokyo & Marugame Monzo Restaurant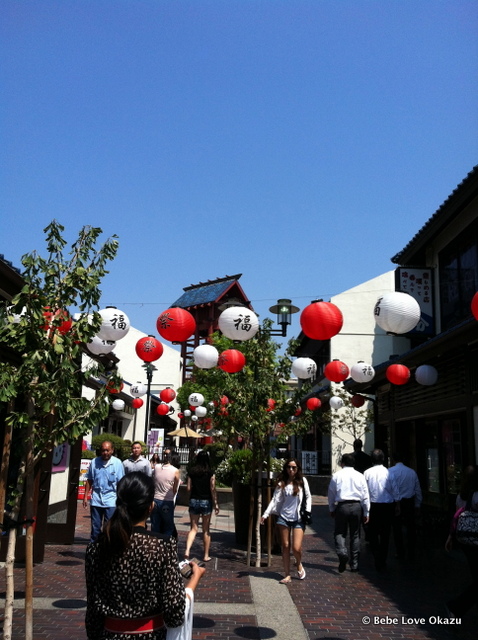 It's no secret that I've been having a difficult time creating regular posts for my blog.
I'd like to blame my absence on a recent heat wave in our neck of the woods which completely turned me off from cooking and going anywhere near the stove. Unfortunately, I can't get away with eating out every night for two weeks straight so I've resorted to what I refer to as lazy cooking. I mainly rely on cooking somen noodles in the morning and chilling them in the fridge until dinner time. Or, a Costco rotisserie chicken or pizza. Honestly, I'm not sure what we've been eating the past two weeks, but rest assured it was nothing blog-worthy to record for the kiddos.
I did however visit a Japanese restaurant not too long ago with Bebe and my parents to celebrate their wedding anniversary. Actually, Bebe and I went to visit my parents for a mini stay-cation and happened to be there on the day of my parents anniversary. I asked them if they had plans to dine out, and of course my Mom's response was that she had forgotten about it, although a few weeks ago she thought that their anniversary was coming up soon. My Dad, as expected, had no clue it was their anniversary. My Mom didn't seem to mind.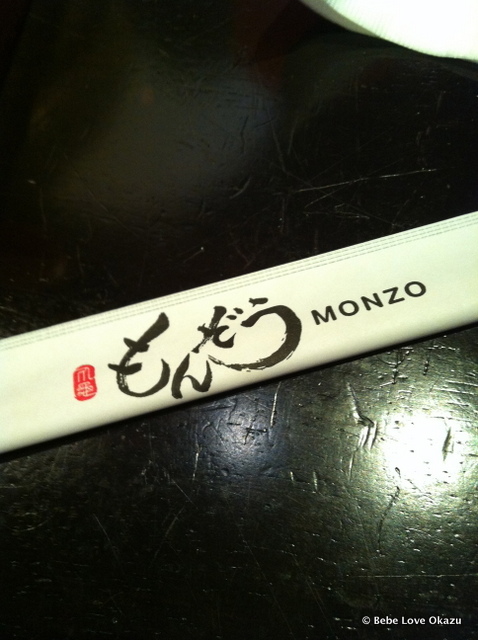 My Mom suggested we take a trip to Little Tokyo in Downtown Los Angeles to a small udon (noodle) shop where she had dined a short while ago with extended family. She emphatically claimed that it was "sugoku oishii" (extremely delicious) in Japanese, with a HUGE emphasis on the "sugoku" (very, very, very).
We didn't think twice about going on a family date with Mom and Dad to celebrate their anniversary since my parents seemed excited to have Bebe and I visiting. So we all hopped in the car and took a short drive into town.
The restaurant is located across from the Miyako Hotel, seen above with a black awning. The interior of the restaurant is new, modern and welcoming. The servers are friendly and the food impeccable.
The Japanese Village, also known as Little Tokyo is somewhere I'd visited regularly since my childhood. My grandparents lived in South Pasadena at the time and we often went into town for short excursions to nihonjin machi or "Japan Town". Sometimes we'd go with my grandparents and other times we would stop by on our way to/fro our Westside home. To this day, the area is very nostalgic. There was a time during which the area began to look very run-down, but in recent years it's been truly revitalized.
I love the beautiful paper lanterns that are up for display. Bebe with her Ojiichan.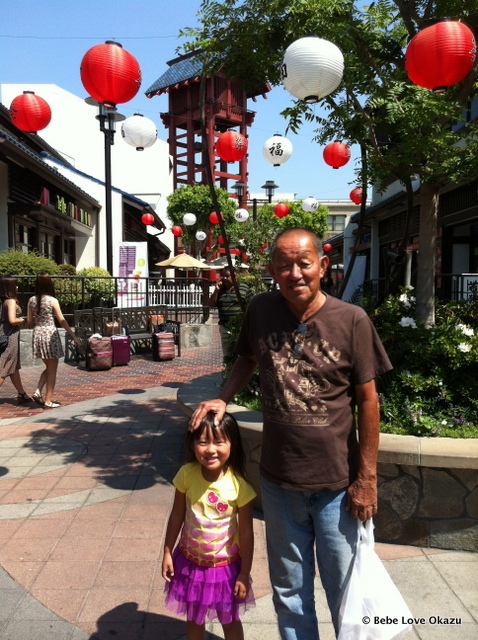 Bebe liked all the Hello Kitty goods. After all, you can't go into Little Tokyo and not expect Hello Kitty to show up.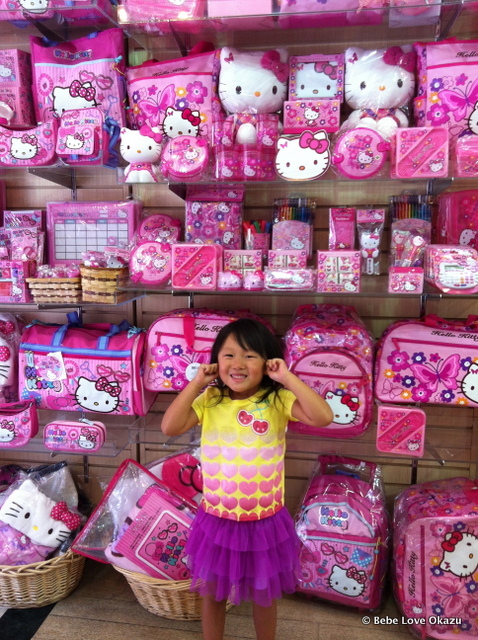 As for our lunch, it was delicious, despite the fact I was unable to take decent pictures with my phone. One of the highlights of our experience is that we got to watch (who we assume is) Mr. Monzo handmake our udon (wheat) noodles. It was quite mesmerizing. Bebe wanted to sit in front of Mr. Monzo and watch him continue to make noodles but unfortunately seating was unavailable.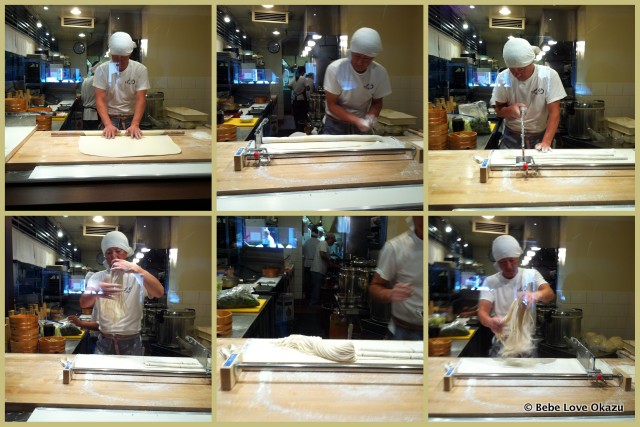 We ordered zaru udon (cold noodles) for Bebe, which is a favorite of hers. My Mom ordered the hot kitsune (foxy tofu) udon, and my Dad ordered hot tempura shrimp udon. All the dishes are affordable and range anywhere from about $6 to $12.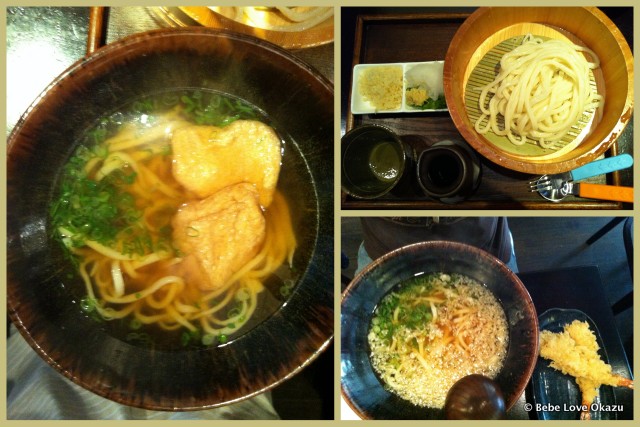 I asked our server what I usually like to ask in a restaurant, which is, "What tastes the best and what do you recommend?" Our server mentioned that one of their most popular dishes was an off-menu item: garlic cream uni (sea urchin) udon. Personally, I've never cared for uni, but recently I found a soft spot for very, very fresh uni which I find… palatable and surprisingly to my liking. The dish was LOADED with delicious uni. The garlic cream sauce was savory, light and rich at the same time. It was reminiscent of Japanese cream pasta save for the "spaghetti" noodles which were udon noodles and thick and chewy. For me, I admit that it was too much goodness to handle and I likely would have been happier with just half the bowl of this wonderful dish, and half a bowl of something more traditional such as my Mom's kitsune udon. This restaurant definitely deserves another trip back.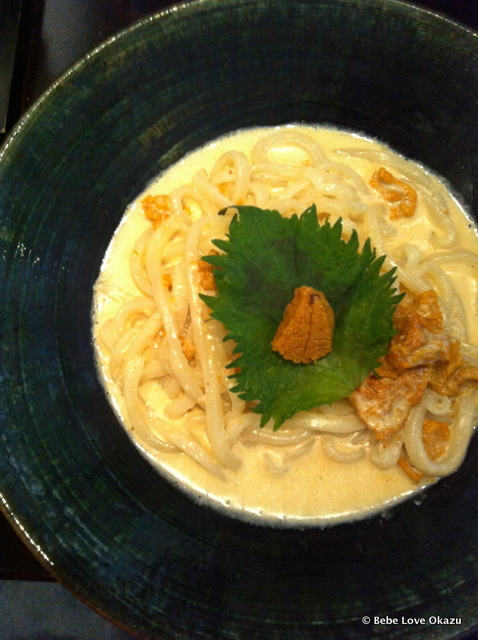 If you're in the Downtown Los Angeles area, I recommend a visit to Marugame Monzo for a bowl of fresh hand-made udon noodles.
Marugame Monzo
329 East 1st Street
Los Angeles, CA 90012
213.346.9762