Japanese Teppanyaki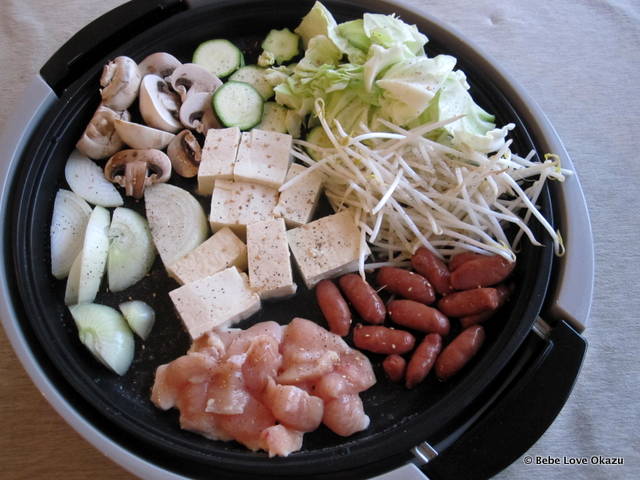 Have you ever gone grocery shopping and lost a bag of groceries?
If not, welcome to my world!
I can laugh about it now, but there was a moment of confusion (sadly this confusion struck three hours after I returned from the market and not as I was putting groceries away) when I couldn't find the cantaloupe that Bebe picked out for us. I thought that it might have rolled out of the bag in the trunk of our car… but alas that wasn't the case. Furthermore we ate the raspberries and grapes we bought so there was no reason for me to think that the other fruit went missing… until my foggy memory cleared up as I remembered the other fruit we bought.
I either left that bag of 1 cantaloupe, 2 pink grapefruits and 3 Fujii apples in the cart of my shopping cart or with the checker. When I return to the store tomorrow, I'll ask the manager if anyone turned in a lost bag of fruit. He will probably think I'm some crazy-woman trying to score free fruit and or just a crazy-woman who really lost a bag of groceries.
Honestly, who does that?!? Apparently I do!!! *Sigh…*
Perhaps my lost fruit is indicative of the kind of month I've been having.
In addition to our weekly extracurricular activities and summer play dates, Bebe and I have been very busy visiting different preschools for the upcoming year. I feel as though we haven't had much time for anything else. September is right around the corner, and last week just might have been our busiest as we visited almost five schools in one week. I think we finally settled on a school that meets our needs. Next, we'll have Bebe do a few hour trial to see how she likes it and go from there!
I must confess that I haven't cooked anything new to share over the last week, instead resorting to creature-of-habit dishes such as those already found on my blog (you can browse these on my Recipes page). However, over the past few days I've had strong craving for Japanese food.
Japanese teppanyaki is yet another comfort dish that my Mom made for us regularly. During the few hot summer days that we experienced, the metal teppanyaki griddle would remain in it's box, during which we ate a lot of cool somen noodles (recipe available here), but I'm not one to shy away from a craving, just because the weather's too warm to break out the hot griddle.
Teppanyaki refers to the iron griddle pan, which is usually tabletop, where vegetables, meat and or seafood are pan-fried and then served with a dipping sauce. The sauce is typically a citrus-soy Ponzu sauce. In our family, we also serve our ponzu sauce with grated carrots and grated daikon (Japanese radish) along with shichimi Japanese chili peppers.
Usually, the vegetables and meat are cooked on the teppan but grouped together by item, as you see in the photo at the top of this post. For some reason, when my Dad cooks the teppanyaki for us, he likes to scramble all the food items together, essentially creating a mish-mashed stir-fry. This disorganization drives both my Mom and I crazy. At home, I keep all the food items neatly compartmentalized in their own little teppanyaki griddle space. Does that say a lot about my eating preferences or my personality? ;)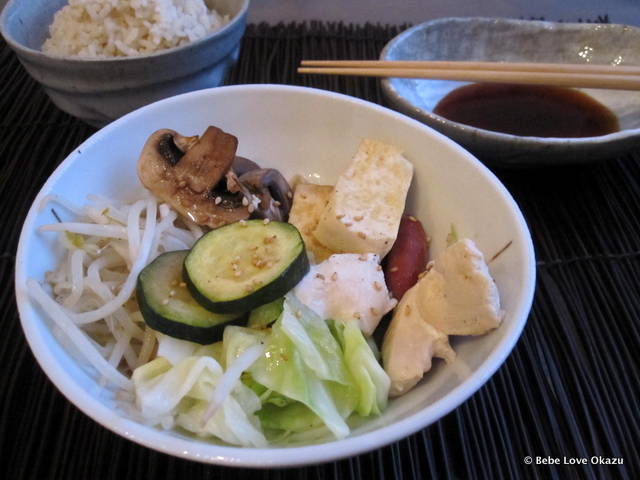 Teppanyaki | Vegetables & Meat Cooked on Japanese Iron Griddle
Author:
Judy | Bebe Love Okazu
Prep time:
Cook time:
Total time:
Ingredients
1 pack mushrooms (button, shiitake, or enoki)
½ green cabbage, large chop
1 package bean sprouts
1 zucchini, sliced
1 sweet onion, sliced
1 block soft tofu, sliced
1 package cocktail sausages (nitrate/nitrite, perservative free)
4 chicken tenderloins, sliced (also use beef, pork, shrimp or squid)
½ tablespoon sesame seeds
1 tablespoon unsalted butter
Ponzu (citrus-soy) sauce for dipping
Grated carrots, optional (for adding to ponzu sauce)
Grated daikon (Japanese radish), optional (for adding to ponzu sauce)
Japanese shichimi red chili pepper
Special equipment: tabletop iron griddle
Instructions
Prepare vegetables and meat.
On medium-hot tabletop iron griddle, melt butter.
Add vegetables and meat or seafood to the griddle. Cook until well-done.
Optional: grate carrots and daikon separately, and serve in bowls. These garnishes can be added to the citrus-soy Ponzu dipping sauce. Add shichimi togarashi chili peppers if desired.
Dip cooked vegetables and meat in Ponzu dipping sauce and enjoy!