Fish-Outta-Water Jello Cups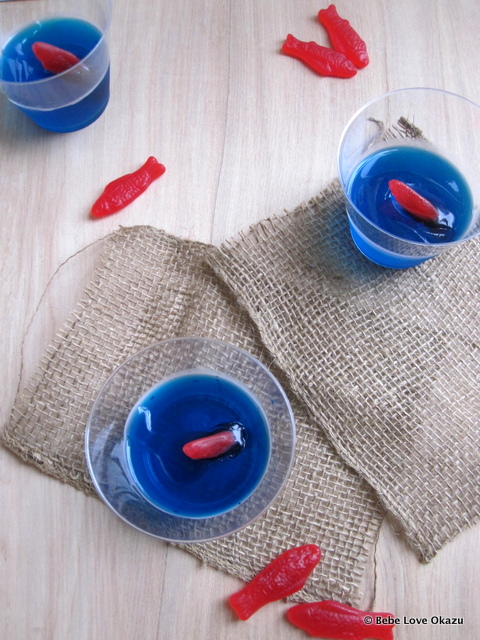 During my brief absence from my blog, I've become a Pinterest-addict and it has resulted in much time spent either on my iPhone Pinterest app or glued to my laptop as I scan dozens (hundreds?) of "pinned" ideas.
It turns out that what I call, Fish-Outta-Water Jello treats, can be found widespread across the internet, and I can easily see why they're popular:
1. Jello is super easy and inexpensive to make.
2. Moms (at least this one) like a dessert which can be whipped up in 10 to 15 minutes.
3. Preschoolers love Jello. It's colorful, sweet and fun to eat.
My Pinterest-addiction promptly resulted in a trip to the market for Berry Blue Jell-O and Swedish Fish. I knew Bebe would get a kick out of these treats and it was a cute individualized dessert for her, my pre-kinder nephew and my toddler niece who had the chance to swim together over the weekend. Additionally, it was the perfect theme: "swimming fish in blue water" with swimming kiddos in the water.
All you need is water, two packs of blue jello and a handful of Swedish Fish.
Those bright red Swedish Fish always remind me of my childhood spent with my BFF. I remember at one point in our childhood my BFF loved Swedish Fish and when we walked to our neighborhood candy shop, Bel Air Sweets & Gifts (which has long since disappeared), she would always get Swedish Fish. Although I enjoyed those gummy fish, I think I preferred gummy bears, gummy bottled cokes, gummy cherries, gummy strawberries and malted milk balls.
Unfortunately, I had cavities.
Let that be a lesson learned, Bebe! Candy begets cavities! At least this was the case for Mommy. Daddy on the other hand, doesn't have a single cavity despite his love for candy. Maybe you'll get lucky and Daddy's gene's will prevail.
Getting back to the dessert, the consistency of the jello that I made is somewhere in-between a jiggler (firm jello) and regular jello (soft) but feel free to play around with the firmness by adjusting the amount of water used in the recipe. Typical ratio for soft (regular) jello is 2:2 hot to cold water. I used approximately 2 cups hot water to 3/4 cups cold water.
My only caveat for making these treats is that you need to keep an eye on the jello as it solidifies. The best time to insert the fish is when the jello is still soft and you can smoothly place the fish into the jello without it sinking to the bottom of the cup. If you lose track of the time (or completely forget about the fact that you were making jello, which is typical of me), you'll need to use a sharp knife to make a small half-inch length cut in the jello and place the fish in it. (Thanks Nene for solving that problem!)
I have one more Pinterest inspired dessert that the kiddos enjoyed over the weekend for their little swim party, which I will post shortly. Meanwhile, enjoy the fish-outta-water!
Happy Summer!

Fish-Outta-Water Jello Cups
Author:
Judy | Bebe Love Okazu
Ingredients
2 3-ounce packages of Berry Blue Jell-o
4 cups hot water
1½ cups cold water
16 short, clear plastic cups
16 Swedish Fish gummy candies
Instructions
In a medium pot, gently boil 4 cups hot water and turn off heat. Immediately add blue gelatin and mix until dissolved. Remove from stove.
Add cold water. Stir.
Let the gelatin mixture cool slightly until warm.
Using a ladle, carefully fill clear plastic cup less than half-full. Place cups on trays (if you're short on space in the fridge and need to stack them as I did) and either allow them to cool to room temperature or refrigerate immediately.
If you allowed the jello to cool to room temperature before refrigerating, check your jello for firmness after 5 to 10 minutes.
Insert Swedish Fish, partially swimming out of the jello, while the jello is slightly solidified, or allow the jello to harden completely, make a small incision in the jello using a sharp knife and then insert the fish.
*Recipe updated 06.23.16