Shishito Shoyu Itame (Shishito Japanese Peppers Sauteed with Soy Sauce)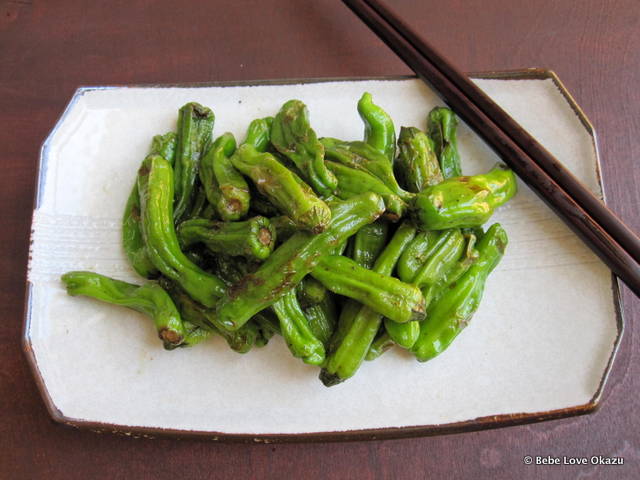 One of the things about Mondays that I just can't seem to shake is that I often feel as though I'm recovering from the weekend. While that statement might have had a different meaning in my twenties where I was often recovering from late nights dancing and clubbing with my besties, today, it means something entirely different.
It means that we spent some time on Saturday in the hot sun at Nene's (Bebe's big sis) swim meet where she not only competed, but where she also works as an assistant coach. Then, I didn't take a nap after being in the hot sun, which is something I relished in my twenties, but is a former favorite past time that is fleeting these day. It also means that we spent a couple of hours at yet another Japanese obon festival yesterday afternoon in the warm West Los Angeles weather of my home town. (I'll share more photos of our festival soon.) All wonderful weekend activities to appreciate and be thankful for, but nevertheless cause for feeling a bit sluggish on a Monday.
Fortunately, a quick trip to my local Japanese market is only a few short minutes away and often yields healthful and inexpensive Japanese vegetables that are quick and easy to prepare. I found a small package of Japanese shishito peppers, less than 1/4 pound for under $1.50. I'm the only one in our family that enjoys these flavorful green sweet peppers, so a small package such as the one I found is perfect for little ol' me.
Every summer, my Mom often prepared shishito itame (stir fry), seasoned only with shoyu, or soy sauce. My parents often grew these little Japanese peppers in our backyard, but they were always picked whilst green. If left on the plant, the peppers certainly do turn red, and spicy! Of course, I never tried eating the spicy red ones, but it was always nice to enjoy a sweet and tangy green one. On a few occasions, I'd bitten into a green shishito only to discover a little kick. Back then, I never enjoyed that kick, and always passed along my one-bitten shishito to my Dad, but these days, I often eat them, wondering (and secretly hoping) for a little kick of spice, but I haven't found one yet!
Happy Monday!

Shishito Shoyu Itame | Shishito Japanese Peppers Sauteed with Soy Sauce
Author:
Judy | Bebe Love Okazu
Ingredients
¼ pound Japanese shishito peppers
1 tablespoon soy sauce, to taste
1 teaspoon vegetable oil
Instructions
Trim any dry ends of the stem using kitchen shears.
Heat vegetable oil in a frying pan over medium-high heat. Add shishito and sautee for about 4 minutes.
Add soy sauce, sautee an additional 2 minutes, or until shishito peppers are tender.
Remove from heat and serve immediately.
Garnish with additional soy sauce, to taste. (Optional)