OCBC Obon 2013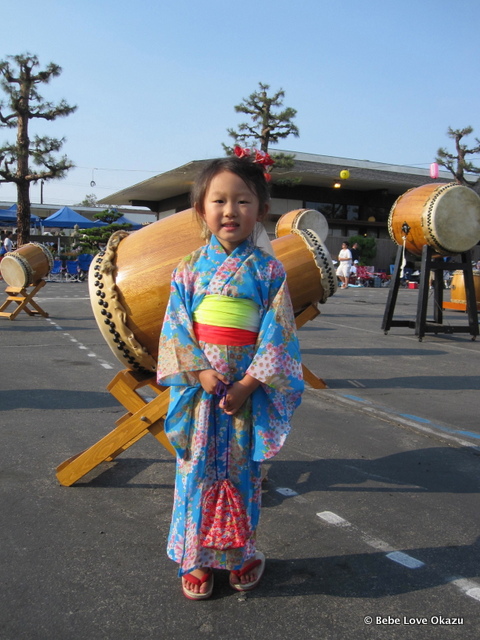 It only feels like summer once Obon season starts. And, it's started!
This year, all of the obon festivals are being held earlier than usual, but we're not complaining. We already went to our first obon for the season at the Orange County Buddhist Temple, even before the end of June, and that almost never happens. Usually, July is when obon season is in full swing. Read more about the obon festival in my 2012  and 2010 posts.
Unfortunately, because of illness and the earlier obon season this year, we weren't able to make any of the obon dancing practices that we usually enjoy. Boo! The practices are something that Bebe E especially looks forward too, and when I mentioned to her that we were going to obon last weekend, she excitedly shared the news with her Dad and friends that she was going to obon practice! I had to tell her that it wasn't practice (hate breaking sad news to her), but the REAL DEAL. She was pretty happy about that.
After we got home from the OC obon festival I asked her what her favorite part of the evening was, and she said, "all of it". While making big circles with her arm.
She loves the games. She won three goldfish, ALL by herself that evening at the ping pong toss. That's her and her cousin checking out their little fishy friend. I love this photograph.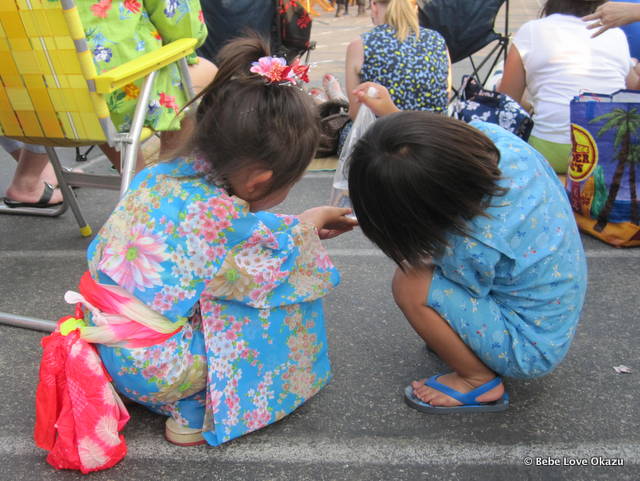 We watched the taiko (Japanese big drum) players perform. She liked the big o-daiko and enjoyed the music. I wish I could find a DVD where her Uncle T is performing in college with his taiko club. That would be fun to share with her and my nephew.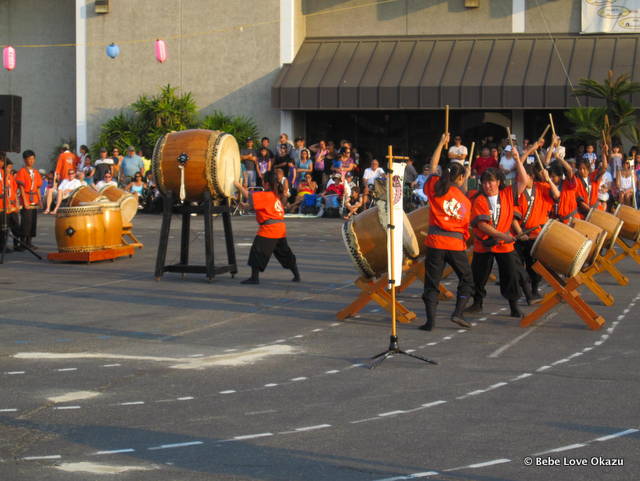 Then there's the food. Festival food. Good food. We like the inari sushi (a.k.a. footballs you see at the top in the photo below), especially Bebe. This is likely because the tofu wrapper on the outside is sweet and slightly savory. We usually share either the chicken teriyaki plate and beef teriyaki, a Chinese chicken salad and a plate of wontons (these are different than the one posted on my blog here). We also enjoy a nice refreshing cup of shaved ice. This year Bebe's choice was "turquoise" syrup. Anything that's turquoise is a favorite. Bebe Dada was sick the weekend of obon so we didn't have his appetite available to order more food and share. Nevertheless, we still enjoyed good eats. We usually like to attend obon, not just for the dancing and games that Bebe enjoys, but also to help support the temple. The festival is a significant fundraising event.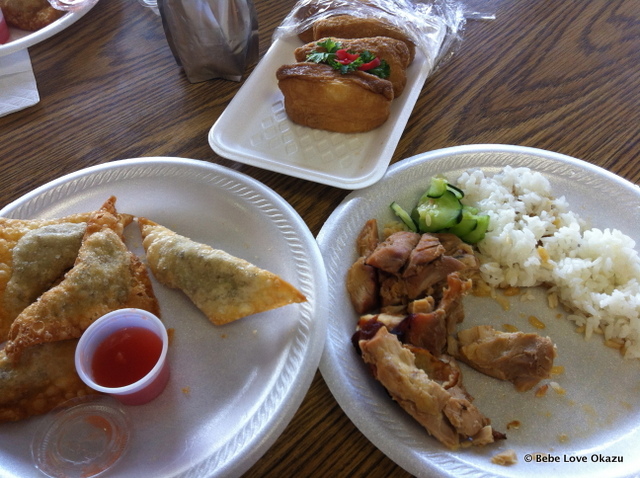 I should mention that in addition to the food photographed above, there is hot udon noodle soup, yakisoba, spam musubi, shave ice, okinawa dango (recipe available on my blog here), dango dog (basically a fried donut encasing a hot dog on a stick), chili rice, and much more!
After our early dinner, we wait for the 'bon dancing to begin. That's the part we have so much fun with. We don't have the moves to the dances memorized, but rather than worry about looking silly, we just go out there with our family and friends, and dance. And we have fun and enjoy ourselves. Clearly, Bebe knows her stuff, and she's a pretty good 'bon dancer at that. Below, she's wearing my childhood yukata that my maternal grandparents sent from Japan when I was just about her age. According to my Mom I was too shy and self-conscious to get dressed in my yukata, but I can't express in words how happy it makes me to find Bebe so excited about getting dressed-up in a beautiful yukata and embracing (half) her heritage. ;)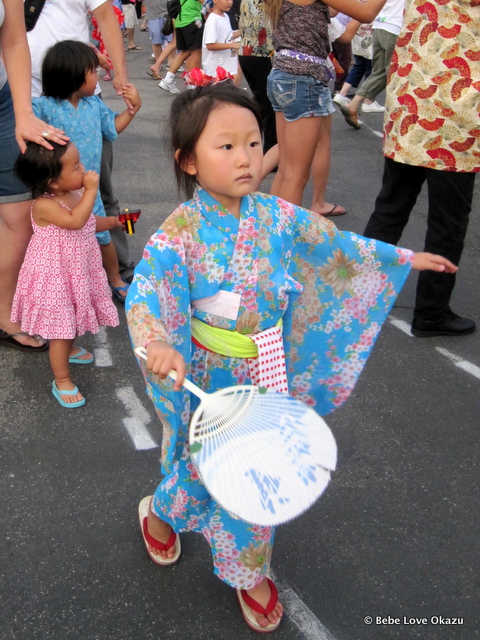 We usually leave during the 'bon dancing break as we usually need to get home in time for the little one's bedtime. It was the perfect sunset as we were leaving the festival. The photo below says it all.