Cookies & Cream Cheesecake Cups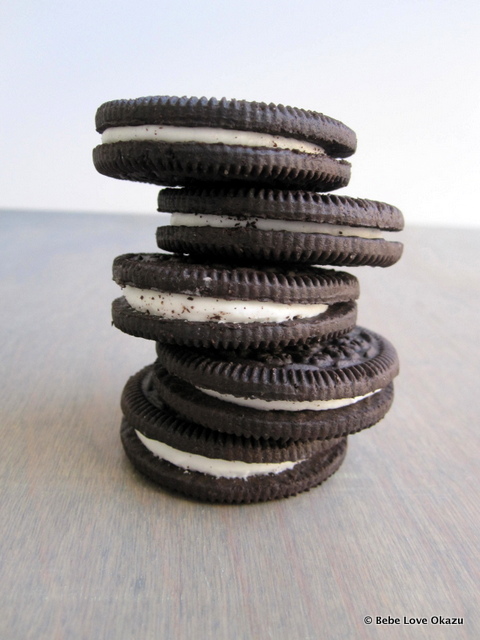 I'm not sure what it is about chocolate cookies and vanilla cream, but my obsession with these cookies haven't waned since I was at least six years old. There's just something so divine about the crunchiness of the chocolate cookie and the dreamy, sugary-sweetness of the thin layer of cream sandwiched between those two chocolate cookies.
What is it about these packaged and processed cookies that I love so much? I truly have NO clue.
I often become obsessed with a food craving and mull over it for a few days, or few weeks, and as you might have guessed, lately I've been craving cheesecake. Over a week ago, I was the happy and fortunate recipient of a slice of homemade cheesecake, but I wanted more.
I purchased a package of non-Oreo-brand Oreo-ish cookies on sale, and over the last few days I've been nibbling away at the package, one cookie at at time. Indulgent. I know.
Then the light bulb came on.
Cheesecake craving. Oreo-ish cookies.
Cookies and cream cheesecake started sounding pretty scrumptious. Then, I hopped on to Pinterest (you can follow my boards here) and guess what was all over the place? Cookies and cream desserts. It was a SIGN.
So here you have it. Little cookies and cream cheesecake cups. I used my mom's blueberry cheesecake cup recipe (available here) and modified it slightly.
Easy peasy.
Craving satisfied!
Tummy happy! I'm happy.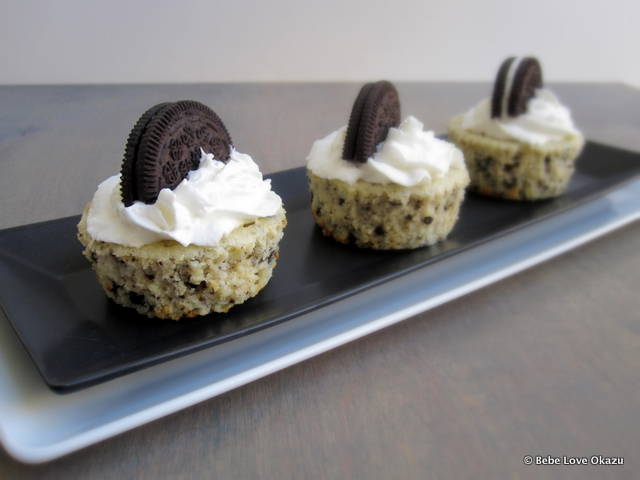 Cookies & Cream Cheesecake Cups
Author:
Judy | Bebe Love Okazu
Prep time:
Cook time:
Total time:
Ingredients
2 8-ounce cream cheese (or low-fat neufchatel cheese)
¾ cup sugar
1 teaspoon vanilla
2 eggs
1 teaspoon fresh lemon juice
16 chocolate cookie and cream sandwiches (Oreos), whole
5 chocolate cookie and cream sandwiches, crushed (for the cheesecake filling)
Whip cream for garnish, optional
Additional chocolate cookie and cream sandwiches for garnish, optional
Paper cupcake liners
Instructions
Preheat oven to 375.
Line cupcake pan with paper liners and place one whole chocolate and cream sandwich in the bottom of each paper liner.
Crush five chocolate cookie and cream sandwiches into small bits.
Cream together cream cheese and sugar until smooth.
Add eggs, vanilla, lemon juice and mix well. Mix in crushed chocolate cookie and cream sandwich bits.
Fill each cup almost full with the cream cheese mixture.
Bake for 15 minutes at 375 until cheesecake is set. Let cool completely. The cheesecake cups will rise and look puffy when they first come out of the oven, and then they'll sink a little.
Store cheesecake cups in the refrigerator.
Garnish with whip cream and cookie prior to serving.