Tonjiru (Traditional Japanese Pork Soup)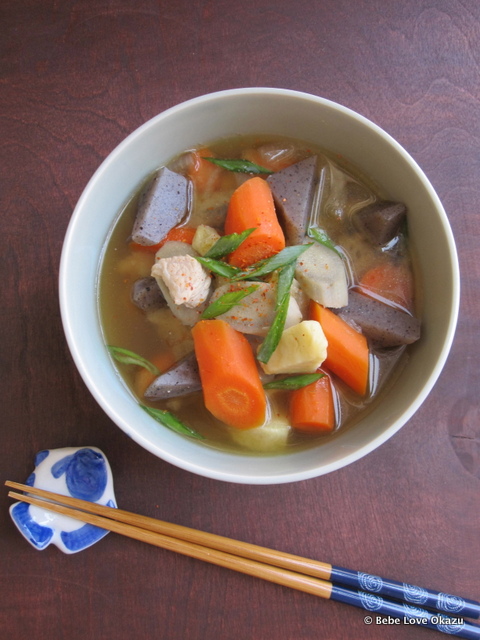 At times I get homesick for my Mom's cooking.
Despite our recent warmer weather, we had a slight cooling trend with a touch of June gloom which prompted a craving for tonjiru, or traditional Japanese pork soup.
It's a miso based soup and the ingredients might vary just slightly from one family to the next, but ours consistently includes carrots, onions, gobo (burdock root), konyaku (devil's tongue root), and pork. Usually, Japanese satsuma imo, or sweet potato, also makes an appearance, but there are times when this starch is substituted with sato imo, or taro root.
In my youth I never cared for either sweet potato or taro root, and I was happier when these ingredients were excluded from our tonjiru, but these days, tonjiru just isn't the same without a few pieces of satsuma imo (sweet potato).
My favorite meal was when my Mom served tonjiru soup along with takikomi gohan, which is rice cooked with vegetables and chicken (recipe available here).
Pure nostalgia.
Fortunately, old traditions are born anew. Bebe really enjoys this soup. The very first time she tried it, it was well-received with, "Mmmmm, Mommy! This is yummy. I love your cooking." Not all my dishes are this well-received so I take it to heart when she showers me with compliments like this one. The hubster enjoys this hearty soup as well, and I can't wait for cooler weather so that we can enjoy this more often.
There's not much else to say about this one. Other than it's best made in a large stock pot (to last a few days), and it's best eaten in a large bowl, for maximum heartiness.

Tonjiru
Author:
Judy | Bebe Love Okazu
Prep time:
Cook time:
Total time:
Ingredients
8 cups dashi broth (or 8 cups water & 10 g bonito dashi powder)
1 3 to 5 ounce piece of boneless pork chop, cubed (add more meat as desired)
½ brown onion, sliced
¼ cup awase miso (mixture of red and white miso)
2 cups satsuma imo (Japanese sweet potato), skin removed and cubed
2 large carrots, rough chop
2 cups sliced gobo (burdock root), or use one long root
1 package konnyaku (devils tongue), cubed
1 stalk green onion, sliced on diagonal for garnish
Instructions
In a large pot, simmer dashi broth with cubed pork on low heat for about 15 - 20 minutes. Skim and discard all residual foam.
Add brown onions, carrots, gobo (burdock), and konnyaku. Cook until just tender, about 10 minutes. Skim any residual foam as necessary.
Add satsuma imo (Japanese sweet potato) and simmer for 5 minutes until tender.
Dissolve miso paste in a small bowl (or in the ladle) with broth from the pot. Add miso mixture into the pot. Gently simmer another 5 to 10 minutes. Remove from heat. Allow to cool and store in fridge until ready to reheat and serve.
NOTE: My mom always makes tonjiru a few hours before actually serving it so that all the vegetables have some time to absorb the dashi and miso flavors. If served immediately, you'll find the vegetables don't have a deep flavor.
Garnish with green onions.
Notes
If you are adjusting the strength of the miso flavor by adding more paste, keep in mind that the flavor profile for the miso broth of tonjiru is medium to mild, and not bold.