Red Cabbage Ramen Noodle Salad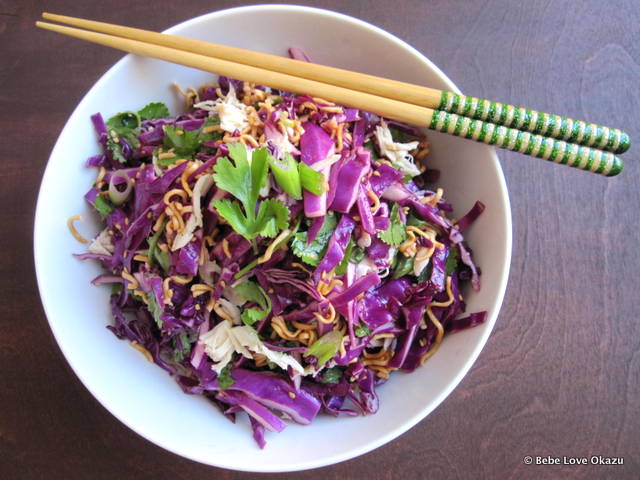 In my culture, there are certain Asian-fusion dishes that usually make an appearance at potlucks. One such dish is the ramen salad. If you didn't grow-up going to Japanese-American boy scout jamborees and Eagle Scout ceremonies, or Japanese-Hawaiian family potlucks where there are always jello cheesecake squares (recipe available here) and soy sauce chicken (recipe available here) next to the ramen salad, it wouldn't be uncommon for you not to have ever heard of this noodle salad.
Despite my husband's Chinese-American / Hawaiian roots, he is amongst those who have never heard of ramen salad, and don't worry, you're not alone if this is new to you. I should also mention that my husband doesn't like dried ramen noodles in any type of salad, but it's definitely worth a try if you've never experienced it.
Typically, our cabbage ramen salad includes green cabbage, green onions, shredded chicken, dried ramen noodles, sesame seeds and Chinese chicken salad dressing. I suppose this ramen salad could be considered a variety of our standard Chinese Chicken Salad to which I usually add an abundance of cilantro, and therefore a good excuse to add cilantro. (I love cilantro.)
The last potluck I had with my WLA besties, my friend Cat brought ramen salad, but with red cabbage. Not only was the salad more flavorful, but the vibrant purple color of the cabbage certainly added flair (and beauty) to an otherwise ordinary looking green salad.
As for the ramen noodles, while you can certainly grab a package of instant Top Ramen, the best noodles for this salad are noodles that are pre-seasoned. Most of the instant ramen noodles on the shelves are not pre-seasoned, but instead have a seasoning packet. If at all possible, use the pre-seasoned noodles. Oh, and I should mention that these ramen noodles are added to the salad DRY, not cooked, and used similarly to how wonton strips or fried mai-fun noodles are added to traditional Chinese Chicken Salad.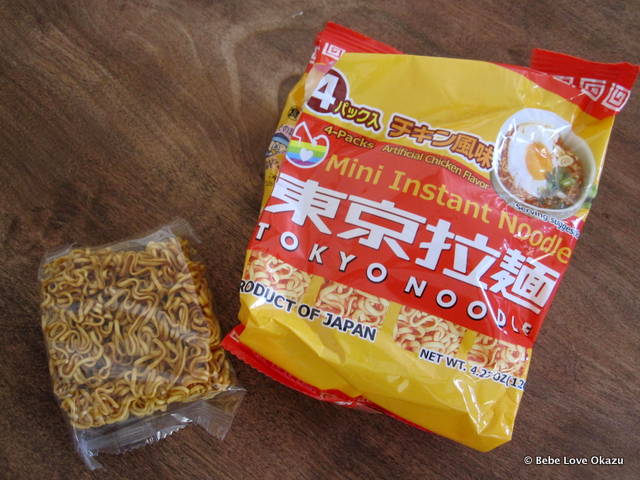 The package of instant pre-seasoned chicken flavor noodles that I use are called "Tokyo Ramen, Mini Noodles". As you might expect, the noodles are packaged in little packs, meant to be eaten similarly to "Cup-O'-Noodles" in a little cup or bowl.  For this reason, for a salad for four, you might need two (2) mini packs of ramen noodles, for serving eight-plus for a potluck, you might need up for four (4) mini packs of seasoned ramen noodles.
Don't forget, the key to a delicious batch of cabbage ramen salad is pre-seasoned chicken-flavored ramen noodles. While I've searched for these noodles at our local Japanese Mitsuwa Market, I usually find them at Marukai Supermarket, which is a Hawaiian and Japanese foods specialty store.
Since this red cabbage ramen noodle salad is now one of three variations of the traditional Chinese chicken salad recipe, I'm sharing links for similar salad recipes on my blog:
For a traditional Chinese chicken salad and homemade dressing, recipe is available here.
For a swankier Asian chicken salad with tangy homemade dressing, recipe is available  here.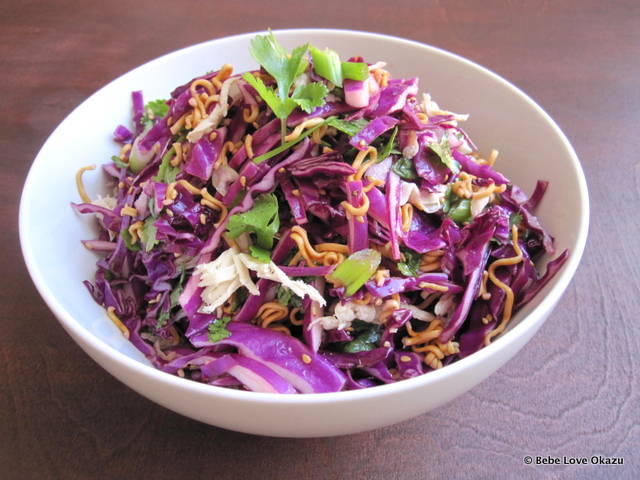 Red Cabbage Ramen Noodle Salad with Chicken
Author:
Judy | Bebe Love Okazu
Cuisine:
Japanese, Asian-Fusion
Ingredients
1 small head red cabbage, sliced
½ bunch cilantro (about 2 cups)
2 cooked chicken breasts, shredded or you pre-cooked rotisserie chicken (chicken is optional)
1 stalk green onions, sliced
1½ tablespoon toasted sesame seeds
1 cup Chinese Chicken Salad Dressing (see Recipes directory for recipe), or use Feast from The East Chinese Chicken Salad Dressing)
2 packages pre-seasoned chicken flavor dried ramen noodles, broken into small pieces.
Instructions
Shred cabbage into lengthwise pieces and add to large bowl. Remove leaves from cilantro and add to bowl. Add cooked shredded chicken (optional).
Add 1 tablespoon of sesame seeds. Reserve ½ tablespoon for garnish. Add ½ the sliced the green onions, reserve the rest as garnish.
Add broken dried ramen pieces.
Gently toss all ingredients with Chinese Chicken Salad Dressing (my homemade chinese chicken salad dressing is available on the Recipes page)
Allow salad to absorb the dressing for about an 30 to 60 minutes for best flavor, but can be served immediately. Best served chilled.
Notes
NOTE: Use chicken flavored pre-seasoned ramen noodles for best flavor (Tokyo Noodle brand is optional).