Frozen Bananas: A Sweet & Healthier Treat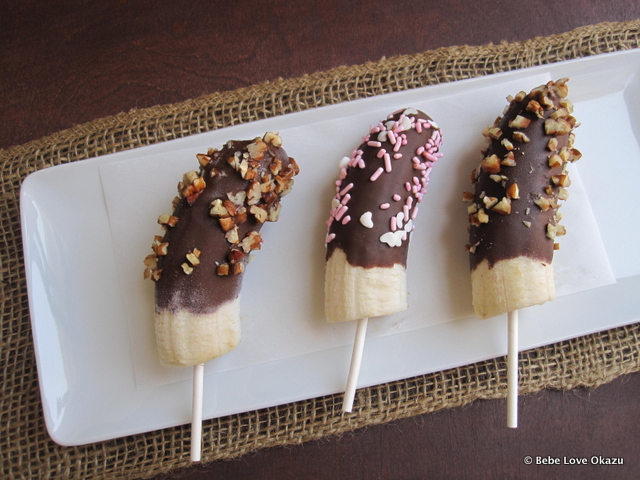 When we were kids, my parents used to freeze fruit for us as treats. During the summer time, one of my favorites was frozen cherries and my other favorite was frozen bananas. I especially loved the frozen bananas dipped in chocolate that we occasionally got to enjoy down by the Santa Monica or Redondo Beach piers. At home, however, I don't recall ever being lucky enough to cover our frozen bananas with chocolate (I'm sure my parents had good reason), but I must say, chocolate and bananas are a divine combination.
About two weeks ago the weather turned slightly warmer, and I had the urge to make frozen bananas. This is something that I've never done, probably since my childhood. The first batch of frozen bananas I made, I cut into thirds, thinking these would be a good size for Bebe. It turns out that her appetite isn't so little anymore and half a banana actually works great for both her and for us bigger folk in the house.
The first batch of frozen bananas I made was voted the better frozen banana according to Nene. This is likely because I dipped the frozen bananas in melted milk chocolate chips. You can imagine how thick the chocolate coating was. :) The only reason I used the chocolate chips was because I didn't have any Magic Shell (instant frozen chocolate shell used for ice cream) in our pantry, but I must warn you that it definitely takes more work and time to coat the frozen bananas in melted chocolate chips.
Magic Shell, on the other hand, is super easy to use. The only caveat is that the chocolate liquid is easiest to work with when poured into a short, narrow cup. I ended up using one of my Japanese tea cups as it was only 5″ in height with a 2″ diameter mouth – perfect for dipping frozen bananas.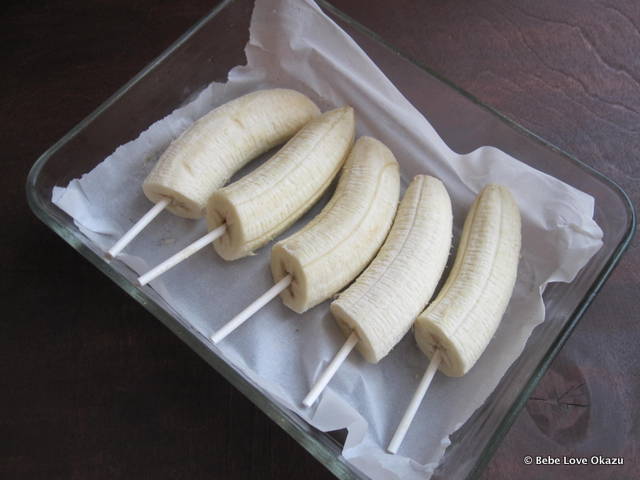 As for the bananas themselves, I froze them on parchment paper so they wouldn't stick to my freezer safe glass dish, and I used cake pop sticks that I had leftover from my brief adventures in cake pop making. The cake pop sticks were the perfect size for half the banana. If you're planning to make full-size frozen bananas, per Aya-chan's recommendation, try disposable wooden chopsticks. Ingenious!
As for the toppings, I liked plain chocolate or the ones with chopped almonds or chopped pecans (nuts I already had in our pantry). Of course Bebe's favorite topping is sprinkles. After all, everything tastes better with sprinkles, right?
Give frozen bananas a chance, if you haven't done so already. Even dipped in Magic Shell, they are lower in fat and cholesterol than ice cream! These are a great way to kick-off summer!

Frozen Bananas
Author:
Judy | Bebe Love Okazu
Prep time:
Cook time:
Total time:
Ingredients
5 bananas, peeled and cut in half
1 cup Magic Shell, quick-hardening chocolate coating
10 cake pop sticks
Parchment paper
Chopped pecans, almonds or other preferred nuts for topping
Sprinkles, optional
Other toppings: chopped candy bar (Reese's Peanut Butter Cups, Snickers), mini chocolate chips, yogurt chips
Instructions
Insert cake pop stick in center of each peeled and cut banana.
Place banana pops on parchment paper lined freezer-safe dish. Freeze for 3 hours.
Create banana dipping and topping station. Pour Magic Shell in short, narrow cup. Line secondary freezer-safe dish with parchment paper. Place toppings in bowls.
Dip frozen banana in Magic Shell, only allowing excess chocolate to drain briefly (the chocolate shell with harden very quickly).
If adding toppings, you must work quickly. While the chocolate coating is still wet, gently sprinkle preferred topping on banana, then let it rest on parchment paper and return to the freezer. Continue this process with all the bananas.
The chocolate shell will freeze immediately. Enjoy!