Quick Weeknight Squash & Eggplant Stir Fry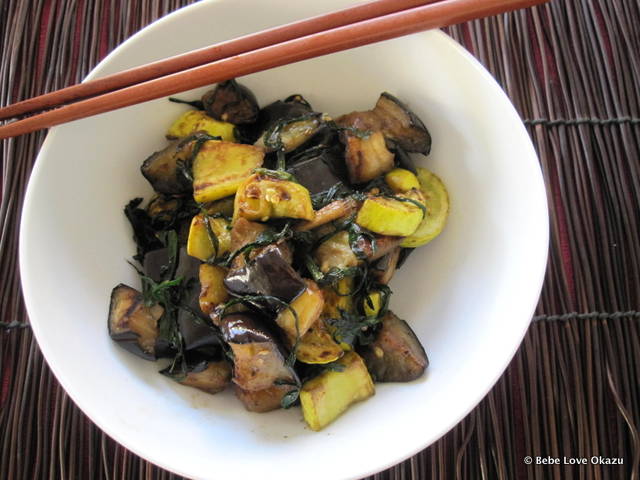 I'm not sure about everyone else, but I often find lone vegetables in the crisper drawer of my refrigerator calling out for attention. These little guys are often overlooked because there is only one or two of them left, or even worse, only half of something is wrapped up in plastic wrap such as half a zucchini or onion.
On this day, I had two very small yellow squash leftover from a pasta salad that I made, in addition to an almost lifeless eggplant that was completely forgotten because it had been hiding beneath the romaine lettuce and spinach bunches. I also had a significant amount of garlic chives leftover from the gyoza (recipe available here) that I made, so I decided to throw that in as well. The decision to make a yellow squash and eggplant stir fry was a quick one.
On nights we're eating a simply seasoned (aka salt and pepper) protein, such as fish, chicken (or even Costco rotisserie chicken) or a pork chop, I'll often throw together whatever leftover vegetables we have to make an Asian stir fry.
This stir fry is simply seasoned with a touch of sesame oil and oyster sauce. It's flavor profile is similar to that of the baby bok choy (recipe available here) I learned how to make from my husband. The bold characteristics of oyster sauce are slightly muted by thinning the sauce with water and then gently tossed with the cooked vegetables to create a flavorful, and very easy, weeknight vegetable stir fry.
This recipe  will work with practically any vegetables that you might have hiding in the crisper of your fridge.

Quick Weeknight Squash & Eggplant Stir Fry
Author:
Judy | Bebe Love Okazu
Prep time:
Cook time:
Total time:
Ingredients
2 yellow squash
1 eggplant
2 sprigs garlic chives
1 tablespoon oyster sauce, add more to taste
1 tablespoon water
1 teaspoon canola oil
1 teaspoon sesame oil
salt
pepper
Instructions
Rough chop squash and eggplant. Cut garlic chives into 2 to 3 inch long pieces.
In a small bowl, mix oyster sauce and thin with water.
In a large sautee pan, heat canola oil on medium high heat. Add eggplant, season with very light dash of salt and pepper and cook until browned (or carmelized depending on preference).
Remove eggplant from pan and set aside on a plate.
Add more canola oil, if necessary and sautee yellow squash with garlic chives until tender, about 5 - 7 minutes. Season very lightly with salt and pepper.
Add cooked eggplant back into the pan and drizzle sesame oil over cooked squash, garlic chives and eggplant.
Pour oyster sauce mixture over the cooked vegetables and stir gently for 2 - 3 minutes until well-coated. Remove from heat and serve immediately.