Farewell Sweet Casie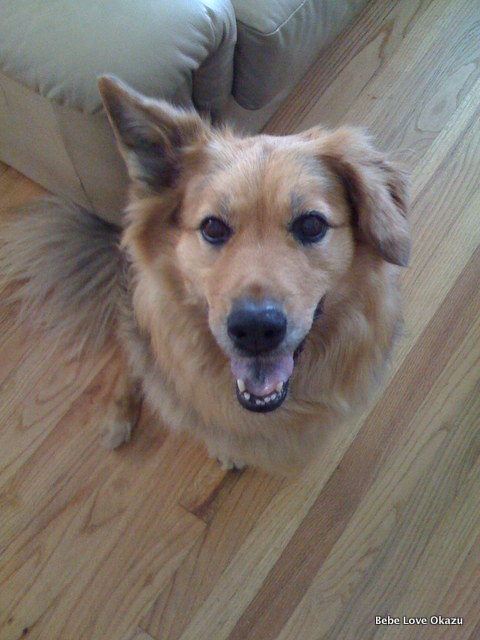 Many who have never babied and cared for a pet, might not understand those of us who hold our puppies so dear to our heart and love them as members of our own family. Exactly two months ago, on February 22, 2013 I lost my dear sweet Casie. She was my first baby, even before Bebe E was born, and I often referred to Casie as my "other baby" to Bebe E, who promptly began referring to Casie as my "daughter".
I remember clearly the day that I adopted Casie from the SCPA. It was around this time in Spring, 15 years ago and she was only about 10 weeks old. I was shocked and saddened by the fact that someone had thrown her and her litter of siblings in a trash bag and dumped them down the sewer on a stormy day in Los Angeles. This made headlines on local TV and in the L.A. Times, compelling me to go to the SPCA to adopt one of the abandoned puppies. As fate would have it, Casie was only one of three puppies remaining that quickly came to my side as I entered the adoption room. From that point on, I was hers and she was mine.
Some friends had asked if I named Casie (pronounced K-C) after K.C. & Jo Jo the hip-hop/r&b artists, but I think I really just liked the name Casie, primarily because Casey Martin was making headlines in golf around the time that I adopted Casie. I was also just learning how to play golf and found a new leisurely sport that my un-athletic self could keep up with.
… This post isn't easy to write, and I must have started a number of drafts to write about my loss, but I just couldn't do it. Finally, as I realized the other day that almost two months have gone by since Casie's death, I knew that Casie deserved to be mentioned on my family journal / blog, as she was a very important part of my life and my family.
It took me equally as long, to be able to actually talk about having lost my sweet Casie. I still get teary-eyed when I think of her, but I'm left with only thoughtful and loving memories of her gentle sweet nature and silly memories of her princess-like personality, and her quirky fondness for Satsuma tangerines. I loved her soft fur, floppy ears and will always remember her smiling and looking up at me with her right ear up, and her left ear down (photographed above).
Casie entered my life during a time of many transitions and she grew up with me while I went to graduate school, found my place in the world, got married, went through pregnancy and had my little Bebe E. She even spent the last three years watching Bebe E grow up. In the last few years however, Casie's most important job was looking after my parents. When I moved from Los Angeles to my current home, I couldn't take Casie with me, and I knew it wouldn't be fair to her when I couldn't give her the attention that she was used to, so she looked after my parents in L.A. and kept them company during their retirement.
One of my greatest joys of visiting L.A. was seeing my other baby. It was fun watching Bebe E grow-up around Casie. Casie kept an eye on Bebe E and Bebe seemed to enjoy having her big furry friend around.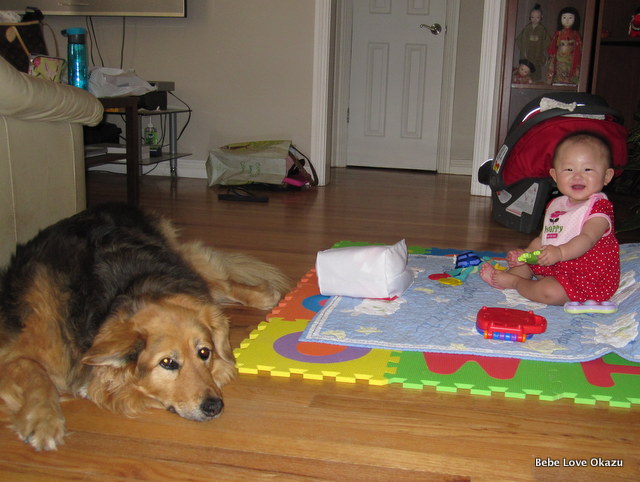 That is, Bebe E enjoyed having Casie around when she knew where the doggie was, and not surprising her around a corner as she was learning how to crawl. Casie looks a bit sad and concerned that this little person is unhappy, or perhaps Casie is just uncomfortable that someone is invading her under-the-dining-table-space.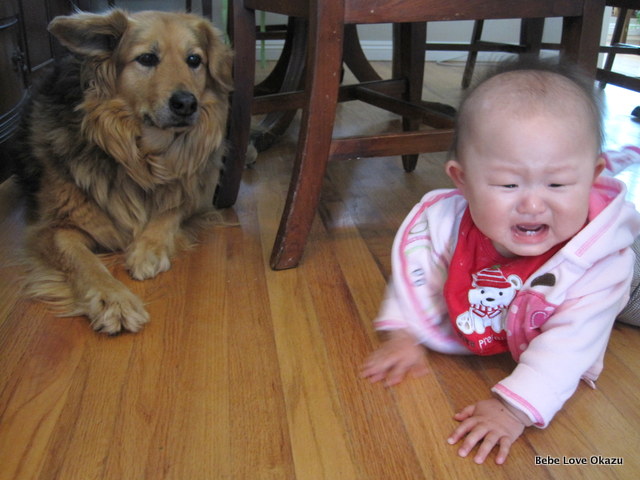 For the most part, Bebe E and Casie seemed to enjoy each other's company. Here Casie is pictured lounging on the lawn with my Bebe and my Dad, who just happened to be Casie's best buddy.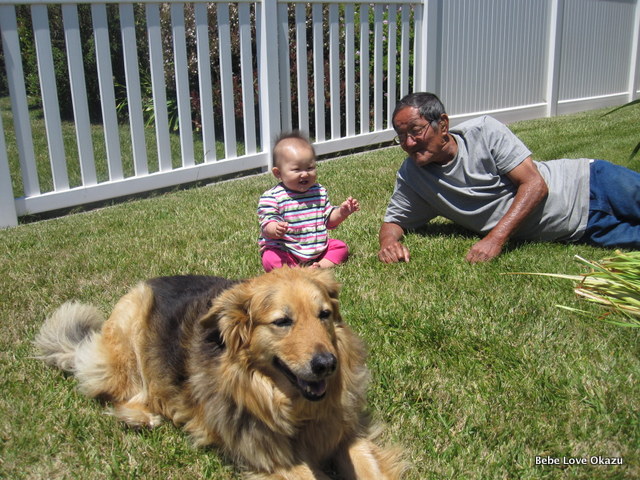 Casie had the fluffiest fur, and her ears were quite possibly the softest and bestest ears ever! I'm so happy that Bebe E had the chance to grow up with Casie in her life and she too has good memories of our puppy dog.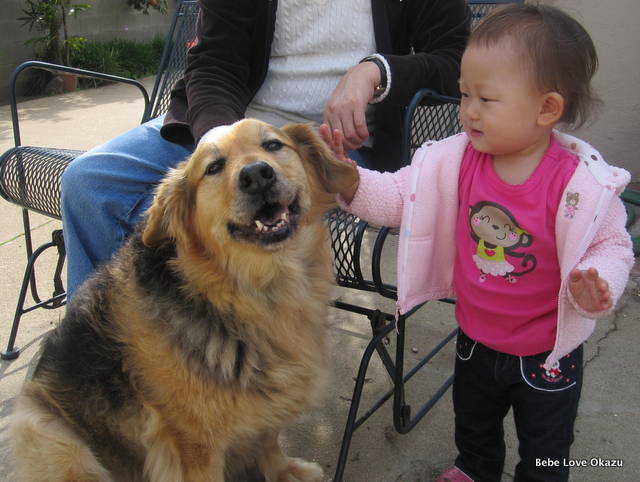 Photographed below, Casie is walking around at Bebe E's 3rd birthday party looking happy as can be with one ear down and one ear up.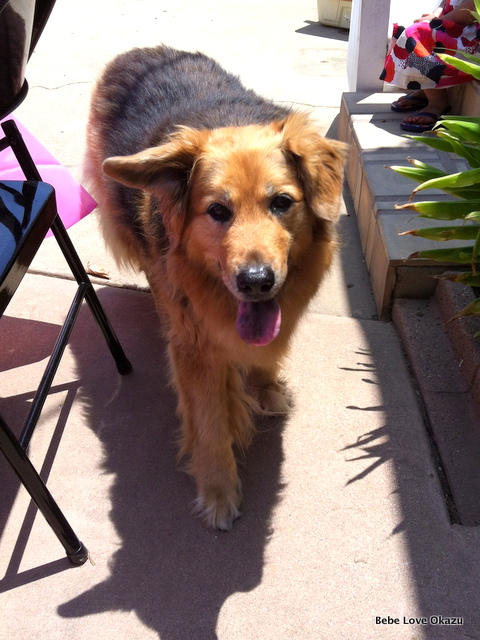 After we took Casie to the hospital, Bebe E asked a few times if we should make Casie a get well card so that she will get better. It's hard explaining to a three year old that Casie passed away and that she couldn't get better.
Bebe E still asks me if I miss my daughter, Casie, but she tells me that Casie is OK because she is playing with Stella now and Cookie Monster. (Stella is another dog my parents lost not too long ago and Cookie Monster is Bebe E 's beta fish and first pet that she lost after a year of caring for him.)
Bebe E occasionally sings me songs about Casie and how much we love her. She uses her princess microphone to sing me these songs and it's quite touching. At my parents house, Bebe E sometimes asks me if I would like for her to play a song on the piano about Casie. It is usually a soft melody of a few keys that she plays slowly and beautifully – she always plays one key at a time, never banging a handful of keys at once. Sometimes Bebe E draws me pictures of Casie. Most recently, we adopted a stuffed animal fox from the L.A. Zoo's gift shop, and sometimes she refers to her fox as her doggie Casie (in some ways it looks more like a dog than a fox) and she asks me if I would like to hug Casie.
In her own way, I know that Bebe E is grieving Casie too. Right after Casie passed away, Bebe E asked me if Casie was going to come back and if we could see Casie, but after I told her that we couldn't see her anymore and that she was up in the stars with Cookie Monster and Stella, I think she began to accept this as being OK. She still tells me on occasion that she misses Casie. I know how Bebe E feels…
I'm really lucky that I spent 15 years of my life with Casie. She was, and always will be, the best dog I've ever had the good fortune of knowing and loving with all my heart. I miss her terribly every day and think of her often.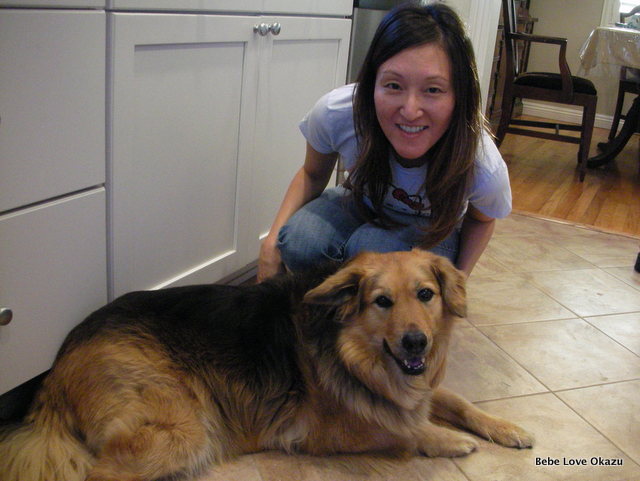 Thank you, Casie, for gracing us with your life.
February 1, 1998 – February 22, 2013