Chicken Tsukune (meatballs) for Shabu Shabu (Hot Pot)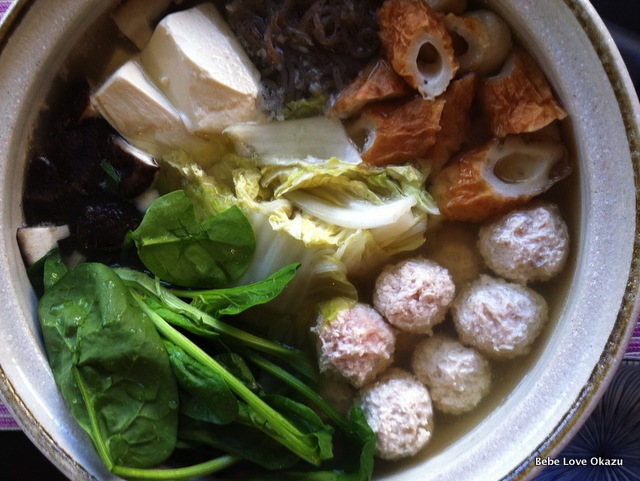 I'm not sure how many months have gone by since I posted anything on my blog. Ok, maybe it's only been a few weeks and/or approaching one month since my absence, but it certainly seems longer. Honestly, I'm not even sure how I used to post at least three new posts per week. I look back now and think I was crazy. :) Either that, or I was getting much less sleep than I'm getting now.
Nothing special has happened over the past month to warrant my absence. Bebe fought one cold and has another sore throat today. We've been spending a bit more time having picnics after school with her pre-school buddies and enjoying more play dates at the park. On park days where we experienced warmer weather, on the verge of what I call hot (I have a low tolerance for hot weather), a nap was often in order, not just for the kiddo, but also for this Mama. I shared this info with my Mom who promptly reminded me that it was because I'm getting old that I get tired after spending time in the sun.
Thanks for the reminder, Mom.
I've also shared with my Mom that it's nearly impossible to clean the house because as soon as everything is put-away in it's rightful place, after 10 minutes of the Bebe tornado, the place looks just as messy as it did before I spent an hour cleaning, if not messier. Clearly, the Cleaning Fairy isn't doing a very good job. Oh, and my Mom says, "It was the same with you and your brother, but I cleaned-up daily." Ok, thanks for the tip Mom.
As for our family's Cleaning Fairy, she used to visit us every night with good deeds of picking up the toys that weren't put away and taking them away to give to children who didn't have as many toys as Bebe. This was good motivation for our little one to pick-up her toys at the end of each day, but the Cleaning Fairy stopped visiting as often when Bebe seemed afraid that this Fairy was going to break into our home and take things away. In hindsight, I suppose the Cleaning Fairy could potentially be scary to a 3 -year old.
Even though I haven't posted anything recently on my blog, I've still been taking an occasional picture here and there. Thank goodness, because last week I made Shabu-shabu, or hot pot, and given our wacky SoCal weather with dreary cold skies and sprinkles, shabu-shabu doesn't seem too out of season. Hot pot isn't just for cold winter nights as it is in Japan. I've been known to break Japanese etiquette and serve shabu-shabu (post and recipe here) during the Spring and Summer seasons, if only to satisfy a simple craving.
I had forgotten about chicken tsukune (meatballs) when I mentioned to my husband that I wanted to eat shabu. I quickly gave up on the idea since we didn't have enough meat and I wasn't in the mood to make a run to the Japanese supermarket for thin-cut shabu meat. That's when my husband graciously reminded me that we had ground chicken in the freezer and that we hadn't had  tsukune meatballs in a while.
My Mom often added tsukune to our shabu-shabu and it always added nice variety to our hot pot. It's also really simple to make and only requires three ingredients: ground chicken, grated ginger, and corn or potato starch.
To learn more about Japanese shabu-shabu hot pot, follow this link.
Oh, and don't worry about the pink-ish looking semi-raw chicken tsukune in the photograph above . . . I was just getting started, although in hindsight a photograph of the fully cooked tsukune might have been a bit more appropriate. Oh well! Sometimes ya just gotta 'roll with it'.

Chicken Tsukune (meatballs) for Shabu Shabu (Hot Pot)
Author:
Judy | Bebe Love Okazu
Ingredients
¾ pound ground chicken breast
½ teaspoon grated ginger (add more for a kick)
1 tablespoon potato starch (or corn starch)
Instructions
In a medium bowl, combine ground chicken and ginger.
Sprinkle potato starch over the meat mixture. Gently knead with hand until well-incorporated.
Make 1 tablespoon round balls and drop them into boiling hot water. Cook for 10 minutes until well-done.