Green Pancakes with Chocolate Chips for St. Patrick's Day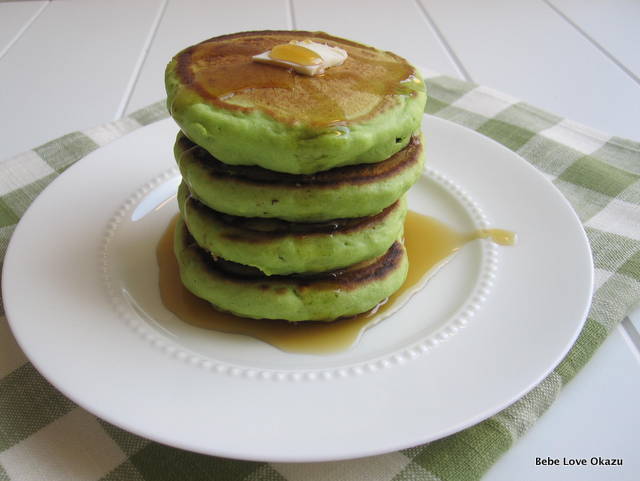 I've been thinking about green pancakes ever since a friend of mine posted a picture of the green pancakes that they served at the Boys & Girls Clubs of Santa Monica (website here). I knew both Bebe and Big Onechan (big sis) would get a kick out of seeing mini green pancakes for breakfast when they woke up on St. Patrick's Day.
I was thinking about how I could make the pancakes green without having to use food coloring, which I've used sparingly in the past when making mini mochi or what we call chi chi dango mochi (recipe available here). I immediately thought of my green smoothies, and how vibrant green they always are. Their color is usually attributed to the handfuls of fresh spinach that I add to the smoothie, but surprisingly there is very little spinach taste.
So this morning I blended up cold water with a cup of fresh green spinach leaves and replaced my green water with the water that our favorite Krusteaz Buttermilk Pancake Mix calls for. :) No artificial green food coloring, just extra iron and nutrients in our otherwise carb-laden, un-nutritious pancakes!
Never mind that my pancakes looked a little on the overcooked side (notice the slightly burnt edges?)… these were still fluffy as can be… and as vibrantly green as can be! Our pancakes always turn out better when my husband cooks them and I just mix the batter.
Big Onechan asked, "did you just add green food coloring?" I told a white lie and said, "yes", although my blender with leftover green liquid was sitting on the counter. I knew if I told her the pancakes were colored with fresh, nutrient-rich spinach water she would be biased against the pancakes. Without this knowledge she went on to consume at least 4 or 5 pancakes, drenched in syrup and whip cream. After breakfast, I came clean with the secret green ingredient, and of course after looking closely at the leftover green liquid in the blender, she gave me a prompt, "eeeeeeeew!"
One day, when Big Onechan has her own kids, perhaps she'll remember green spinach pancakes and choose that over green food coloring. Maybe. :)
Bebe on the other hand, who is used to seeing me make green smoothies and actually enjoys her version of a sweet green smoothie, was excited about pouring the green water into the pancake mix as she helped me make breakfast this morning. She was perhaps even more excited when I told her that we would be adding chocolate chips to our pancakes.
Who doesn't love chocolate chips in their pancakes?
In addition to green pancakes, I made green eggs and bacon to serve along side our green pancakes (yes, reminiscent of green eggs and ham). Recipe for green eggs (and photo) is available here. It's basically a scramble of broccoli, spinach, and onions. It was delicious and I'm happy to report that the kids ate it without a single complaint. What can I say, you can't go wrong with green food on St. Patrick's Day!
This recipe for green pancakes is pretty straightforward. Use your favorite pancake mix, and replace water with green liquid, aka spinach water. Add chocolate chips for an extra treat and top with your favorite pure maple syrup, whip cream or powdered sugar. Oh, and maybe a little pat of butter too.
Happy St. Patrick's Day!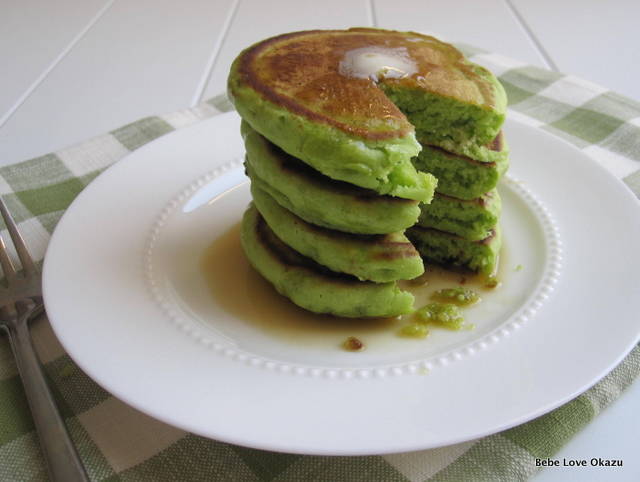 Green Pancakes with Chocolate Chips
Author:
Judy | Bebe Love Okazu
Prep time:
Cook time:
Total time:
Ingredients
1 cup fresh spinach leaves
1⅔ cups water
2 cups Krusteaz Buttermilk Pancake Mix
1⅓ cup green spinach liquid (blended spinach and water mixture)
1 to 2 tablespoons chocolate chips
Pure maple syrup
Whip cream
Powdered Sugar
Instructions
In a blender, combine water and spinach leaves. Blend for 2 minutes until smooth and there are no chunks of spinach leaves.
In a large bowl, combine pancake mix and green spinach liquid. Mix gently. Incorporate chocolate chips. Note: you might want to add just a tad bit more of the green liquid than what the pancake mix package calls for.
On a large griddle cook pancakes 2 -3 minutes on each side.
Serve with whip cream, maple syrup, and powdered sugar (optional).