Chicken and Vegetable Chow Mein & Crafts for Chinese New Year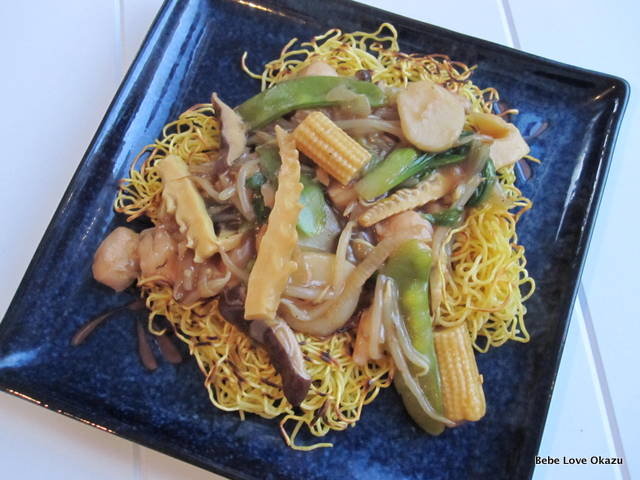 It seems that on a sunny, crisp day like today, I might feel better off spending some time outdoors, but yesterday's three-mile walk has once again left my knee in a slightly uncomfortable state, and I'm slightly more comfortable relaxing quietly indoors. Fortunately, my laptop is now fully functional and I'm happy to report that Mac and I are friends again since I am finally able to access some of the photos that were seemingly lost on a deserted island.
I suppose you could say I'm finally motivated to play a little catch-up on my blog.
Last month, we celebrated Chinese New Year on February 10, 2013. This holiday is always a moving target and I'm proud to share that over the past three years, I've gotten better and better at remembering to Google this holiday in January to find out when it is. Now I'm really on top of things because I can proudly announce that in 2014, Chinese New Year will be celebrated on January 31st and I've already marked my calendar.
This year, on Chinese New Year I made a chicken and vegetable chow mein recipe that I learned from my friend C many, many years ago (her recipe is below). My Mom used to make chow mein for us growing up, and while I enjoyed it, I actually prefer my friend C's recipe much better, and not surprisingly my Mom has said that she likes this recipe better too.
Sometimes it's OK to let go of old traditions and start new ones.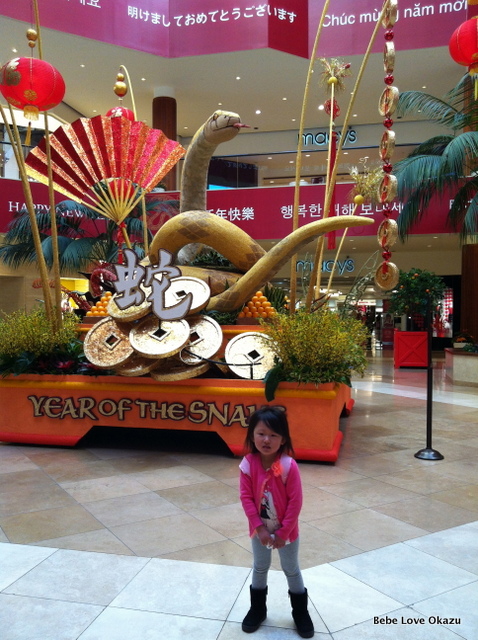 Despite the fact that I enjoy this chow mein quite a bit, I only make this maybe once or twice a year, but I think I've gotten a lot faster at making this dish than when I first made it almost a decade ago. It requires a number of ingredients, but half of the ingredients are canned Chinese vegetables, and the half are fresh veggies, then there are the noodles which need to be boiled and then pan-fried but I found some great noodles that only require a 2-minute hot water bath prior to frying them. Don't let the ingredient list deter you from trying the recipe. It's a great homemade dish that you'll probably find has less sodium than what you'll get from take-out chow mein at a Chinese restaurant.
As for our Chinese New Year's crafts this year, with the help of Pinterest and a new mommy friend from preschool, Bebe E and I created a number of wonderful crafts.
Lucky Kumquat Tree
I love how my little one wanted to put happy faces on the kumquats. I noticed afterwards that she also made a few sad faces. That's just life, I suppose – some days good, some days not so good.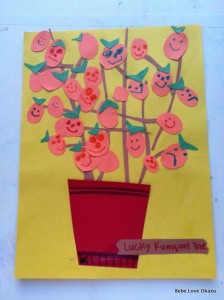 Lucky Goldfish
From the perspective of a 3-year old, goldfish have two arms, two legs, and a little nose. When I asked Bebe E about the little green circles, she told me those were the fishy's scales.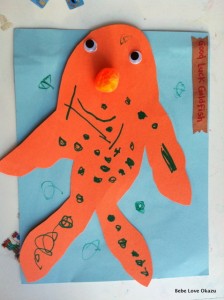 Paper Chain Snake in Grass
Lucky for us we still had paper rings from the time that Auntie S babysat Bebe E, because we found a great use for them!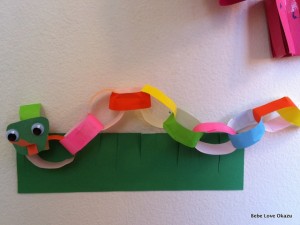 Hand Print Art Snake
My daughter is very creative. She gave her snake blue flowing hair. Beautiful. Not surprisingly she chose red and pink for the body of her snake. I've always known that Bebe E has long fingers, like myself and my paternal grandmother, but it was surprising to see on paper, just how long her fingerprints actually are.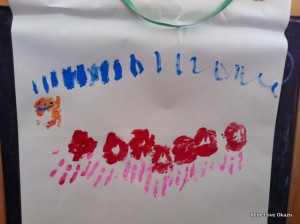 Red Lantern with Happiness Character
Ok, if you read Chinese characters or kanji, the symbol might mean something along the lines of happiness. In Japanese, happiness is called, "koufuku" but I failed to write the first kanji character "kou" so what you see pictured below is "fuku", or the latter part of the happiness. Does this mean the lantern is only half-happy?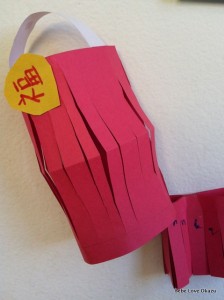 Chicken & Vegetable Chow Mein
Author:
Judy | Bebe Love Okazu
Prep time:
Cook time:
Total time:
Ingredients
1 pound fresh egg noodles (16 oz)
½ cup snow peas (1 handful), deveined
½ onion, sliced
2 stalks celery, sliced diagonally
½ pound bean spouts (12 oz)
½ pound baby bok choy (6-7 bok choy)
1 12-ounce package fresh beech mushrooms
¼ cup green onions, sliced diagonally
3 medium dried shiitake mushrooms
½ pound chicken tenders, sliced on diagonal
1 8-ounce can sliced water chestnuts
½ 14-ounce can baby corn, cut
½ 14-ounce can sliced bamboo shoots
1½ cups hot water for soaking dried shiitake
Canola oil for frying noodles
MARINADE FOR CHICKEN:
½ teaspoon salt
½ teaspoon sugar
1 teaspoon cooking sake
1 tablespoon cornstarch
1 ½ tablespoon soy sauce
Dash of black pepper
1 tablespoon vegetable oil
THICKENING SAUCE:
1 cup reserved shiitake soaking liquid
2 tablespoons cornstarch
2 tablespoons soy sauce
1 tablespoon sake
GARNISH (OPTIONAL):
1 egg, mixed, then pan fried into thin egg omelette sheets. Cut into thin strips.
2-3 stalks green onion, sliced diagonally
Instructions
In a small bowl, add hot water and dried shiitake mushrooms to reconstitute. Slice mushrooms and reserve soaking liquid.
Mix chicken marinade ingredients in medium bowl. Slice chicken and marinade for about 15 minutes in refrigerator.
In a separate small bowl, mix thickening sauce ingredients and set aside.
Cook fresh noodles in boiling water for 1 to 2 minutes until al dente, rinse in cold water and cool.
Pre-heat oven to 250 degrees F.
In a large frying pan, heat canola oil, and spread layer of noodles on pan, cooking until desired crispness. I cook noodles in medium-sized batches and flip the noodles over once, to make sure both sides are crispy. Keep the noodles warm in the oven at 250 degrees.
In a wok or large pot, heat canola oil, cook chicken until tender, remove and set aside on plate.
Add additional canola oil to pan if necessary, cook onions, celery, snow peas and mushrooms until just tender. Add bean sprouts and canned water chestnuts, baby corn and bamboo shoots along with sliced green onions.
On hight heat, pour thickening sauce over cooked ingredients, stir occasionally until done, about 3 minutes until sauce forms.
Place warm pan fried noodles on platter, pour vegetables and meat sauce over noodles and garnish with raw sliced green onions and thinly sliced egg omelette (optional).
We invited my BFF over for dinner on Chinese New Year and she asked about the type of egg noodles I use for the chow mein. This is what the fresh egg noodles look like. These can be found in the refrigerated section of the Asian supermarket.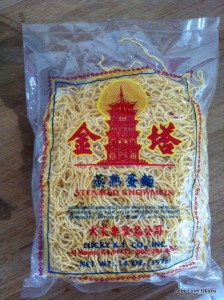 May your Year of the Snake be filled with good health, happiness and prosperity.