Happy New Year! Welcome 2013: Lilianas Tamales & Elfie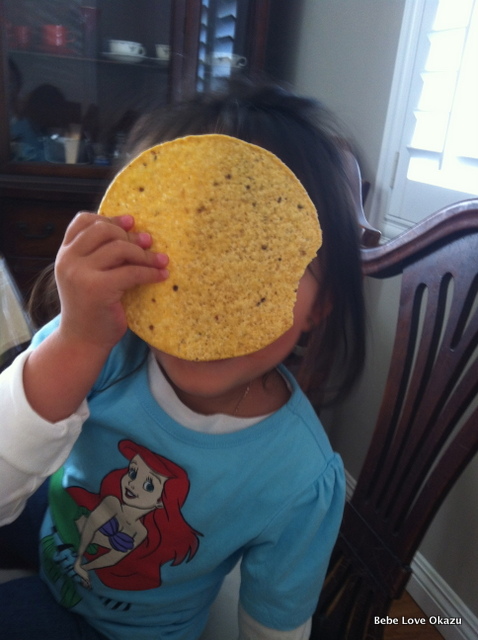 Happy New Year!
It's 2013! The Year of The Snake. What new year's resolutions have you made for 2013?
Me? As usual, nothing new or specific. Long ago I stopped making resolutions such as, "eat healthier, don't eat chips and chocolate, exercise, diet, on and on". In general, I try to focus on being positive, living without regrets, looking forward to new experiences, learning new things, being thankful and finding joy in the little things in life. Sometimes I forget these simple things and I'll try to remind myself of these things each January.
For the past year I've been trying to simplify my life, and as such, I've spent a significant amount of time de-cluttering, donating, and selling yard sale – type items on Craigslist. As the end of the year approached, my obsession to simplify and get rid of "junk" became a bit frenzied as I cleared-out practically 80% of the stored items in our garage. We're on our way to actually fitting two (2) cars in our two (2) car garage, which has always only housed one (1) of our cars.
So, for 2013, I'll continue to coddle the theme of "simplification" and enjoy my day-to-day as much as possible.
Right after our family's oshogatsu (Japanese New Year) celebration, my Mom took off to an all-expenses paid trip to Vegas compliments of my Auntie Sumiko. While I was disappointed that I couldn't join her, Bebe E, Aya-chan and I went to Pasadena to view the Rose Parade floats. It was fun seeing the floats up close but I'll save the details of our trip for another post (I haven't had the time to organize my photos yet).
As for our oshogatsu feast, below is a teaser of our Japanese osechi ryori (traditional Japanese New Year's food). Photos are pending for my 2013 osechi post so stay tuned for details.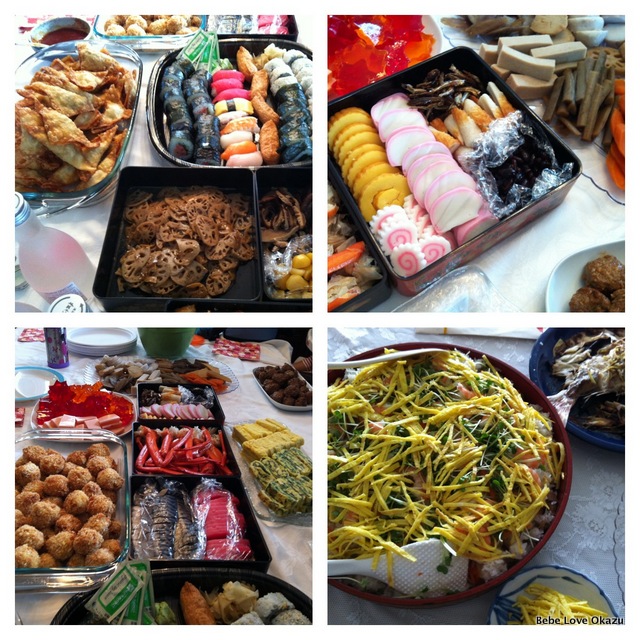 So what about my Dad while Mom is away having a blast in Vegas? Well, he got left behind with my dog, Casie. So today, Bebe E and I went to visit him and asked him out on a field trip to East Los Angeles to pick-up some tamales and pozole (soup).
You see, when I go out with my Mom, we'll hit one of our usual cheap Japanese eats or visit one of my local (West L.A.) favorite cafes, but more often than not my mom will cook for Bebe E and I. If we do dine out, we always invite my Dad, but alas, he usually declines our invitation. BUT, when Mom is out of town, if I ask my Dad to take a field trip to East L.A. for Mexican food, it takes him less than 3 minutes to get ready and out of the door.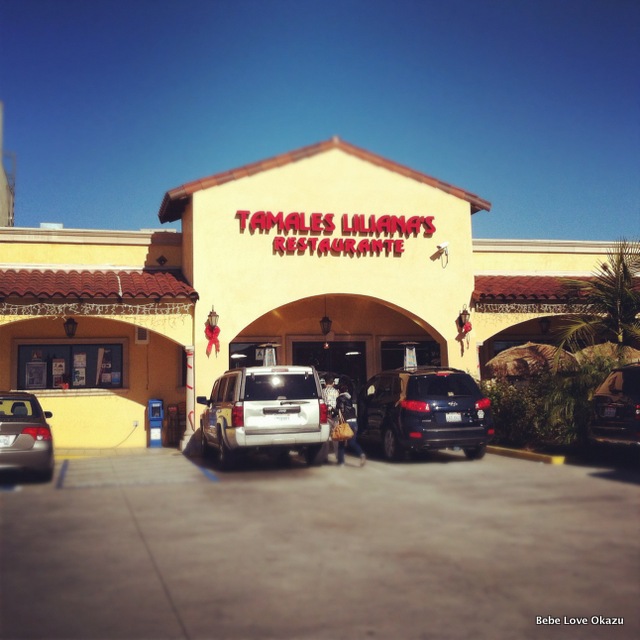 So today we visited Liliana's Tamales in the Boyle Heights neighborhood of East L.A. The first time I visited this restaurant was to feast on a traditional Mexican wedding dish for a rehearsal dinner (which sadly I cannot remember the name of, despite my Googling efforts) which is not available on their regular menu. It was made especially for the bride and groom and it was the first time I'd ever eaten this delicious wedding stew. (I'll have to text the bride later for the name of the dish.) The restaurant, however, is known for their tamales which I've enjoyed on a number of occasions thanks to my mother-in-law who occasionally buys Liliana's tamales in bulk, and sends us home with a bagful. Of course, they taste best fresh, but they also keep well in the freezer and this makes for a great easy lunch when needed.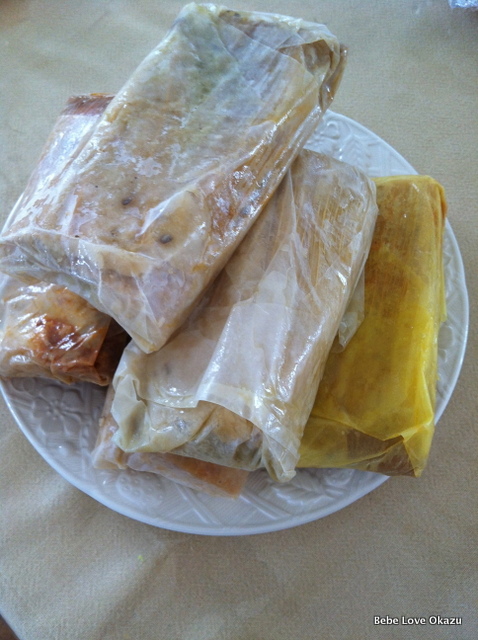 The highlight of our field trip to Liliana's today was ordering the pozole (or posole). This is a traditional Mexican soup made of pork, hominy and chilis and is garnished with a number of lovely ingredients such as shredded cabbage, avocado, radishes, lime, cilantro, fried tortillas etc. Pozole is traditionally eaten on Christmas Eve. For years now, I've heard Aya-chan mention this soup as she's been fortunate to enjoy homemade pozole annually over the holidays and of course, I'd been DYING to try it. Well, today was my day.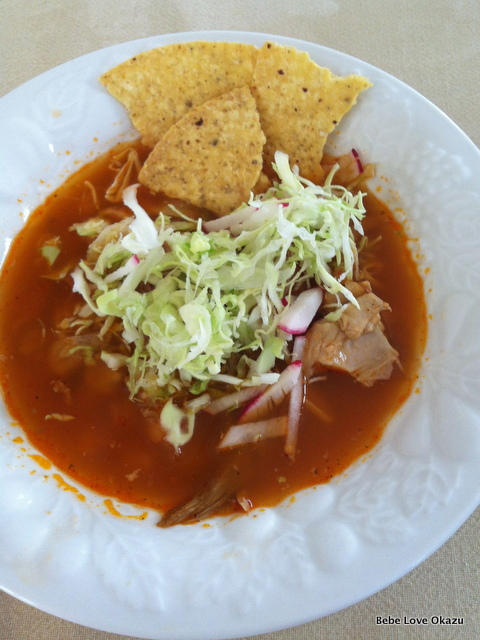 Although this soup contains shredded pork, it is surprisingly not greasy, not heavy, and not oil-laden. I was quite surprised by it's clean chili broth and with the addition of fresh vegetable garnishes, it was quite a lovely soup. I'm so happy that I had a chance to finally try pozole. I love it!
Well, that was our day today. A very simple day spent with my Dad – Bebe E's Ojiichan – enjoying pork tamales with red and green sauce, chicken with vegetable tamales and experiencing pozole for the first time.
And, I can't forget the lovely photos that my brother-in-law Hideki sent to me of Bebe E's "Elfie" this morning. Since the departure of Mei-Lan, our Elf on The Shelf, Santa generously brought Bebe E, "Elfie" a plush doll version of her Elf on The Shelf to hug and remember her throughout the year. Well, it just so happens that at our Christmas lunch, Bebe E took Elfie to my parents house and guess who took some candids of poor little Elfie around the party behind our back… Yep, Uncle Hideki.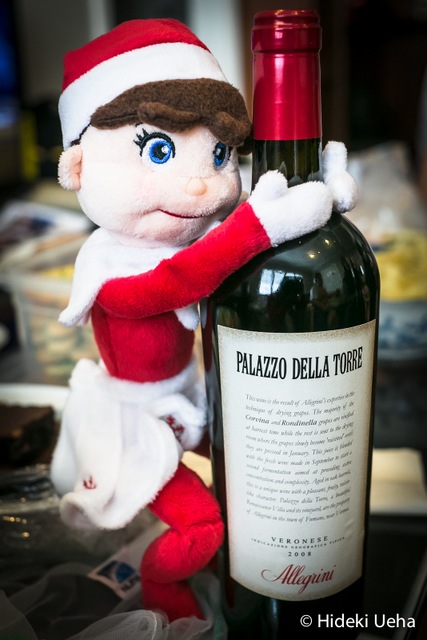 Not sure how Elfie found the wine, but she's not allowed to drink. She also shouldn't be touching Bebe E's great grandmother's Japanese ningyo (traditional dolls) – see below.
AND, I should mention that when Bebe E saw these photos of her cherished and dearly loved Elfie, she asked, "What is this Mama? Is that mine?" Yes, Bebe E… I explained to her that when she took Elfie to Obaachan and Jiichan's house, Uncle Hideki took pictures of Elfie. She just chuckled in the way that she does when something is funny, and she said, "that's silly Mommy!" (Photo Credit: Hideki Ueha.)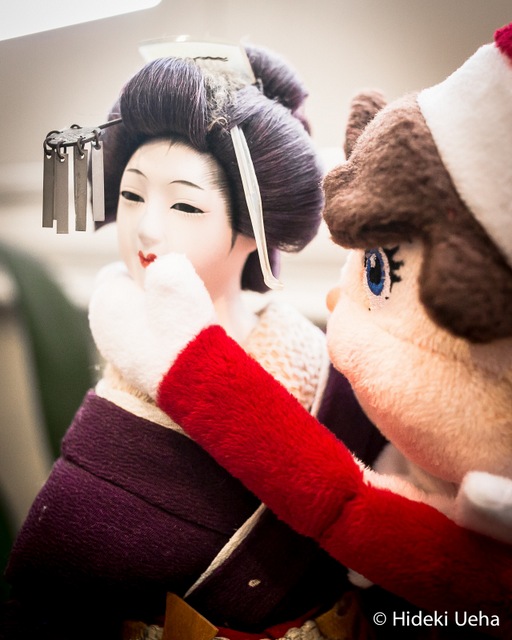 Photo Credit: Hideki Ueha
Happy New Year! Bring on 2013!
* * * * * * * *
Tamales Lilianas
4629 East Cesar E. Chavez Ave.
Los Angeles, CA 90022
323.780.0989