Chewy Sugar Cookies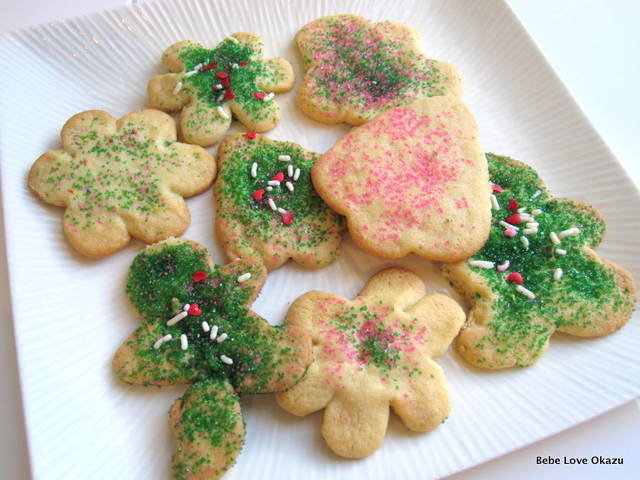 Although I don't make multi-batches of seven different types of cookies anymore as holiday gifts, one new tradition that I enjoy is baking cookies for Santa with Bebe E. That is, just one type of cookie for Santa. :) Last year, we tried a sugar cookie recipe which I will share another day, but it was a classic recipe but I much prefer this chewy sugar cookie recipe that I share with you today. It's definitely a new favorite!
The shapes of our cookies for Santa are simple: gingerbread men, Christmas trees, and snowflakes. I have more cookie cutters but for some reason I still can't find all of my cookie cutters! They've been missing for two years… One of these days I'll find them all.
We used green sprinkles that we already had, along with some leftover Valentine's Day pink, red and white sprinkles. These were more than enough to achieve a happy festive cookie for "Santee" which is what Bebe E has taken to calling good ol' St. Nick.
Bebe E had a grand ol' time decorating Santa's cookies with sprinkles that were piled on high. Aya-chan came over and helped Bebe E roll out the dough, cut the cookies, and decorate them. You can easily tell which cookies Aya-chan decorated: those that are dusted with just a few sprinkles. Personally, I prefer the cookies that are barely dusted with sprinkles but my brother likes the ones with at least an inch of sprinkles piled on. There was a perfectly decorated cookie for everyone in our family at our Christmas lunch.
We were pleased to discover that this recipe indeed resulted in CHEWY sugar cookies. The key is to make sure that the cookies are not over baked and cooked just until they are set, about 8 minutes, depending on your oven. This cookie recipe is definitely a keeper and moving forward, will be an annual tradition.
After we baked cookies, Bebe E selected the cookies that she wanted to leave for Santa. The ones she selected were big cookies. No wonder Santa has a jolly good big belly!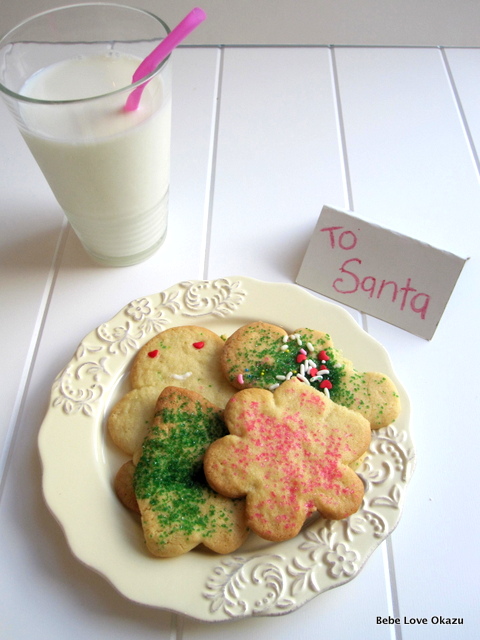 Chewy Sugar Cookies
Prep time:
Cook time:
Total time:
Ingredients
2¾ cups all-purpose flour
1 teaspoon baking soda
½ teaspoon baking powder
1 cup softened unsalted butter (2 sticks)
1½ cups white sugar
1 egg
1 teaspoon vanilla extract
3 tablespoons milk (buttermilk optional)
Sprinkles or colored sugar, for decorating
Instructions
Preheat oven to 350 degrees F.
In a large bowl cream together butter and sugar until smooth. (I use a stand mixer.) Beat in the egg and vanilla. Gradually add flour, baking soda, and baking powder to the wet ingredients a little at a time. Add enough of the milk (3 tablespoons) to moisten the dough and make it soft, not wet.
Chill dough for about one (1) hour. It's easier to work with firm dough versus soft dough. Roll out dough onto floured board. Be sure to flour the rolling pin too. Using cookie cutters, cut shapes. Sprinkle with raw sugar or colored sprinkles.
You can also roll the cookies in the sugar sprinkles before baking.
Bake for 8 to 10 minutes or until barely golden. Let stand for 2 minutes before removing to cool on a rack.
Notes
1. Recipe adapted from Food Network Kitchens. 2. Temperature revised from original post from 375 to 350 F.