Sausage, Apple & Cranberry Stuffing or Dressing
As the Christmas holiday approaches, one of the many things I planned was to share a few holiday favorites over the coming days. I hope I can stay focused enough to post all that I'd like to share amidst my being sick, and now my little one sick too.
The first dish is a simple, yet flavorful dressing (or stuffing) that I typically make for Thanksgiving, but there was a time in my childhood where my parents often served turkey with stuffing at Christmas. Our traditions have since changed, but I thought I would share one of my favorite holiday side dishes.
I'll be counting my blessings this holiday season and praying for all those who have been affected by the recent tragedy in Newtown, Connecticut.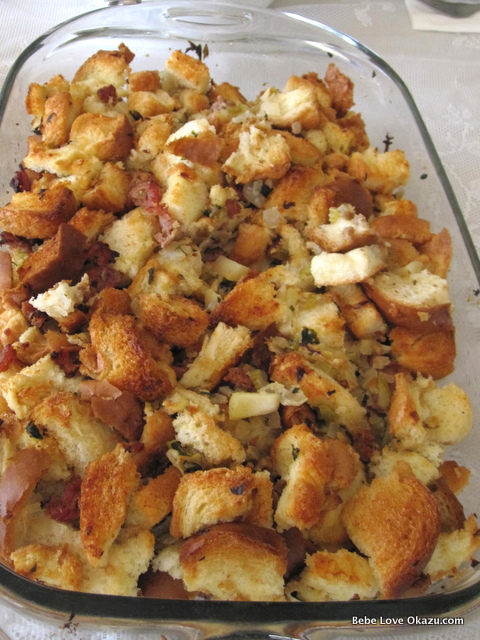 Sausage, Apple & Cranberry Stuffing
Author:
Judy | Bebe Love Okazu
Ingredients
16 cups 1-inch bread cubes, white bread (1½ loaves)
¾ pound apple, garlic and chicken sausage, casings removed, chopped
4 tablespoons (1/2 stick) unsalted butter
2 cups medium-diced yellow onion (2 onions)
1 cup medium-diced celery (2 stalks)
2 apples, peeled, cored and diced
2 tablespoons chopped flat-leaf parsley
1 tablespoon kosher salt
1 teaspoon freshly ground black pepper
¾ cup dried cranberries
2½ teaspoons dried sage
1½ teaspoons dried rosemary
½ teaspoon dried thyme
1 cup chicken stock
Instructions
Preheat the oven to 325 degrees F.
Place the bread cubes in a single layer on a sheet pan and bake for 7 minutes. Raise the oven temperature to 350 degrees F. Remove the bread cubes to a very large bowl.
In a large saute pan, melt the butter and add the onions, celery, apples, parsley, thyme, sage, rosemary, salt and pepper. Saute over medium heat for 10 minutes, until the vegetables are softened. Add to the bread cubes.
In the same saute pan, cook the sausage over medium heat for about 10 minutes, until browned and cooked through. Add to the bread cubes and vegetables. Remove from heat.
Add dried cranberries and toss gently. Pour dressing into a 9 by 12-inch baking dish. Drizzle chicken stock over the dressing. Toss if necessary. (NOTE: If making stuffing, place bread cube and vegetable, cranberry mixture into the cavity of the turkey and bake.)
For dressing, bake for 30 minutes at 350º F, until browned on top and hot in the middle. Serve warm.
Notes
Adapted from Ina Garten.