Our Favorite Red Enchilada Sauce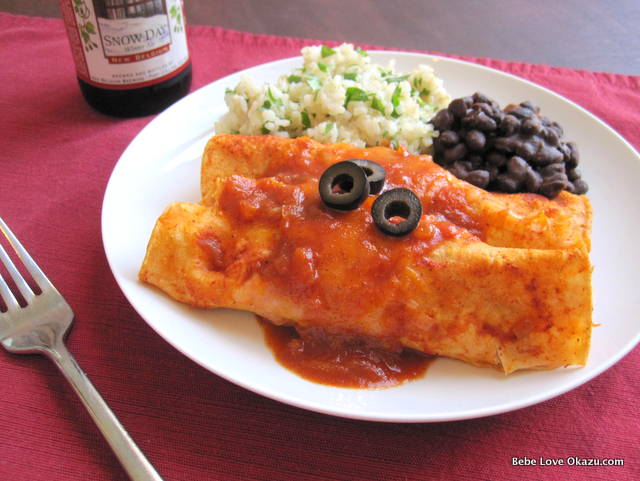 The holiday season is fully upon us! Last weekend we celebrated with our very first holiday party of the season. It was quite the celebration! We enjoyed a lovely rendition of The Nutcracker performed by 30 children aged 3 to 5. It was Bebe E's debut on stage and she performed beautifully. Bebe E was a snowflake, and she did quite well smiling, dancing slowly and silently with arms in the air, gliding and twirling like, well, a snowflake!
Last week, my husband and I were concerned when she told us that she wasn't going to perform, but with encouragement, and the prospect of her Mommy and Daddy clapping for her and smiling at her, suddenly she was interested in performing for us and looking forward to our cheers. Kids are so cute.
This year, I was the volunteer committee chairperson for Bebe E's school holiday party/fundraiser and it was definitely fun working with the other moms to create a nice party for the kids and their families. I've always enjoyed party planning, and this event was certainly one of the most rewarding.
While our first holiday party of the season was a potluck, one would expect this mom with a food journal to cook something to share, but alas, given the last minute errands and preparations for the party, I chose to order chicken and have my husband pick-it up. However, if I had the time to prepare a dish the night before, I likely would have made a large serving of my favorite chicken enchiladas with red sauce.
One recipe that I've been wanting to catalog on my blog, which also happens to be my personal recipe box, is a glorious red enchilada sauce that I learned from my friend Melissa, The Hungry Artist. I love her down to earth home cooked family-friendly meals and when she shared her mom's red enchilada sauce that she learned from a friend of Mexican descent, it seemed authentic and perfectly delicious to be included in our dinner repertoire. Perhaps what really caught my attention was the fact that she likes to pour her red enchilada sauce over plain steamed rice. I was sold.
In addition to learning a great red sauce recipe from Melissa, I also learned a great technique for prepping the tortillas for the enchiladas. When preparing my own enchiladas, I always used to steam my tortillas in the microwave. I learned that by spraying the tortillas with cooking oil and then baking them on a cookie sheet for a few minutes, makes the tortillas the perfect texture for enchiladas! For my post on easy chicken enchiladas using canned green sauce and basic techniques for wrapping enchiladas, follow this link.
Here's the recipe link to The Hungry Artist's original red enchilada sauce. I've adapted the recipe ever-so-slightly from the original by adding sauteed onions to the sauce, instead of using raw onions in the chicken filling. In addition, I added less chicken broth to make a thicker sauce. The adapted version of the red sauce recipe is in the printable recipe box below. For the original recipe, please visit the The Hungry Artist.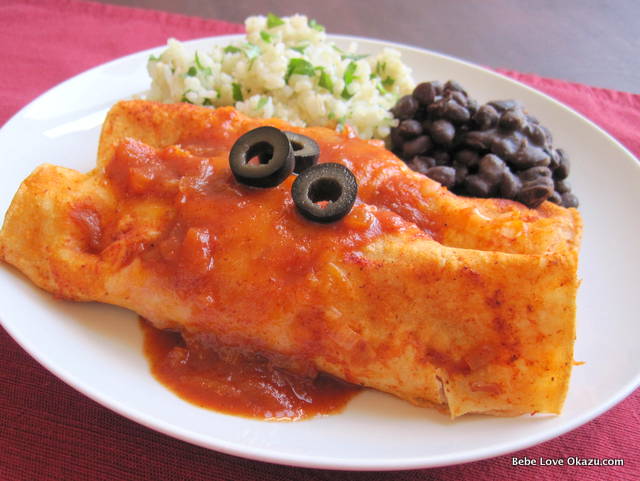 Our Favorite Red Enchilada Sauce
Author:
Judy | Bebe Love Okazu
A delicious red enchilada sauce adapted from The Hungry Artist.
Ingredients
FOR RED SAUCE:
2 cups (or 1 15-ounce can) tomato sauce
3 cups low sodium chicken broth
1 medium onion, diced (roughly 1 cup)
4 to 5 tablespoons chili powder, to taste
Olive oil
FOR CHICKEN ENCHILADA
4 cups shredded chicken (I use Costco rotisserie chicken as a short cut)
1 cup shredded Mexican cheese blend
1 cup chopped black olives
18 corn tortillas
Canola cooking spray
Instructions
In a medium pot, sautee chopped onions with olive oil until tender.
Add tomato sauce, chicken broth and chili powder. Simmer for 30 to 45 minutes until slightly thickened. Set aside.
In a large bowl, add 1 cup of sauce and set aside for assembling enchiladas.
Heat oven to 325. Spray 2 cookie sheets with cooking spray. Spread 6 tortillas on each cookie sheet and spray each tortilla with cooking spray. Bake for 5 minutes until tortillas are pliable.
Dip one tortilla at a time in the bowl with enchilada sauce and coat each side. In a 9x13 baking dish, place tortilla and fill with chicken, cheese and chopped black olives (optional). NOTE: Reserve some chopped olives to garnish enchiladas.
Roll tortilla with filling close, seam side down. Repeat until all chicken is gone. I typically use two baking dishes to use all 18 tortillas.
Sprinkle additional cheese over the rolled enchiladas. Bake at 350 uncovered for 15 minutes until enchilada filling is hot and cheese is melted.
Reserve remaining sauce to serve with the enchiladas.
Notes
Recipe adapted from The Hungry Artist.