Green Beans and Mushrooms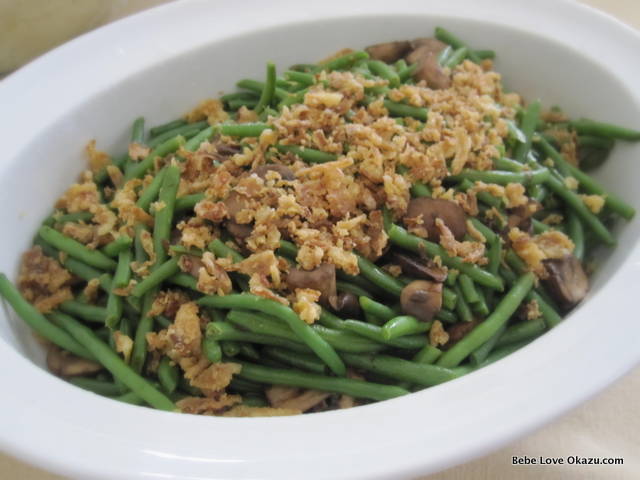 I love this time of the year. It's hard to believe that we'll be celebrating Thanksgiving this Thursday. Where does the time go, and so quickly at that!
Over the weekend we celebrated a few birthdays that take place in the Fall and I thought our cake was so funny, I was compelled to share it on my blog. Because one of our fabulous friends wasn't in the mood to celebrate, the name on the cake was left blank with just the right number of spaces for his name "_ _ _". My friends that ordered the cake are so silly but they know how to pick a good cake. Love Hawaiian Paradise cake (which was also the flavor of our wedding cake) and I absolutely love my friends! I especially loved the large "question mark" candle in the middle of the cake. Really, what's a number anyway?!? The other day Bebe E asked me how old I was. I replied, "25" (I am not 25) and she said, "Wow, mommy! You are SOO big!" Yes, Bebe E, I am really, quite very big indeed.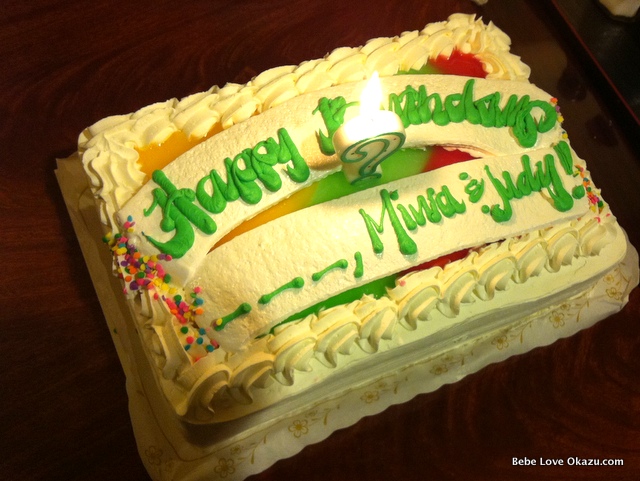 Aside from birthday celebrations, this morning I took Nene to see Twilight Breaking Dawn: Part 2. Yes, if you've missed some of my previous posts that mention Twilight, I have in fact read all of the books in the series, despite my critical opinions of the quality of the author's writing. It's addicting nonetheless, what can I say. Anyway, I happily went to see the movie and I truly enjoyed it. In fact, I thought it was pretty darn good and possibly one of the best movies in the entire series.
After starting the day with an early movie matinee, my husband and I spent the evening cuddled on the sofa with Bebe E for movie night at home watching Disney's little girl princess movie, "Sophia The First". Bebe E would like to go to "princess school" just like Princess Sophia. Mommy is looking forward to playing "princess school" this week.  But, for the record, in case Bebe E is reading this post 10 years from now, in my opinion, I'm not so sure that being a princess is a wise career choice.
As I'm writing this post, all I'm thinking about is Thanksgiving on the brain. Yes, that's all I will be thinking about for the next three days! Tonight I'll be making my "to do" list for what I'll need to do each day leading up to Thanksgiving. Am I crazy? Maybe. But I'm like this every year. Perhaps I just like being an overly prepared, Thanksgiving-crazy-person. I don't see anything wrong with that, do you?
By November 1st, I'm already thinking about our Thanksgiving menu. Luckily, over the past decade, my cooking responsibilities have decreased, as some of the "kids" in our family grew-up, moved out, had families of their own, established careers, and learned how to cook. :) I've handed over responsibilities for a few family favorite side dishes which are staples at our celebration, which allows me to make new dishes.
One of the vegetable sides that we usually have at my family's Thanksgiving is green beans. I've made several versions of green bean dishes in Thanksgivings past, but I've never made green bean casserole. I'm not sure why… green bean casserole is a classic Thanksgiving side dish, isn't it? Maybe one of these years I'll give it a try.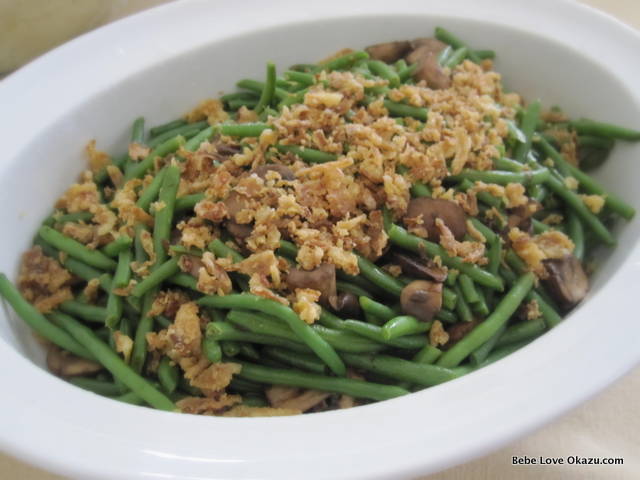 What I like about this green beans and mushroom side dish that I'm sharing today, is that it has two vegetables that I love – mushrooms and green beans – and not surprisingly Bebe E loves these veggies too. This dish is really simple to make, yet tastes great. I've used both fresh green beans and Trader Joe's frozen haricot verts (skinny French green beans) and this dish turns out great with either so I'll leave that decision up to you.
Thanksgiving is all about giving thanks and spending time with family, friends and loved ones, and of course, celebrating with delicious food! I truly love this time of the year and I hope you're enjoying this time as much as I am. Amidst my Thanksgiving planning, I have also been thinking quite a bit about all that I am thankful for: movies with Nene and movie night at home with Bebe E, Hawaiian paradise cake, good friends and good family, our health… I could go on and on. There's so much to be thankful for!

Green Beans and Mushrooms
Author:
Judy | Bebe Love Okazu
Recipe type:
Side Dish, Vegetables
Ingredients
2 pounds fresh green beans (or frozen haricot vert)
2 cloves garlic, rough chopped
1 package of button mushrooms, sliced
½ cup chicken broth (or vegetable broth)
¼ cup Crispy fried onions (Trader Joe's)
Olive oil
2 tablespoons butter
Salt and pepper, to taste
Instructions
Trim green beans. In a medium pot cook beans in boiling water for about 8 minutes until just tender. Drain and rinse with cold water. Set aside.
In a large sautee pan, melt butter with a touch of olive oil. Heat garlic until fragrant. Add sliced mushrooms, season with a dash of salt and pepper, to taste. Sautee until cooked through over medium high heat.
Add chicken broth and cook another 1 to 2 minutes. Add green beans, gently toss and remove from heat.
Just before serving, garnish with (store-bought) crispy fried onions.