Apple Picking, Simmered Apples & A Quick Tart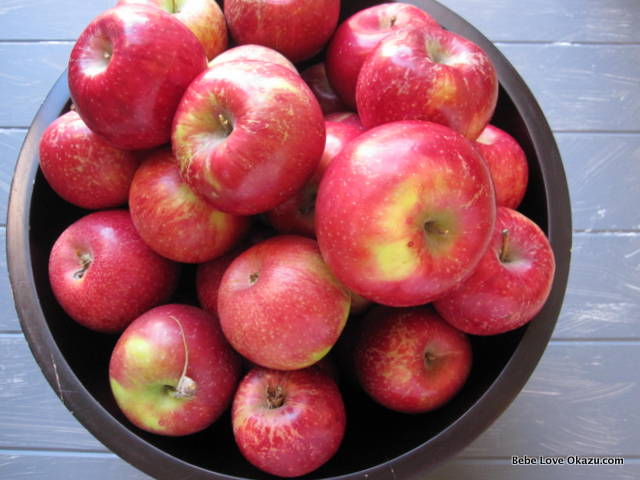 Over the weekend, my family and I went apple picking at Riley's Los Rios Rancho in Yucaipa, CA. This year, I decided I wanted to celebrate my birthday differently than years past. When I was little, my parents used to take us cherry picking and I can't recall if we went apple picking too, but our jaunt to rural Southern California brought back great childhood memories and it was quite a pleasant get-away for us city slickers.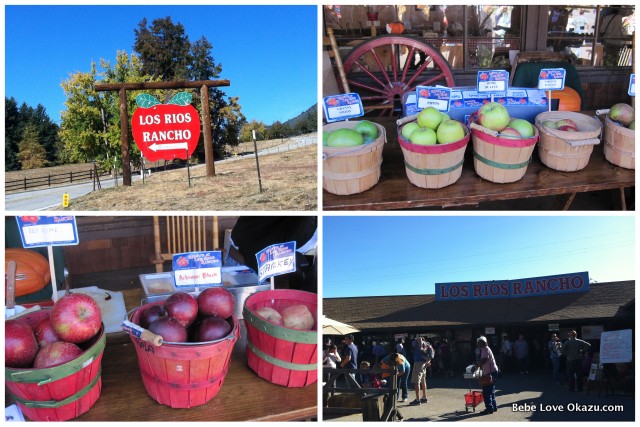 Los Rios Rancho is owned and operated by the Riley family and they figured out early on that city slickers like myself enjoy a nice day out in the "country", picking fresh fruit and eating BBQ on the grass with a lovely view of the orchards and mountains.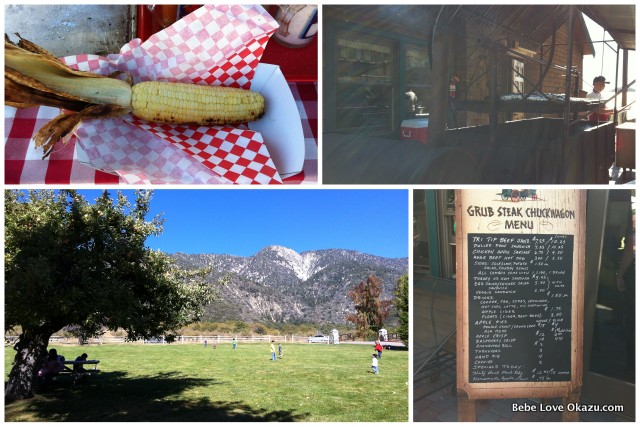 Aside from our lovely picnic on the grass and filling our lungs with clear, crisp country air, of course the highlight of our trip was apple picking. We'd never taken the kids apple picking and it was fun hiking to the orchard and walking amongst all the beautiful apple trees.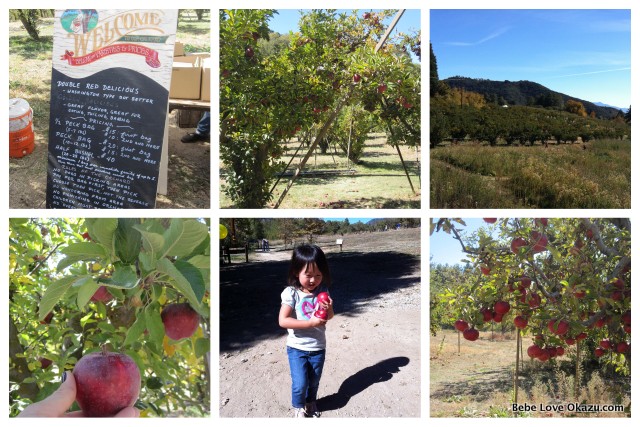 Available for picking were three types of apples: Red Delicious, Rome, and Stayman Winesap. We picked a few Red Delicious, but the Winesaps were mostly picked through. Our favorite, however, were the Rome. The trees in the Rome Orchard were bountiful and these apples are crisp, sweet and tart and very crunchy. SO good!!!
It was quite fun walking around the orchards. There was a small lake with gorgeous views and despite the number of people picking apples, it was relatively quiet and peaceful at Los Rios Rancho. We even watched a few ducks swimming around.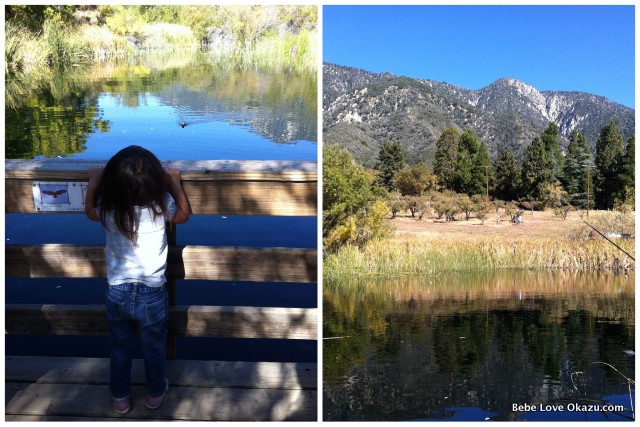 Below is a view of the Red Delicious Apple Orchard from our short hike to the lake.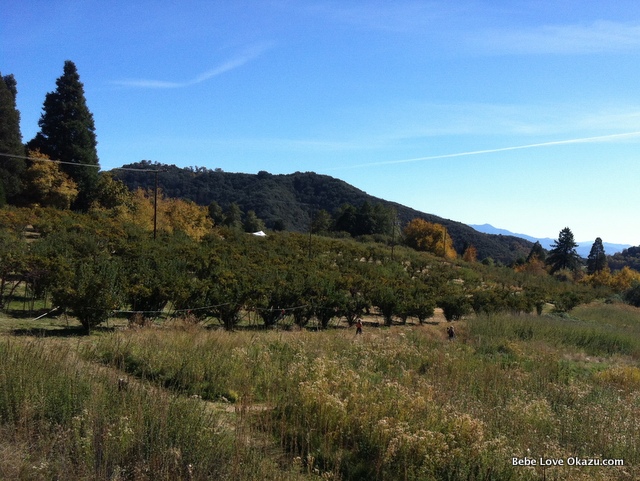 Aside from apple picking, there was live country music playing at the Ranch, and there was a great little area to press your own apple cider. It was a fun experience that both the kids and my husband and I enjoyed quite a bit. Everything is hands on, and in our own city-slicker way, we felt like we were on a farm.
You start by selecting a bucketful of apples, then you wash them in a metal tub. The young man who was assisting us tried to convince me to wash our apples in once-used (or more) somewhat dirty water, and I just couldn't do it. After some persuasion, rolling eyes from my husband and laughter from Nene (Bebe E's big sis), the young man realized he couldn't convince me that the dirty water was ok to use, he offered to rinse the tub and fill it with fresh water. :)
After the apples are washed, they're placed in the grinder where the apples are easily ground into small chunks. All the apple bits fall into the wooden press where we squeezed all the juice out of 'em. We managed to press one gallon of fresh apple cider. Fun stuff!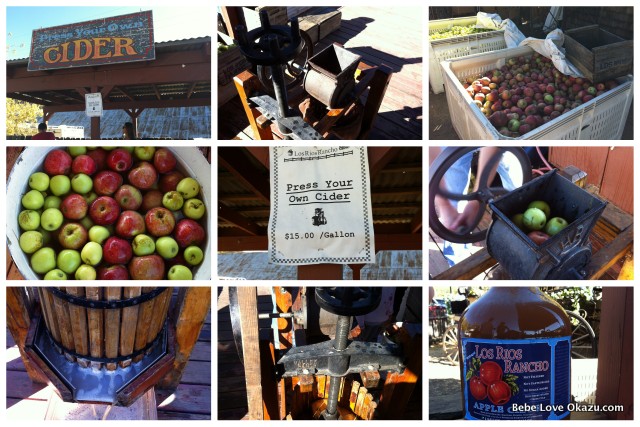 Of course, there was a lovely little gift shop filled with tasty goodies. Nene and I sampled several jams and spreads. Our favorites that we went home with were Pure Apple Butter, Spiced Apple Jam, and Apple Curd. We also snagged a small tub of carmel dip at Nene's urging.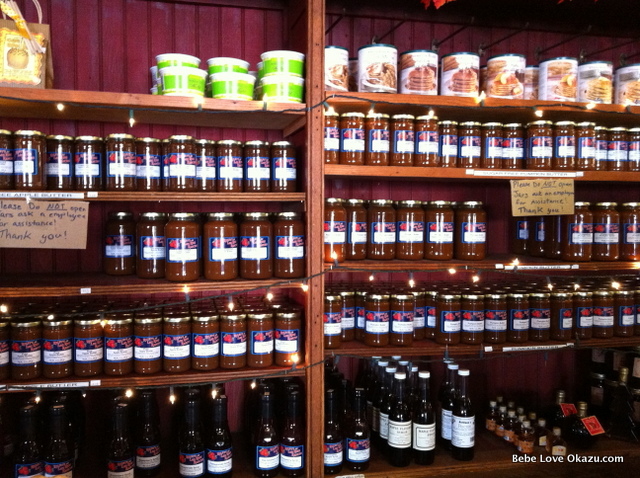 When we got home from our lovely day trip to the countryside, I was trying to think of something I could make for breakfast using our freshly picked apples. I had some pre-made crescent roll dough in the fridge, leftover from a Halloween treat that I made, and quickly decided to make mini apple tarts using simmered apples that my Mom used to make for us.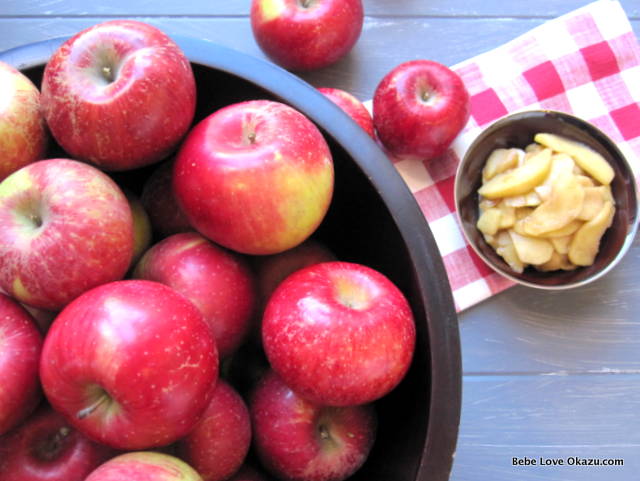 It's a simple recipe for simmered apples that involves a touch of vanilla extract, cinnamon, and brown sugar. I allowed the apples to simmers for a short while and then let them cool just a bit before I wrapped them up in the pre-made crescent roll dough. The apple slices were still slightly firm.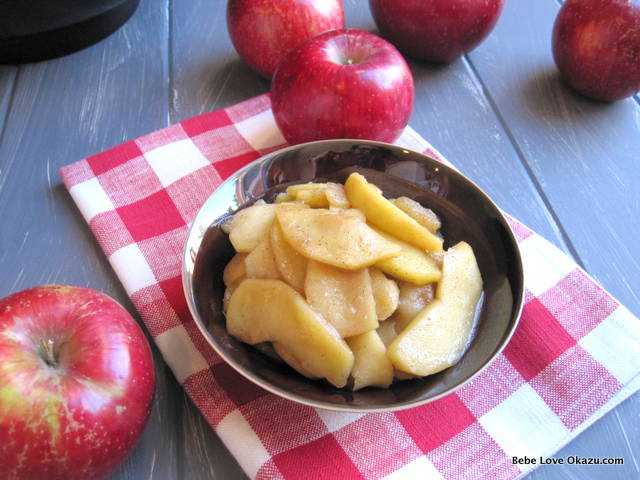 Before I wrapped my simmered apples, I slathered some of the Pure Apple Butter on the crescent roll dough, then I placed the simmered apples on top of the Butter and rolled up the dough. I didn't bother to try and make these quick tarts dainty. I went ahead and tried to fill them with as much simmered apples as I could. After the tarts baked, I spread some of the Apple Curd, which is slightly tart and sweet, on the top of the tarts.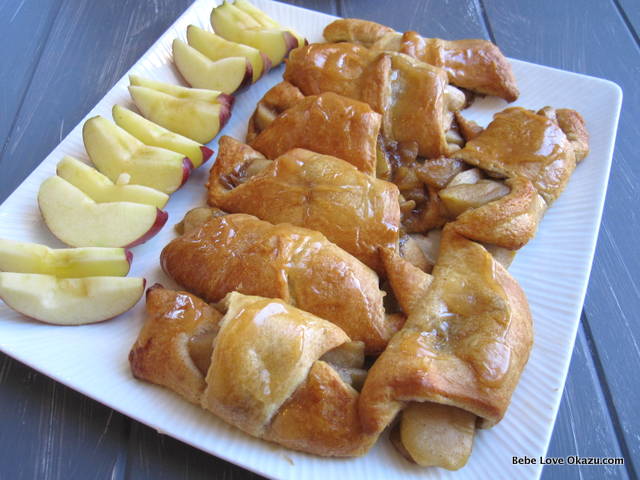 Our Sunday breakfast of fresh apple slices and quick apple tarts was delicious. I was thinking that the simmered apples would also taste really yummy as a topping to vanilla bean ice cream or even mixed with non-fat Greek yogurt. Yummy! I'm definitely going to try these. Will you?
What else can I make with our bounty of apples?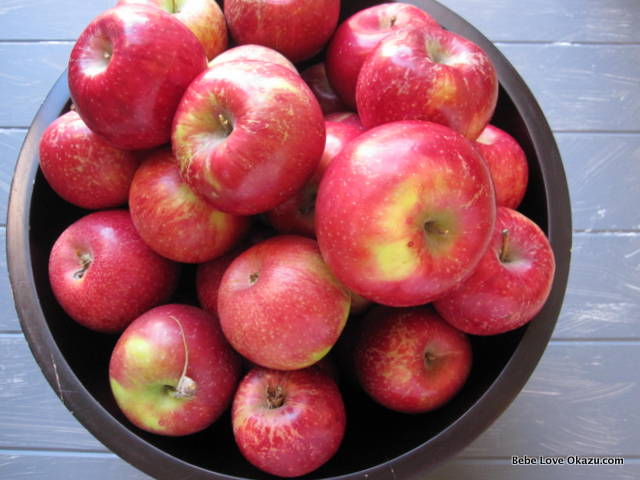 **Just a friendly reminder that my Zojirushi Giveaway ends this Friday. If you haven't entered, you can do so on my Green Smoothie Post.
Cheers!
Have a great week. :)
Sweet Simmered Apples & A Quick Tart
Author:
Judy | Bebe Love Okazu
Recipe type:
Breakfast, Brunch
Ingredients
4 red delicious apples, peeled, cored and sliced
¼ teaspoon cinnamon (add more to taste)
½ teaspoon vanilla extract
1 - 2 tablespoons brown sugar, to taste
2 tablespoons water
1 package of pre-made Pillsbury Crescent Roll dough
2 tablespoons Pure Apple Butter, optional
1 tablespoon Apple Curd
Instructions
In a small saucepan, combine peeled and sliced apples with cinnamon, vanilla extract, brown sugar and water.
Simmer for about 10 to 15 minutes or until apple slices reach desired texture. Allow the simmered apples to cool
Roll out crescent dough according to the package. Spread Pure Apple Butter in the center of the pieces of dough. Top with a generous amount of simmered apples. Roll the dough closed.
Bake at 375 for 10 to 15 minutes until tarts are golden.
Gently spread a small amount of Apple Curd atop each tart.