African Smoke Salmon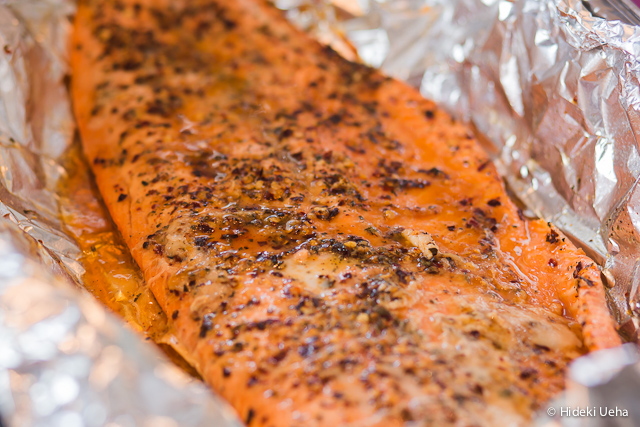 As the summer winds down and before the weather turns cooler, I'd like to share a super simple salmon recipe just in case you have one last BBQ planned. However, don't fret if you don't have any plans to grill, as this salmon is also amazing when baked in the oven or cooked stovetop in a pan. (Photo Credit: Hideki Ueha)
Many times before I've mentioned my childhood West L.A. besties, so it shouldn't be a surprise that I picked-up this great recipe from a bestie's husband. Perhaps it might not also be a surprise, given our L.A. roots that my bestie's husband just happens to be the son of the famed actress Elizabeth Montgomery. Perhaps some of you have heard of the original Bewitched television series. Well, it just so happens that Bewitched re-runs were one of my favorite TV shows as a child. Seriously, what girl doesn't want magical powers and to pop in and out from one place to another at the twitch of their nose?
Given my childhood love of this classic TV series, you can only imagine how star-struck I was when I found out a bestie was dating the son of the lead actress of one of my favorite shows! I'm sure he's heard it a million times but  when I first met him, I couldn't help but to gush and tell him how much I loved and enjoyed his mom's show. Having grown up in tinsel town where star sightings around town were the norm, it wasn't surprising to meet the son of someone famous but it was exciting to meet and befriend Billy nonetheless. He's one of the nicest guys ever. While Billy is not an actor himself, he can be found rubbing noses with the musically gifted as he is well-known in the industry for his handmade guitars and lap steels. If you're interested, you can find out more at Asher Guitars.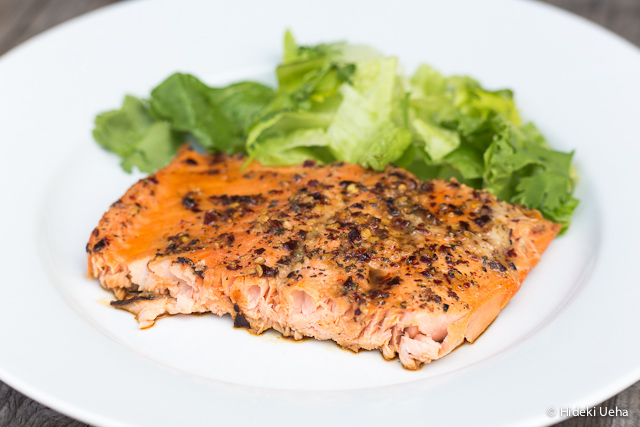 (Photo Credit: Hideki Ueha)
Back in January of this year, my besties and I got together for our annual post-holiday and birthday celebration potluck. Billy made this great cedar-plank smoked salmon using Trader Joe's African Smoke Seasoning and honey. It was so simple yet so delicious.
Since then, I've been making a similar salmon dish either on the stove or in the oven and my husband and I love it. It's got a tiny little kick to it given the red chili flakes and paprika found in the seasoning mixture. This recipe won't disappoint!
Happy Monday!

African Smoke Salmon
Author:
Judy | Bebe Love Okazu
Ingredients
1.5 to 2 pounds salmon filet
4 tablespoons Trader Joe's African Smoke Seasoning (enough to generously cover salmon)
4 - 6 tablespoons honey (the more the better)
Cooking spray
Instructions
Spray a large sheet of foil with cooking spray to prevent fish from sticking.
Gently place filet on foil and generously season the salmon with African Smoke Seasoning. Drizzle honey.
Seal foil and grill for 15 minutes or until fish is cooked through.