WELCOME! Ice Cream with Shiratama Mochi and Kinako (soybean flour)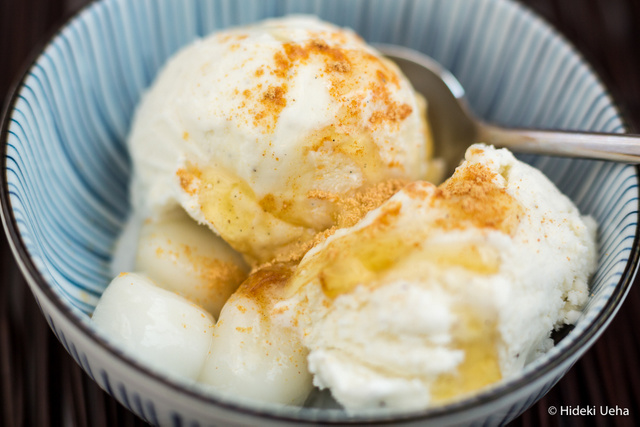 Welcome to my new (blog) home!
If you're coming over from my old site – – – It's nice to see you here! I'm glad you could make it! If you're new to my blog – – – It's very nice to meet you! (Photo Credit: Hideki Ueha)
Aside from a little fresh paint and a little redecorating, my old friends will find that the content of my new home is very similar to the content of my old home. However, just a friendly reminder to re-SUBSCRIBE BY EMAIL if you were previously subscribed on my old site and would like to continue to receive new post notices via email. Please follow any of the email icons labeled "Subscribe to Blog". My apologies for this slight inconvenience!
Will you allow me to take you on a Two-Cent Tour of my new blog? :)
Home – By checking in here, you will find links to my most recent blog posts.
Blog – On this page, you'll find an archive of all blog posts, starting with the most recent.
Recipes – This page is a directory of all the recipes on my blog, broken down by basic categories. I use this page often as my "cookbook".
Glossary – I often mention Japanese vocabulary and ingredients throughout my blog. This is a collection of my Japanese to English translations.
Confessions – Here, you'll find my journal entries, but no recipes. Read all about my family, restaurant favorites, celebrations, outings, general musings.
Gallery – This is a collection of the most recent photos uploaded to my blog.
Photography – Here you'll find photography by my brother-in-law, Hideki Ueha. It's great stuff. :)
About – I'm a mom, wife and cooking hobbyist. Read more about lil' ol' me.
Contact – I love hearing from you. I read all comments that you leave on posts but if you want to send a private message please do so here.
* * *
Today I'm sharing a really simple dessert with a Japanese twist.
Not everyone has an ice cream maker, nor wants to take the time to make homemade ice cream. Here's a great little dessert that I stumbled across while dining on the Westside of Los Angeles that you can make with store-bought ice cream. It's a simple vanilla ice cream served with cute little shiratama (mini mochi or rice cakes) and drizzled with a bit of honey and then topped with a generous dusting of kinako (soybean flour). It's a simple dessert with a Japanese twist.
As for the restaurant that inspired this dessert, it's an okonomiyaki shop called Gottsui, that serves ramen during lunch hours and okonomiyaki during dinner hours. I've never tried their okonomiyaki but insiders say it's good, but pricey for what you get. You can always try my homemade version for a fraction of the cost! :) Follow links for Kansai-style and Hiroshima-style okonomiyaki recipes.
I've been telling myself that I was going to clean-out the freezer so that I could make room for the ice cream maker. Well folks, the summer is coming to an end and I have yet to make enough room in the freezer. Ok, that's not entirely true. I've mostly rid our freezer of frozen meats and fish, yet every time there is a significant amount of space in the freezer, my husband or I come home from Costco with a) large box of Haagen Dazs bars, b) large box of fruit popsicle bars, c) large box of Skinny Cow ice cream sandwiches, or d) a large tub of Albertson's brand sherbet (if you've never tried it, the pineapple flavor ROCKS, and for only $3.99!). The latter tub of sherbet is something Bebe E's paternal great grandmother used to keep in her freezer all the time so it's my husband's favorite.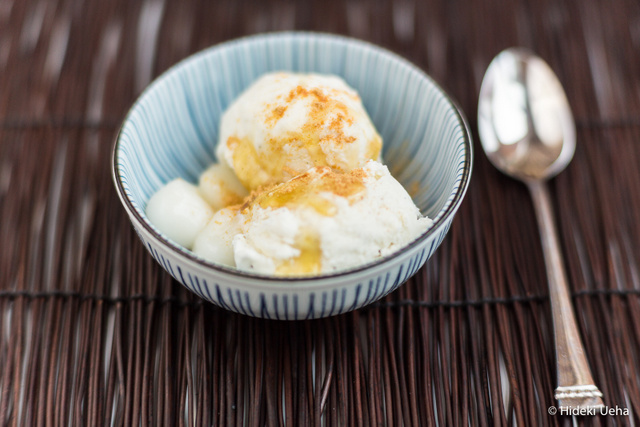 (Photo Credit: Hideki Ueha)
Since trying the wafu (Japanese style) ice cream dessert at Gottsui, I've been wanting to re-create it at home. However, instead of using homemade ice cream, I made this simple dessert using our favorite Breyer's All Natural Vanilla Bean flavored ice cream and it was a great shortcut. (Recipe for basic homemade vanilla ice cream and black sesame ice cream available here.) I'm certain this would also taste great with Japanese kurogoma (black sesame seed), azuki (red bean) or matcha (green tea) flavored ice creams as well.
Stay cool! Hope to see you back here at my new home again!

Ice Cream with Shiratama (mochi) and Kinako (soy bean flour)
Author:
Judy | Bebe Love Okazu
Ingredients
2 scoops vanilla bean ice cream
Honey, drizzle
1 teaspoon Kinako (soy bean powder)
½ teaspoon granulated sugar (optional)
¾ cup shiratamako (glutinous rice flour) or mochiko (if shiratamako is not available)
Slightly less than ½ cup water (mixed with shiratamako)
3 – 4 cups water for boiling
Instructions
Combine glutinous rice flour and water. Gently incorporate using chopsticks. When it comes together, knead the dough gently with your hands. The dough should be soft and pliable, yet hold together. You may need to play with the amount of water if you use mochiko instead of shiratamako.
Boil water in a small pot. Meanwhile, make small quarter-sized thumbprint balls and gently drop into boiling water. These will sink to the bottom, and float up to the surface when ready.
Once the mini mochi are cooked, place them in a bowl of cool water.
Combine kinako (soy bean powder) and granulated sugar. Omit sugar if you prefer the kinako as is (which is what I prefer).
Scoop ice cream into a serving dish, place shiratama or mini mochi around the ice cream. Drizzle with honey and dust with a generous amount of kinako.
Notes
Measurements for shiratamako or mochiko makes approximately 12 to 15 mini mochi.