Turkey Sliders & Burgers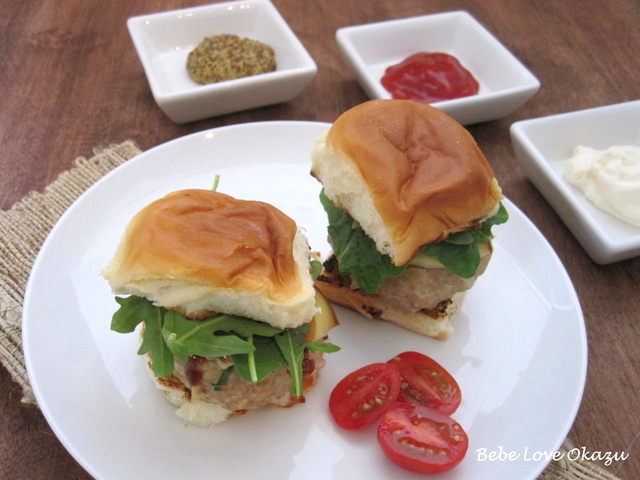 At a Memorial Day BBQ a few years ago, I was asked if I knew the difference between Memorial Day and Veteran's Day. While somewhat uncertain of my answer, I replied (with conviction) that Memorial Day was a day to honor military men and women who died while serving their country, whereas Veteran's Day celebrated living military veterans for their past service to our country.
After being "quizzed" at that BBQ a few years ago, I went home that night and Googled Memorial Day, just to be sure that I had my facts straight about Memorial Day and Veteran's Day. I shared a few of the facts that I learned in my research on my 2010 homemade granola Memorial Day post.
While we enjoyed a nice 3-day Memorial Day weekend spent with family, in the back of my mind I try to remind myself of the significance of the holiday and the importance of remembering those that have fallen in service to our country.
* * * * * * * *
For a while now, I've been wanting to share this simple turkey slider recipe that I make regularly, but of course with all that goes on in my life, I never got around to it. Our BBQ on Monday reminded me to post this recipe, as I made a variation of my usual turkey sliders in regular hamburger size.
My recipe for turkey sliders / burgers is very similar to my Mom's Japanese "hambaagu" (hamburger) recipe, which I will get around to sharing one of these days. :)
I hope everyone had a great 3-day weekend and took a moment to honor and remember all of our fallen soldiers.
Judy
P.S. – I will post the cookies I made for our BBQ, hopefully in the very near future!
Ingredients
1 pound ground turkey
1 - 2 garlic cloves, chopped
1 egg
½ cup panko bread crumbs
¼ teaspoon salt*
Dash of black pepper*
Olive oil, if pan frying instead of grilling
King's Hawaiian sweet rolls
Greens: arugula, spinach, or romain lettuce
Sliced tomatoes
Cheese of your choice, optional (I use smoked gouda)
Condiments of your choice: mayo, mustard, ketchup, BBQ sauce, A-1 sauce, sweet relish
* Variation #1: Replace salt and pepper from original recipe with 1½ teaspoons of McCormick Montreal Steak Seasoning and 1 small sprig of fresh thyme, leaves only
* Variation #2: I will add one of the three to the original recipe:
1½ tablespoons chopped basil
¼ onion, chopped
If I have some leftover vegetables, I will add finely chopped carrots and/or chopped spinach
Instructions
In a large bowl, combine turkey, garlic, egg, panko, salt and pepper and/or additional ingredients from Variations #1 or #2. Using your hands, knead all the ingredients together until incorporated.
For turkey sliders, make small 2 - 3 " diameter patties. For burgers, using a ¼ cup measuring cup I scoop a heaping cup-full to make the patty. In preparing burger patties for our BBQ, I store them in a sealable tupperware, separating the layers of patties with wax paper.
When I make turkey sliders at home, I use a stove top grill pan coated with a drizzle of olive oil. Cook the sliders on each side for about 5 - 7 minutes.
Cooking Tip: When I flip the burger over to cook the second side, after about 2 minutes I pour about 2 - 3 tablespoons of water into the grill pan and then cover the pan with a lid to steam the burger. To me, this seems to make the patty more tender and juicy. After cooking for about 2 minutes I will add cheese on top of the patties and cover the pan with the lid again to melt the cheese. OR, grill burgers outdoors.
My family loves turkey sliders served on King's Hawaiian sweet rolls. I split the rolls in half and lightly toast each side on the grill pan. Serve immediately and garnish with greens (baby spinach and arugula are my favorites) and condiments of choice. In our family everyone uses something different. I prefer A-1 steak sauce with a little mayo. My husband likes BBQ sauce with mayo or a traditional combo of mustard, mayo and ketchup, and both Bebe E and Nene like mayo and ketchup.